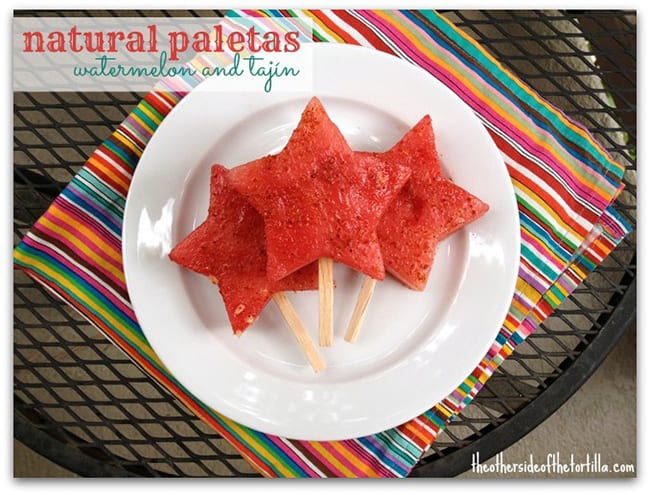 Every kid I know loves paletas—and every mom I know wants to reduce the amount of sugar in their kids' diet. With summer upon us, I'm already seeing watermelon everywhere in the farmers markets and grocery stores. I love watermelon and would eat it for three meals a day if I could, so I've been getting more creative with how to use it. These are especially great on a really hot day! A bonus: Because these natural paletas aren't like traditional popsicles, they're much less likely to drip and stain clothing if that's an issue with your kids.
And you don't need to have kids to enjoy these simple paletas! You can honor your inner child or summer cravings for a popsicle with a healthier twist. For those with diet restrictions, these paletas are gluten-free, dairy-free and vegan-friendly. This "recipe" isn't really a recipe; I like to think of it more as a healthy tip I'm passing on to you. Don't discard leftover pieces that don't make the cut: Sprinkle Tajín and squeeze a little lime juice on it for a snack, or cut them into bite-sized pieces and freeze to use as watermelon ice cubes to flavor your water.
(This ingredient list includes a few affiliate links.)
Natural fruit paletas with watermelon and Tajín
A healthy Mexican twist on popsicles using whole fruit.
Ingredients
1 watermelon, sliced into rounds about 1 1/2 inches thick
Tajín (to taste)
You'll also need: A cookie cutter (let the kids choose the shape!), popsicle sticks, wax paper or parchment paper and a baking sheet
Instructions
Cut the watermelon into 1 1/2 inch-thick slices.
Line a baking sheet with wax paper or parchment paper.
Using the cookie cutters, cut as many shapes as you can from each round. Place each cut piece on the baking sheet.
Cut up any remaining small pieces of watermelon left over and store in the refrigerator. Discard the rinds.
Sprinkle Tajín on the cut out pieces on the baking sheet. Don't forget to do both sides! Use as much or as little chile-lime salt as you like.
Insert the popsicle sticks into one side of the cut-outs.
Freeze on the baking sheet for at least two hours.
Notes
In the photos, I've used popsicle sticks that are meant for chocolate-covered bananas that I found in my local Latin market. When using regular popsicle sticks, take care to stick them directly in the middle, half-way into the cut-out without piercing through the other side.
https://theothersideofthetortilla.com/2013/06/natural-fruit-paletas-watermelon-sandia-tajin/
©2009-2015 theothersideofthetortilla.com
What other ways do you like to incorporate watermelon into your summer menu?
Disclosure: The Other Side of The Tortilla uses amazon.com affiliate links in this post. This means that we earn a few cents on the dollar if our readers purchase items linked from our posts. You do no pay any more that what you would pay if you were buying the same product without clicking our affiliate link. We only use affiliate links for products we use, like and recommend. We are not compensated by the companies that make the products.
11