I love baked kale chips, but have you seen what they charge for them in the grocery store? It's a crime! That's why I started making my own baked kale chips at home with a Mexican twist: Spiced with ancho chile powder. It's just enough spice to give the kale chips a little kick, but not too spicy. Trust me when I say you're going to want to eat them all in one sitting… and it's OK if you do, because these chips are healthy for you!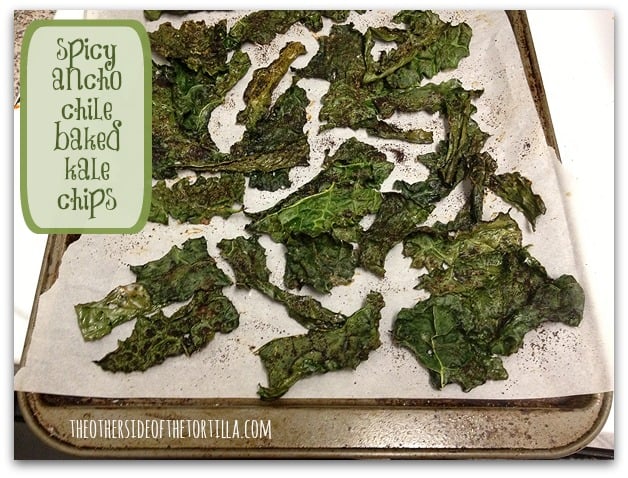 RELATED RECIPE: Roasted chickpeas with Tajín
The chips are easiest to make with the flat leaf kind of kale (called dinosaur kale, Tuscan kale or lacinato kale, and called col rizada in Spanish), and you really don't have to use that much cooking spray to coat them. I've been making my own kale chips for a few years and have experimented with other chile powders to make them spicier, using ground chile morita for a smoky chipotle flavor and even ground chile de árbol for a really spicy snack. Chile piquin is good too!
Ancho chile powder is perfect for kids or anyone who doesn't like very spicy snacks but still like a little chile flavor. 

RELATED RECIPE: Roasted jalapeño hummus
Spicy ancho chile baked kale chips
Baked kale chips get a Mexican twist with ancho chile powder.
Ingredients
1 bunch of dinosaur kale (flat leaf, also known as Tuscan kale or lacinato kale)
1/2 teaspoon kosher salt
1 1/2 teaspoon ancho chile powder
Non-stick cooking spray
Instructions
Preheat the oven to 350º F.
Remove the kale stems and tear the kale into medium sized pieces for the chips (they'll shrink a bit when baked).
Put the kale in a large bowl and spray with the non-stick cooking spray. Stir to coat.
Arrange on a baking sheet lined with parchment paper and sprinkle the salt and chile powder on the top. If you feel you'd like more salt or chile powder, adjust the recipe to your taste.
Bake at 350º F for 10-15 minutes. (The chips should not turn brown; if they do, they're overcooked.)
Notes
Check your chips when they've been in the oven for 10 minutes; as each oven is different, your chips may bake for anywhere from 10-15 minutes. Mine usually take closer to 15 minutes in an electric oven.
https://theothersideofthetortilla.com/2013/04/recipe-spicy-ancho-chile-baked-kale-chips/
©2009-2015 theothersideofthetortilla.com
1