Check out this fantastic and hearty black bean and chipotle chile soup I made this week. There are three reasons I love this recipe: First, you can make it in the blender—so it's very easy to clean up afterward. Second, the whole recipe from prep to bowl can be made in 15 minutes or less! And last but not least, this recipe is very healthy—it's low-fat and high in fiber. It makes a great first course if you divide into smaller portions, or with a little bolillo roll and butter, it can make an excellent and filling lunch or dinner.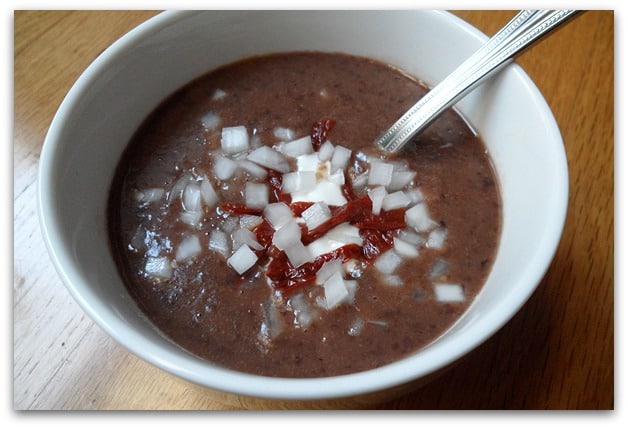 To make this recipe vegetarian, substitute vegetable broth for the chicken broth.
Here's a quick video to show you how to make this soup:
[youtube]http://www.youtube.com/watch?v=kf8sgMGdg04[/youtube]
For more tips and info on this recipe, visit the Kenmore Genius Blog, where I originally published my chipotle black bean soup recipe.
Chipotle black bean soup | Sopa de frijol negro con chipotle
Chipotle chiles give a kick to this hearty black bean soup.
Ingredients
Two 15 oz. cans of black beans (drain all the liquid out of one)
1 cup of low-sodium chicken broth
1 small clove of garlic, finely chopped
1 small slice of white onion chopped
One 3.5 oz. can of chipotle peppers in adobo sauce (you'll use about 2 tablespoons of adobo sauce and one chipotle pepper in the blender and another pepper sliced as a garnish)
1 teaspoon ground cumin
1 teaspoon Mexican oregano (optional)
For the garnish: chopped white onion, a spoonful of crema Mexicana and sliced chile chipotle (optional)
Instructions
Add black beans, chicken broth or vegetable broth, adobo sauce and chipotle to a blender. Blend until smooth.
Add the garlic, onion, cumin and Mexican oregano. Blend again for about 30 seconds.
Pour the contents of the blender into a saucepan and bring to a boil over medium-high heat for a few minutes. Reduce to a simmer for 5-7 minutes or until the color of the soup darkens and thickens a bit. It should reduce slightly. Be sure to stir frequently so the beans don't stick to the bottom of the pot.
Ladle into soup bowls. Garnish with a spoonful of crema Mexicana, chopped onion and if you like, some sliced chipotle pepper.
https://theothersideofthetortilla.com/2011/10/sopa-de-frijol-negro-con-chipotle/
©2009-2015 theothersideofthetortilla.com
You can also see all the other recipes and tips from The Other Side of The Tortilla on the Genius Blog.
How do you like to make your black bean soup?
5