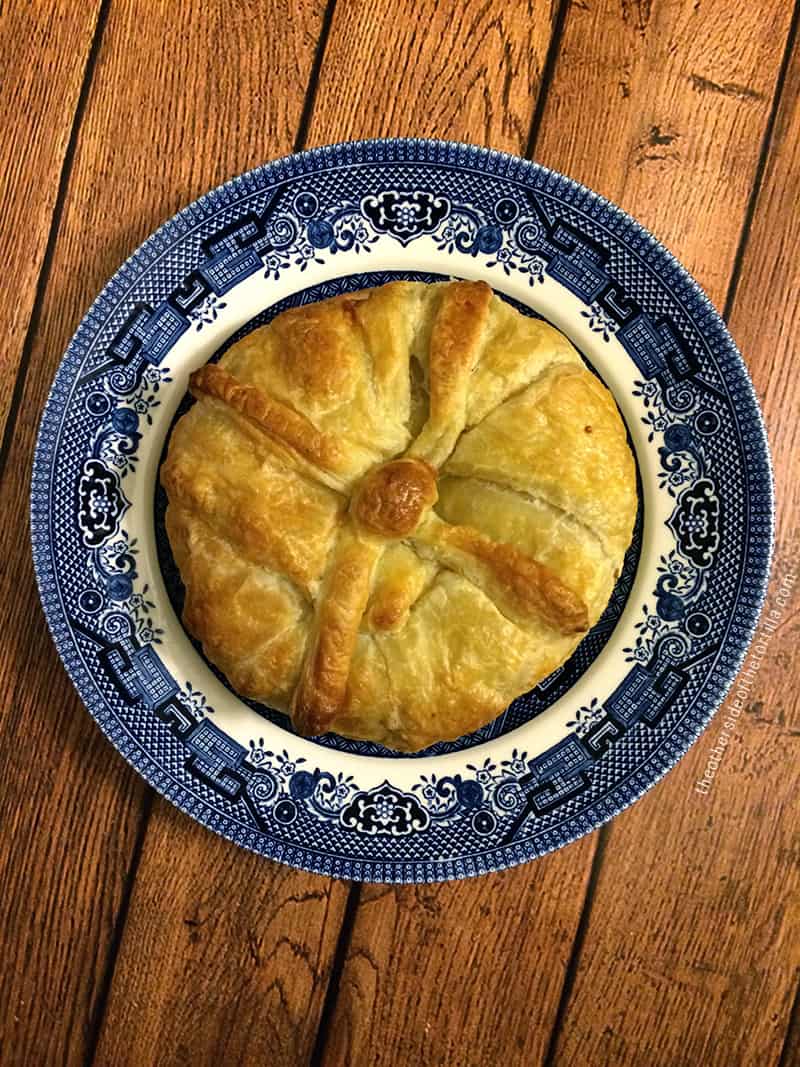 This post is part of a compensated campaign in collaboration with Cacique and Latina Bloggers Connect. All opinions and the recipe are my own.
This recipe is a fun spin on pan de muerto, a sweet bread typically served during Day of the Dead celebrations.
Traditionally, pan de muerto is perfumed with orange blossom water, has dough adornments on top that represent bones, and then is baked and dusted in sugar. Similar to a baked brie, this dish envelopes panela cheese and something sweet into a flaky puff pastry crust that, when finished, resembles pan de muerto but has a tasty, sweet and savory surprise inside!
I've used quince paste in this recipe, known as membrillo in Spanish; you can also substitute guava paste if you prefer.
RELATED RECIPE: Atole de vainilla
Day of the Dead is a time to come together to celebrate your loved ones that have passed, decorate an altar in their honor, place food and drink offerings on the altar, such as candies, pepitorias, chocolate amaranth bars, water, tequila, and atole, as well as other symbolic items. Many families in Mexico also go to mass or visit graves to clean and decorate with flowers and other items. You can even learn how to make your own sugar skulls to decorate your altar. There are so many ways to celebrate!
And if you're getting your family together to build an altar, you're going to have some hungry mouths to feed. This warm, delicious baked panela is a perfect snack to serve with a hot atole, champurrado or spicy Mexican hot chocolate while your guests decorate with you.
This baked panela in puff pastry is best served fresh from the oven; allow to cool for 5-10 minutes, and then just slice and serve. If you would like to substitute another Mexican cheese for panela, I recommend queso fresco.
Baked panela cheese for Day of the Dead
Ingredients
1 sheet puff pastry (such as Pepperidge Farms, found in your grocer's freezer section)
1 teaspoon all-purpose flour
5 ounces Cacique panela cheese
2 ½ ounces quince paste (also known as membrillo)
1 medium egg, beaten (for egg wash)
Instructions
Lightly flour the surface of a large cutting board and unfold the puff pastry sheet to defrost for about 45 minutes to an hour.
When defrosted, use a rolling pin to gently roll out the puff pastry both horizontally and vertically. With a sharp knife, cut away one panel of puff pastry and set aside.
Preheat the oven to 400 degrees F.
Cut a 10-ounce round of Cacique panela cheese in half-lengthwise. Save the other half in a plastic zippered bag for another use. Place the other half of the cheese in the center of the remaining puff pastry.
Cut small strips of quince paste (membrillo), weighted to 2 ½ ounces, and place on top of the panela cheese.
Wrap the puff pastry over the top of the cheese and quince paste like an envelope.
Cut three strips from the remaining puff pastry panel; this will simulate a pan de muerto decoration on top. Roll two of the strips and place on top of the puff pastry in the shape of an X. Tear the third strip in half and roll one half into a ball. Place the ball in the middle of the X. Discard the rest of the leftover puff pastry or use for another recipe.
Place the finished puff pastry envelope on a parchment paper-lined baking sheet.
Beat the egg and use a pastry brush to give the puff pastry an egg wash on top and around the edges.
Bake at 400 degrees F for 20 minutes.
Remove from oven, allow to cool for 5-10 minutes, then slice and serve.
Notes
If serving for an appetizer or dessert outside of Day of the Dead, you can leave off the pastry adornments that simulate the decor of pan de muerto. Just be sure to fold the puff pastry completely shut and then varnish with an egg wash.
https://theothersideofthetortilla.com/2014/10/baked-panela-cheese-membrillo-puff-pastry-recipe/
©2009-2015 theothersideofthetortilla.com
Learn more about Day of the Dead:
For more recipes to celebrate Day of the Dead, visit diadelosmuertosrecipes.com.
7