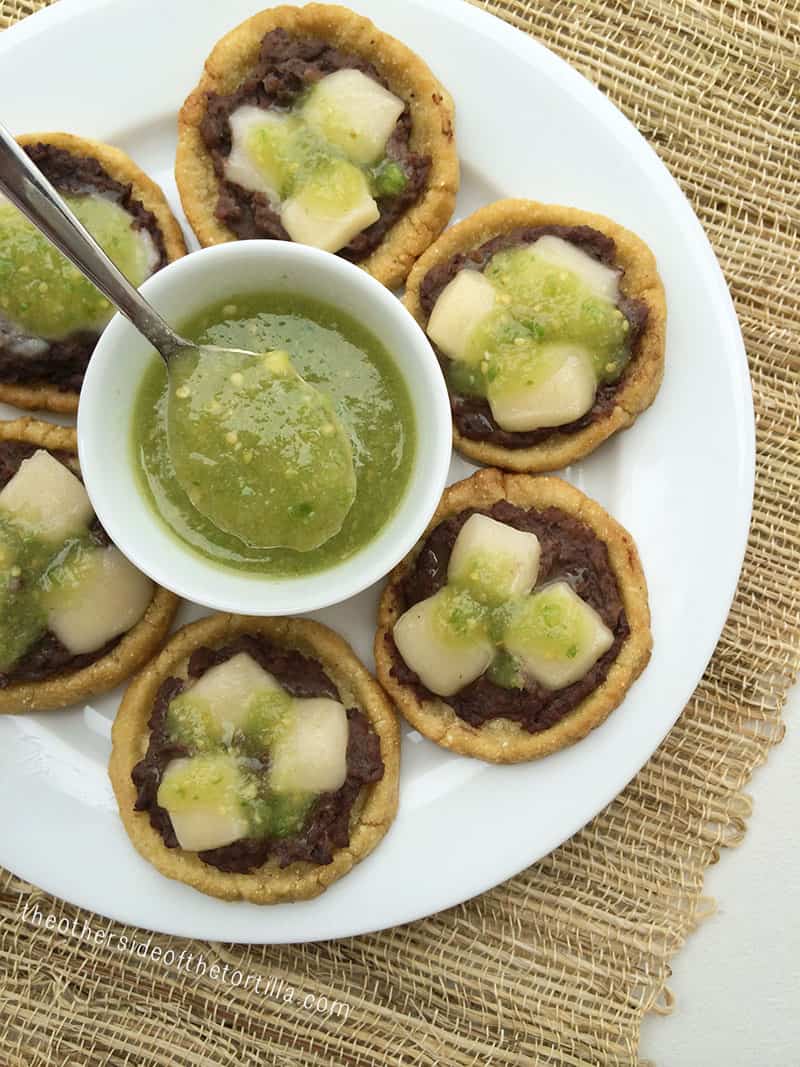 This post is part of a compensated campaign with Maseca, but all opinions and the recipe here are my own.
Pellizcadas are the perfect appetizer for those who love sopes, but want something a little smaller to snack on.
Pellizcadas can be eaten alone, as an appetizer, or along with a meal such as lunch. In Veracruz, where part of our family is from, it's common for pellizcadas to be served with small pieces of crushed chicharron and topped with salsa. In other parts of the country, there are many variations when it comes to the toppings. This particular variation is similar to one I've eaten in Acapulco, where this dish is sometimes referred to as pellizcadas acapulqueñas.
Depending on which area of Mexico you're in, this dish may be known as pellizcadas, sopes or chalupas. Pellizcadas are also sometimes called memelas, picadas, sopes or sopecitos; they are all a variation of the same idea, with a lip formed around the edge of a masa cake of varying thickness, and some kind of topping cradled in the middle. Pellizcadas are typically smaller than sopes, larger and thinner than memelas, and around the same size and thicker than picadas. Sometimes the topping dictates what they're called, depending on the region. No matter what they're called, though, the masa cakes for every version are fried in some way.
Traditionally, the masa for pellizcadas has manteca de credo (pork fat) added for moisture and flavor. However, I've used coconut oil as a slightly healthier substitute in this recipe. For the masa, you can also substitute regular Maseca instant corn flour (the kind for tortillas), but I've used the Nixtamasa because of it's rougher, more rustic texture. This version of pellizcadas includes refried black beans, queso fresco or queso panela, and your choice of green or red salsa, but you can feel free to swap out the toppings and make it your own!
RELATED RECIPE: Salsa verde cruda
THIS RECIPE IS GLUTEN-FREE AND VEGETARIAN-FRIENDLY.
Pellizcadas are a popular Mexican appetizer consisting of a fried masa base and topped with beans, shredded meat and salsa (among other options), a smaller version of sopes that are perfect for snacking.
Ingredients
1 cup Maseca Nixtamasa
2/3 to 3/4 cup water
1/4 teaspoon salt
1 tablespoon liquid coconut oil (you can heat solid coconut oil quickly and safely at 10-second intervals in the microwave)
1 1/2 cups canola oil or vegetable oil for frying
For the topping:
1 cup refried black beans
Your choice of Mexican cheese (I often like to use panela)
Instructions
In a large bowl, mix Maseca Nixtamasa with water, salt and coconut oil. Stir well to get out any lumps.
Roll tablespoon-sized balls of dough and then flatten in your palm, creating a small lip around the edges.
In a deep pot, heat the oil over medium heat.
Fry each pellizcada for a few minutes per side, until the masa begins to turn golden brown, but be careful not to over-fry. Remove from oil with a slotted spoon and place on a paper towel-lined plate to drain any excess oil. Pat the insides of the pellizcadas if necessary.
Spread refried black beans in the middle, with a few small pieces of cheese on top, and garnish with salsa verde or your choice of salsa.
https://theothersideofthetortilla.com/2014/11/pellizcadas-recipe/
©2009-2015 theothersideofthetortilla.com
Get more ideas for recipes made with Maseca at mimaseca.com.
37