Who doesn't love to grill? With the 4th of July coming up, I know that we're going to be out on the patio all weekend to enjoy the sunshine while sipping on some limonada with friends, grilling up some cebollitas and this tangy new recipe I came up with for the #MizkanLatino cooking challenge.
José, Mr. Picky-Picky when it comes to me experimenting with new ingredients, said this dish both smelled and tasted fantastic! With his stamp of approval, you know it has to be good. A note about the use of jalapeños in this recipe: you can absolutely leave the seeds and veins in the jalapeño if you want to give your chimichurri a little kick. I removed them in the video so that the chimichurri wouldn't be spicy, but would still have all the flavor of a jalapeño so that I could serve it to guests who were a little apprehensive about eating spicy food.
I used flank steak here (also known as falda de res) but you can substitute with another cut such as skirt steak (arrachera) if you like.
Be sure to check out the linky below throughout the week to see more videos and recipes from others participating in this challenge with me. You can also find out more about Holland House products on the Mizkan website.

[youtube]http://www.youtube.com/watch?v=UD-Ta0YKUS0[/youtube]

RECETA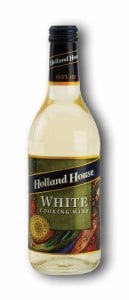 MEXICAN CHIMICHURRI MARINATED FLANK STEAK
1 lb flank steak
3 crushed garlic cloves
2 large jalapeño chiles, tops cut off and seeds and veins scraped out
1 big bunch of cilantro, chopped roughly
1/2 cup Holland House white cooking wine, divided
2 tbsp good olive oil
1 big pinch of kosher salt
juice of one lime
Start by crushing the garlic cloves and set aside in a prep dish. Cut the tops off of the jalapeños and slice them lengthwise; scrape out all the seeds and any veins so they won't be spicy. Rinse the bunch of cilantro under cool water to remove any debris and pat dry. Roughly chop the cilantro and add it to the blender.
Add the jalapeños, garlic, olive oil, 1/4 cup of Holland House white cooking wine, and a big pinch of kosher salt. Seal up the blender and pulse it on low so that the marinade is roughly chopped.
Open the top of the blender and add another 1/4 cup of the cooking wine and the juice of one lime. Seal it back up and run the blender on low speed until all the cilantro and jalapeños look chopped up and blended into the liquids. The marinade will be bright green. Set the blender aside.
Using a fork, gently poke holes in the flank steak on both sides so that the marinade can seep into the meat. Put the steak into a plastic zippered bag and add the marinade. Massage the meat for a few minutes to help the chimichurri get into the holes. Let it sit either on the counter or in the refrigerator for about 45 minutes before grilling.
Bonus: you can either reuse the marinade from the bag later to make a chimichurri drizzling sauce, or you can pour out about a half cup and set aside before you pour the rest into the bag. Either way, add the remaining chimichurri to a small saucepan and heat on low on the stove top, stirring occasionally. The sauce will change color to a darker green and thicken just a little bit.
After the meat has had sufficient time to absorb the flavor of the chimichurri, remove it from the bag and put it onto a pre-heated grill at around 350-400 degrees. Grill for a few minutes per side or until it's done to your liking. Remove from the grill and allow to sit for about 5-7 minutes before slicing, and then slice thinly on an angle. It's great as a standalone meal paired with grilled veggies, to top a salad with some queso fresco and a dressing such as a honey and cilantro-lime vinaigrette, or as a taco.
Disclosure: This post is part of a sponsored series to promote Mizkan cooking wines, vinegars and marinades. We also received samples of Mizkan's Holland House, Nakano and World Harbor brand products and promotional material from Mizkan to assist in preparing the posts. All opinions and recipes in this series are our own.
4