Mixed berries and cream popsicles are a spin on the traditional fresas con crema, loved all over Mexico. This version incorporates blackberries, raspberries and blueberries, in addition to strawberries.
My fresas con crema popsicles are some of the most popular paletas on the blog, and with good reason: they're the perfect way to enjoy summer berries! I created this version with mixed berries a few years ago and loved the way it came out. It's similar, but different enough that you get a different flavor palate with all the berries.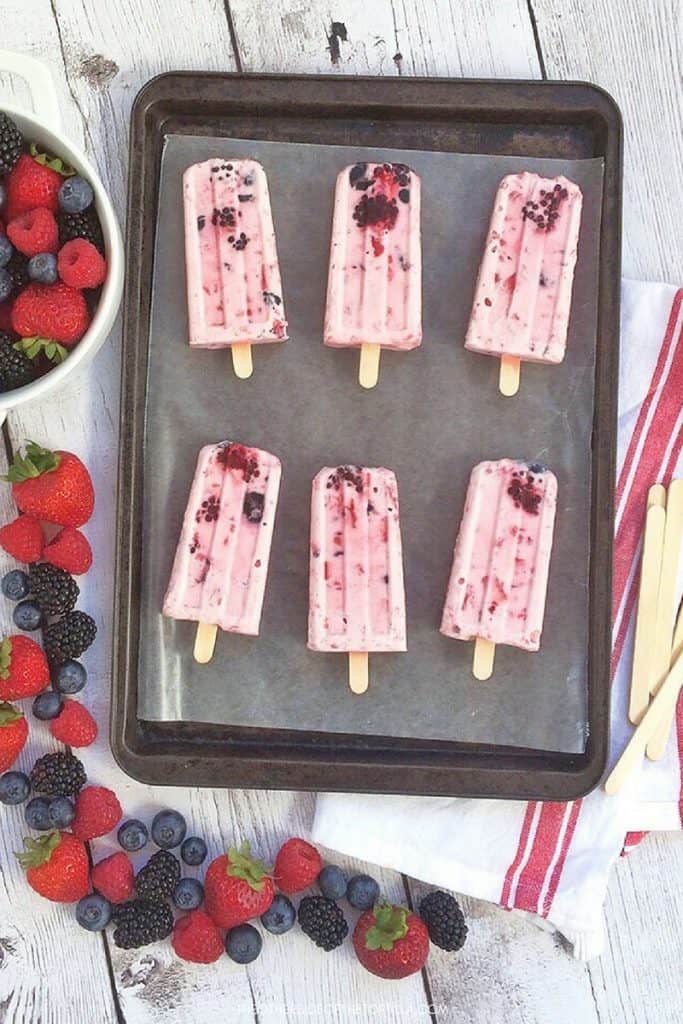 The best way to get these berries to bloom with flavor is to macerate them. Similar to the way I macerate sliced strawberries with sugar for my fresas con crema popsicles, we'll macerate the berries in this recipe, too, with one key difference.
It's essential to break some of the blackberries, blueberries and raspberries while macerating them, otherwise you won't get much berry juice. I gently break the berries with a potato masher, but you can also use a fork or other kitchen tool. Remember: you want broken berries that will hold their shape, but ooze some juice. You don't want berry pulp.
A couple of acknowledgements here: Blueberries are not all that common to find in some parts of Mexico, despite the fact that Mexico grows a lot of the blueberries eaten in the U.S. If you're not a blueberry-lover, you can sub in more blackberries (called zarzamoras in Spanish).
These popsicles are heavy on the dairy, and they don't translate well with coconut cream (vegans and non-dairy folks who like to make substitutions, be warned, you won't get the same results). If you don't eat dairy, I'd suggest making strawberry hibiscus popsicles instead to avoid tummy troubles. And if you REALLY like blackberries and can tolerate sweetened condensed milk, you might want to try my Oaxacan horchata popsicles, which have blackberries and cantaloupe in them—just like you'd float on top of the drink.
During the warmest months of the year, I suggest freezing these berries and cream popsicles completely overnight before serving so they aren't quick to melt in the heat.
You'll need a few things to make this recipe:
Popsicle molds
Wooden popsicle sticks
Cuisinart Mini Prep Plus (or another food processor or blender that can make whipped cream)
Print
Moras con crema popsicles
Yield 10 3-ounce
Similiar to the popular fresas con crema dessert, this version uses a mix of summer berries for a spectacular berries and cream popsicle you'll make again and again. 
Ingredients
2/3 cup chopped strawberries
1/2 cup blueberries
1/2 cup blackberries
1/2 cup raspberries
1/2 cup pure cane sugar (not white sugar) or raw sugar
1 1/4 cup heavy whipping cream
Instructions
Wash all berries, pat dry, and remove strawberry stems.
Chop 2/3 cup strawberries (about 4-6 large strawberries) and add to a glass bowl.
Place blueberries, blackberries and raspberries in the glass bowl and break some of the berries slightly with a potato masher to release their juices.
Mix the berries gently with a spoon and sprinkle with 1/2 cup sugar. Stir to make sure all the berries are coated, then allow the berries to sit undisturbed for 20 minutes to macerate and draw out the juices.
After the berries have been macerating for about 15 minutes, add 1 1/4 cups heavy whipping cream to a food processor and process for about 2 minutes or until a thick whipped cream is formed. (If you over-process, you'll end up with butter.)
Use a spatula to fold the whipped cream into the macerated berries, being careful not to over-mix and cause the whipped cream to go flat.
Spoon into a popsicle mold, add sticks and freeze for 8 hours or overnight.
Notes
To remove popsicles from mold, gently run lukewarm water over the bottom edges of the popsicle mold for a few minutes to loosen them.
If you want to cut some of the fat and calories, you can substitute regular whipping cream for the heavy whipping cream without losing much of the creamy taste.
Courses Dessert
Cuisine Mexican
You might also like: Mangonada popsicles