In March, I was invited by the California Strawberry Commission to tour a strawberry farm. This invitation came about after I recently passed through Oxnard on a road trip, where there happen to be several of strawberry farms, and I shared a photo on Instagram and Twitter, asking whether there were any farms that gave tours. The fields and roadside strawberry stands in Oxnard reminded me of Irapuato, a central Mexican town best known for its strawberry fields and the quaint roadside stands where you can get fresh fresas con crema. I'm always interested in knowing about where my food comes from, and living in California, there's an abundance of local, fresh produce year-round.  I was excited to visit a California strawberry farm and have the chance to ask the farmers questions about where my berries come from and how they're grown. This post is sponsored by the California Strawberry Commission, but all experiences and opinions are my own.
On this visit, I learned that nearly 90 percent of strawberries grown in the U.S. come from California, and strawberries are grown here year-round (with a peak season in March and April) due to the optimal climate, sandy coastal soil and ocean exposure. There are more than 400 strawberry farmers who grow both conventional and organic berries, and California is also the biggest grower of organic strawberries worldwide. Oxnard, where the farm we visited is located, is about 60 miles from downtown Los Angeles.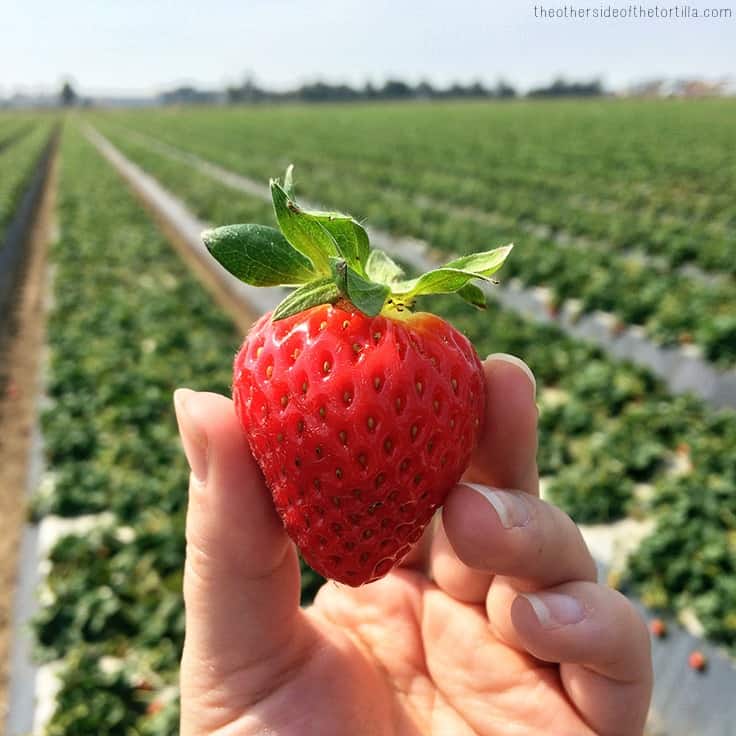 The farm that we visited was a family farm that has been farming in Ventura County, California, for more than 110 years. Farmers Edgar and William Terry gave us a tour of their farm, a chance to taste berries fresh from the field and ask questions—even the hard ones. Although the farm we visited was not an organic strawberry farm, I learned a great deal about the methods for growing strawberries and food safety issues (both food safety practiced in the field by the people picking your berries as well as pesticides used and how they affect our health), as well as who is growing and picking my strawberries….