Although May is National Strawberry Month, the grocery stores seem to suddenly be overflowing with ripe strawberries in the last week or so. We love strawberries in our house, but when you buy a few pounds of them at once because they're inexpensive, what can you do with them other than eat them? Turn them into an agua fresca, of course! You want to be sure that your strawberries are red, ripe and fragrant to use them for this recipe. If they're super sweet, you may want to decrease the amount of sugar in the simple syrup in the recipe; it's a matter of personal taste how sweet you like the agua to be. Mango adds a sweet and summery twist to this classic agua de fresa recipe. If you don't like mango, you can leave it out and increase the amount of strawberries by about one-third of a pound.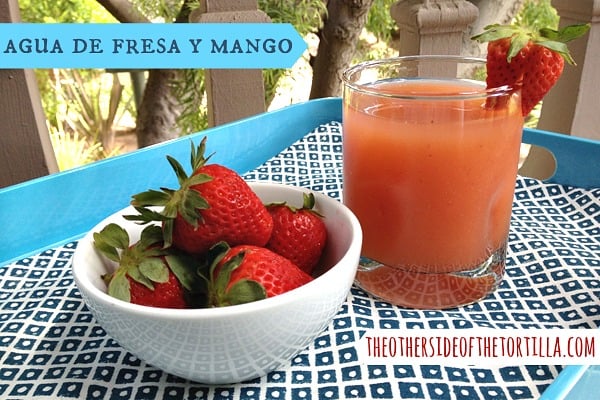 A few notes about this recipe: This particular agua fresca is a little bit thicker consistency than others due to the mango flesh. You can dilute it with additional water if you like, but the consistency of the recipe written here makes it more Colima-style. You should use yellow mangoes rather than the green and magenta-colored ones (a variety called Tommy Atkins, mostly grown in Florida, and known in Spanish as petacón because of the big-bottomed shape) usually available in most grocery stores.
The yellow mangoes you'll find in the U.S. are mostly Ataulfo mangoes and are very similar to Manila mangoes in taste and look, and both have very thin seeds, meaning you'll get more mango flesh. (Manila are the yellow variety most commonly available in Mexico City that we're used to eating when we're there.) Both Ataulfo and Manila mangoes have sweet, creamy flesh that practically melts in your mouth and are not fibrous like the Tommy Atkins variety, which can be tough if not ripe or stringy due to the fibers. Ataulfo mangoes are in season from March to July; they should be yellow to yellow-orange in color with no black spots, and they're perfectly ripe when the flesh gives a little (just like with a peach) and the skin starts to wrinkle just a bit….