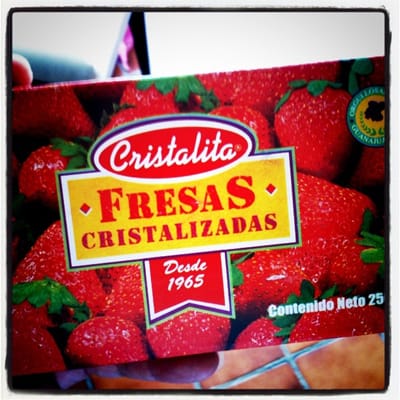 I can't help but feel a little jealous. This past weekend my suegros and my cuñada took a road trip from Mexico City to visit Abuelita Ana in Aguascalientes. I'm jealous for two reasons: one obviously being that they spent time with abue, whom I absolutely adore, but two, that they stopped for strawberries in Irapuato on the way back to El D.F. yesterday.
One of my favorite things from our road trip to Aguascalientes this past summer for abue's 90th birthday was the quaint little strawberry stands alongside the carretera in Irapuato. It was my first time road-tripping anywhere more than a a few hours outside of Mexico City, and I absolutely loved being able to see so much of the countryside, passing through towns I had previously only ever read about or heard about in stories from family members.
Located in the state of Guanajuato, Irapuato is well-known for its agriculture – especially its luscious strawberries. Many of the roadside stands advertise with hand-written signs offering the very best fresas con crema, along with fresas cristalizadas, cajeta, miel and other delicious treats. Of course, it's anyone's guess which stand actually has the best fresas con crema, but I'd gladly volunteer with a smile any day to try them all and let you know my pick.
One thing is pretty much the same no matter which stand you visit, though: the plump strawberries generally come in a lovely woven basket. On our trip, we stopped and got one tall basket full of these juicy beauties and they disappeared quickly once we got home. And as it's no secret that I also love candied fruit, we bought a box of fresas cristalizadas, too, which also promptly disappeared.
Of course, I tried to bribe my cuñada with promises of melting the snow and a plane ticket to come visit so she could bring me fresas in any form, but no amount of begging could convince her that coming to Chicago in the dead of winter was a good idea. I can't blame her, but I had to try!
Oh, how I wish I had some fresas con crema right now!
Have you eaten the famous fresas in Irapuato?
1