These horchata popsicles are a spin on Oaxaca-style horchata, which usually includes diced cantaloupe and red prickly pears that give it it's signature pink hue. In Oaxaca, this kind of horchata is commonly referred to as horchata con tuna. Some people even like to throw in chopped pecans and a sprinkle of ground cinnamon as a garnish. Horchata has always been one of the most popular recipes on The Other Side of The Tortilla, so I thought I'd share a popsicle version that my family loves to eat.
This recipe for horchata popsicles is gluten-free.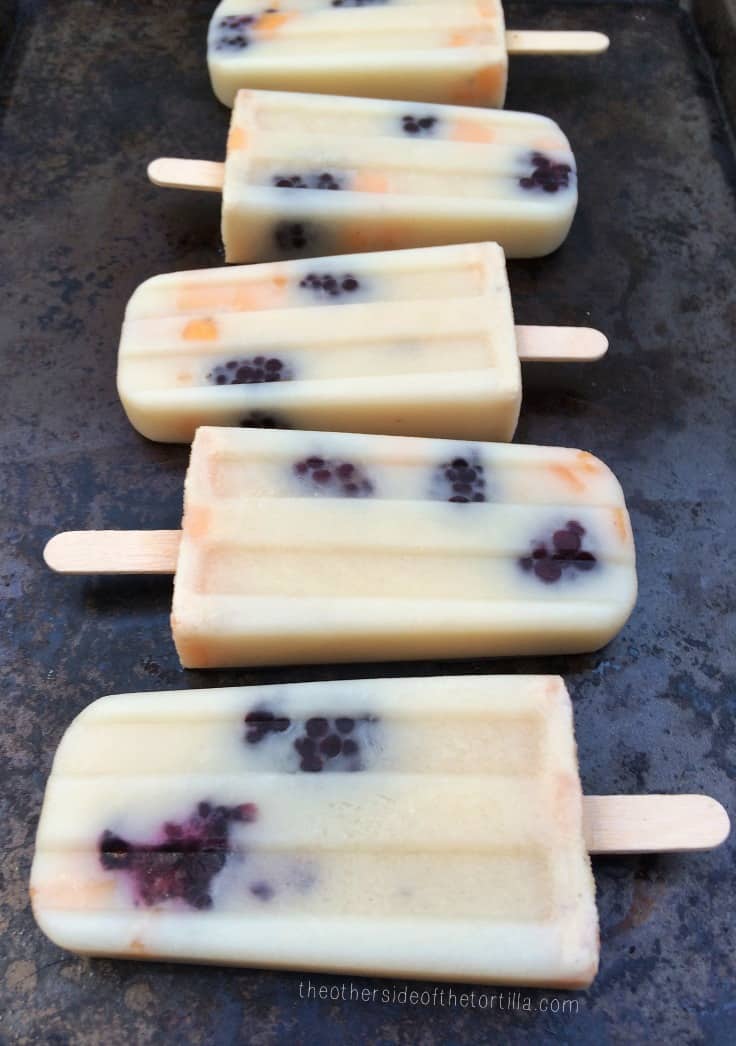 I've used blackberries instead of red prickly pears because they're in season all summer and through the beginning of autumn in some parts of the United States. Red prickly pears, known as tunas rojas in Spanish, are at peak availability typically starting in August and through the fall, and are not available in all areas of the United States. This way, you can eat these paletas all summer long!
RELATED RECIPES: Easy horchata, Red prickly pear agua fresca
You can get a colorful effect similar to horchata con tuna in your horchata paletas with blackberries if you break some of the berries to let them bleed a bit, and macerate them with a little bit of sugar to draw out the juices. By layering the cantaloupe first in the popsicle molds, then a few blackberries on top, it prevents the diced cantaloupe from all floating to the top of the mold—this way, the cantaloupe stays more toward the top of the popsicle and only a few pieces float to the top.
These horchata popsicles are a spin on Oaxacan-style horchata, which often includes cantaloupe and red prickly pears. This version uses cantaloupe and blackberries.
Ingredients
32 oz rice milk
3 Mexican cinnamon sticks
5 ounces sweetened condensed milk
1 1/2 cups boiling water
1/2 cup cantaloupe, diced into small pieces
1/2 cup blackberries
1 teaspoon sugar (I prefer Zulka morena non-GMO sugar)
Instructions
In a saucepan, add the rice milk and cinnamon sticks and heat over a medium-high heat until it comes to a boil. Stir with a whisk to deflate any foam.
Reduce to a simmer and whisk in the sweetened condensed milk.
Simmer, stirring occasionally, for 30 minutes.
Remove cinnamon sticks, cool to room temperature, and filter through a fine mesh sieve into a pitcher to strain.
WHILE HORCHATA IS ON THE STOVE: Dice cantaloupe into very small bite-sized pieces. Slightly smash the blackberries so they release a little juice. Macerate cantaloupe with blackberries and 1 teaspoon of sugar for 20 minutes.
Spoon 1 tablespoon of cantaloupe into popsicle molds and a few blackberries. Use your finger or a utensil to position the blackberries.
Fill molds with the room temperature horchata.
Freeze for 6-8 hours or overnight.
Notes
Prep and cook time does not include freeze time. Freeze popsicles in molds for 6-8 hours or overnight before serving. If needed, run the molds under lukewarm water to loosen the popsicles.
https://theothersideofthetortilla.com/2014/05/paletas-horchata-popsicle-recipe/
©2009-2015 theothersideofthetortilla.com
EAT MORE PALETAS! Try these recipes:
Fresas con crema (Mexican strawberries and cream) paletas
Watermelon and red prickly pear paletas
Mango peach paletas
Avocado paletas
Supplies I used to make this recipe, available for purchase in El Mercadito, my Amazon store:
Progressive International Ice Pop Mold
Wooden popsicle sticks
(These are affiliate links and I receive pennies on the dollar for purchases made through my store.)
9