Mexican s'mores are an easy twist on a classic American treat, made with grated Mexican chocolate melted into mini discs.
This post is part of a compensated campaign with Honey Maid. All opinions and the recipe here are my own.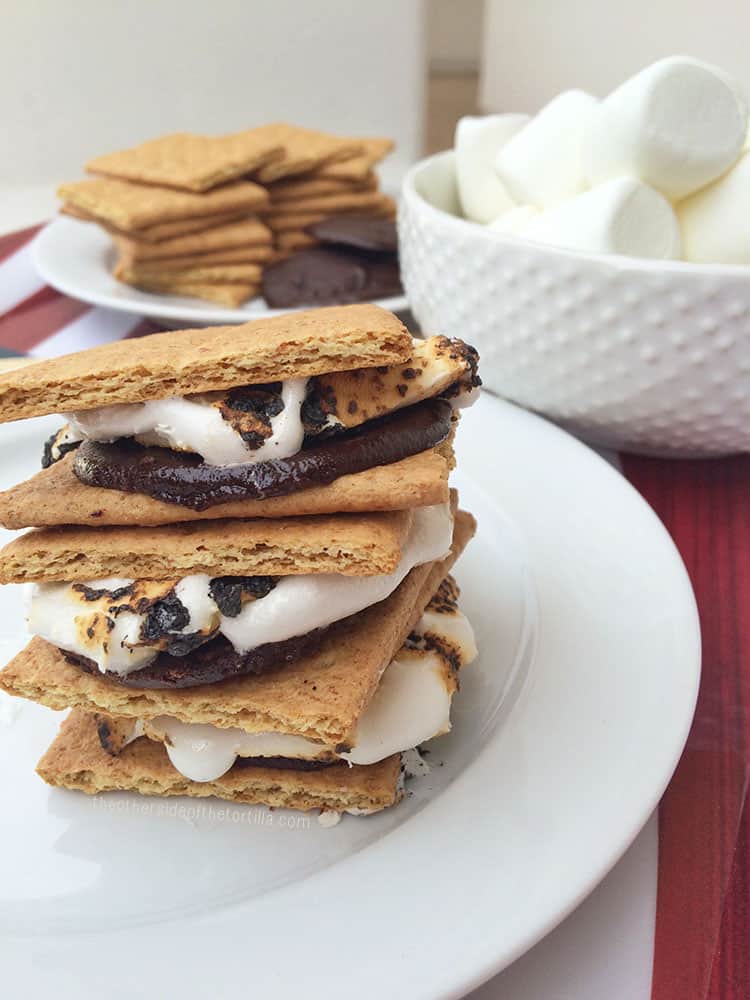 One in five Americans is part of an immigrant family and I'm among them. Although I was born and raised in the United States, my husband was born and raised in Mexico City. So when it comes to celebrating American holidays, such as the Fourth of July and Thanksgiving, I like to put some Mexican touches on our celebrations — both in the menu and the decorations. It's important to me that we talk about and celebrate both cultures in our home. I know that someday, our kids will appreciate having been raised in a bicultural, bilingual household because it will give them the best of both worlds.
Most years, we celebrate the Fourth of July with my family in the U.S. It's a day filled with family fun by the pool, snacks, a barbecue dinner (including dishes such as grilled Mexican chimichurri-marinated flank steak, arrachera borracha, tacos de rib eye and cebollitas), dessert and a fireworks display or at least some sparklers to conclude our Independence Day festivities. Any regular reader of my blog can attest that I love to put a Mexican spin on my favorite American dishes, so it's probably no surprise that I'd do the same for my Fourth of July dessert pick: s'mores. Although I keep regular milk chocolate on hand to make traditional s'mores too, I like to switch things up and also make mini Mexican chocolate discs to sandwich between my Honey Maid graham crackers and fire-toasted marshmallows.
Everyone in my family loves these Mexican s'mores!
The beauty of the melting pot that is America is that there's not just one correct way to celebrate, and there's always room for adding your own traditions. Mexican chocolate, made with ground cacao and cacao nibs, granulated sugar and a touch of cinnamon, makes for a unique s'more experience that's just a little more my style. I like to make the discs in advance and keep them in the freezer for making s'mores all summer long. My next endeavor with my s'mores is to make my own marshmallows, flavored with Mexican vanilla!
Please watch and share this beautiful video from Honey Maid (grab a tissue first), and then join me on social media with the hashtags #MeltingPot and #ThisIsWholesome to share how your family celebrates the Fourth of July with a cultural twist like we do.
[youtube width="640″ height="360″]https://www.youtube.com/watch?v=tsxFM_P5cr4[/youtube]
Mexican Chocolate S'mores
Give s'mores a Mexican twist with homemade mini Mexican chocolate discs.
Ingredients
1/2 cup grated Mexican chocolate (such as Abuelita or Ibarra; about 1 disc)
2 teaspoons water
4 HoneyMaid graham crackers, broken in halves
4-8 large marshmallows
Instructions
Use a cheese grater to grate 1 disc of Mexican chocolate.
In a shallow, microwave-safe bowl, add chocolate and stir in 2 teaspoons of water to moisten.
Microwave the chocolate mixture for 10-15 seconds and stir until completely moistened. Allow to cool for 5 minutes.
On a cookie sheet lined with wax paper or parchment paper, spoon rounded tablespoons of the chocolate onto the paper. Use the spoon to spread the chocolate into a small disc, about 2 1/2 inches in diameter.
Refrigerate the cookie sheet with the chocolate for at least 30 minutes; or freeze for 15 minutes. Store in the refrigerator in an airtight container, with wax or parchment paper separating the chocolate discs until ready to serve.
To assemble: roast marshmallows, place chocolate disc on one graham cracker square, top with marshmallow, and top with the other graham cracker square.
https://theothersideofthetortilla.com/2015/07/mexican-smores-recipe/
©2009-2015 theothersideofthetortilla.com
17