[youtube]http://www.youtube.com/watch?v=kEyhzmhA8SY[/youtube]
I've been experimenting in the test kitchen lately and coming up with some new recipes. Today I'm sharing my newest recipe for the #MizkanLatino cooking challenge, arrachera borracha con rajas de pimiento, or drunken skirt steak with grilled bell pepper strips. "Sabroso Grilling" was the theme for this challenge and the challenge ingredient was to use one of Mizkan's World Harbors marinades, so I chose the Mexican-style fajita marinade.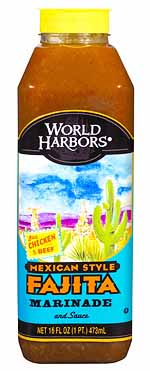 The recipe calls for arrachera (skirt steak), but you can also substitute another cut such as falda de res (flank steak) depending on your preference. The great thing about this recipe is that the beer tenderizes the meat, so the longer you marinate for, the more tender the meat should be. Ideally, if you can put the marinade together in the morning and let it work its magic all day up until dinnertime, you'll have both optimum flavor and tenderness.
I chose to use Bohemia, a Mexican beer known for it's high-quality ingredients, richness and distinctive earthy flavor. If you can't find Bohemia where you live, acceptable substitutes would include Negra Modelo or Victoria.
A fajita-style recipe, you should serve the meat and peppers with lime wedges and a full-bodied salsa. You can eat this dish as a regular old steak or you can cut up the meat into thin strips and make tacos with it. If you're looking for more sides to go with it, frijoles refritos or frijoles charros are a good fit. Either flour or corn tortillas work with this dish if you make tacos out of it—both are acceptable, but flour tortillas are more often used for fajitas, which are a popular dish along the U.S.-Mexico border.
Be sure to check out the linky below the recipe to see more videos and recipes from the other five bloggers chosen by Mizkan to participate in this challenge with me. You can also find out more about World Harbors products on the Mizkan website.
RECETA
1 lb arrachera, sin cuero (skirt steak without the skin so it's a little leaner)
1 cup Mexican beer (I use Bohemia)
3/4 cup world harbors fajita marinade (divided; 1/2 cup for meat marinade, 1/4 cup for bell pepper marinade)
Juice of half of one lime
2 teaspoons ancho chile powder or more to taste
1 green pepper
1 yellow pepper
1 red pepper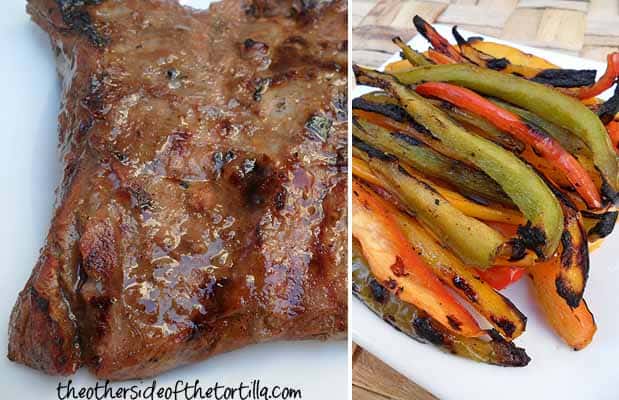 Poke the meat thoroughly with a fork so that the marinade can seep in. (You can also ask your butcher to pass the meat through the machine so you can skip this step, but I like to do it myself.) Mix the beer, 1/2 cup fajita marinade and ancho chile powder. Stir to mix. Add lime juice and stir again. Place meat inside a plastic zippered bag and pour marinade over meat. Seal the bag making sure to remove all air and gently massage the meat to get the marinade in the holes.
Cut the tops of the bell peppers off and slice them into strips. Place them in a separate zippered plastic bag and pour the remaining 1/4 cup of fajita marinade in the bag. Seal the bag and shake to coat the pepper strips with the marinade.
Put both bags in the refrigerator to marinate for at least two hours or up to 10 hours. (I've tried also marinating the meat overnight and can say with certainty that if you leave it for as long as 12 hours, it will still taste great, but you don't want to leave it much longer than that because the proteins will start to break down from the beer and the acidity of the lime juice.) Grill over medium heat. Be sure to turn the pepper strips frequently so they don't burn. They will cook quicker than the meat so when they're done, remove from the grill and allow to rest on a plate. When the meat is done, allow it to rest for 5 minutes before cutting and serving in a warm tortilla with the pepper strips.
Yields 2 servings.
Disclosure: This post is part of a sponsored series to promote Mizkan cooking wines, vinegars and marinades. We also received samples of Mizkan's Holland House, Nakano and World Harbor brand products and promotional material from Mizkan to assist in preparing the posts. All opinions and recipes in this series are our own.
5