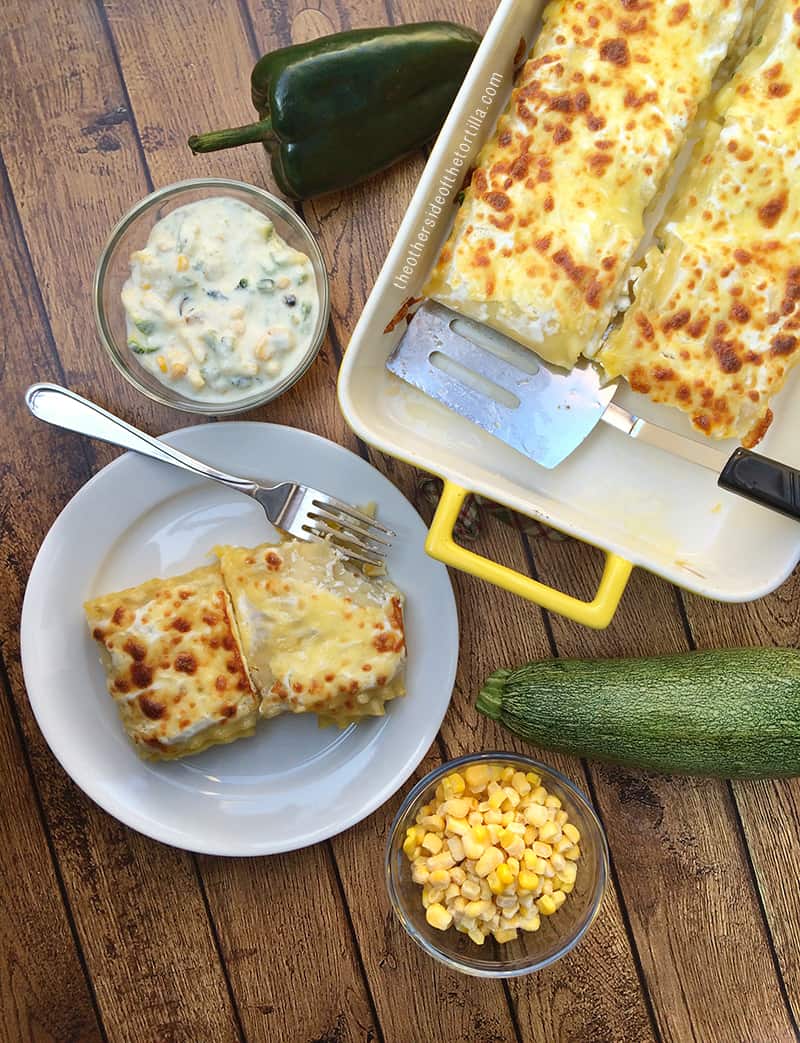 This post is part of a compensated campaign in collaboration with Barilla and Latina Bloggers Connect, but the recipe and all opinions here are my own.
Rollitos de lasaña azteca, or Aztec lasagna rolls, are an easy and flavorful dish that you can prepare in advance and pop into the oven to get dinner on the table without much effort.
Several years ago, my Tía Annette gave me a copy of a Mexico City Junior League cookbook from the 1980s. The thing I loved most about the book was that it had expat fusion recipes that were Mexicanized versions of American comfort foods, and it was a window into what the most popular recipes were among these women at the time the book was published.
This recipe is my modern spin on a fusion of two recipes that were particularly popular at the time that edition of the Mexico City Junior League cookbook was written: A white lasagna made with Mexican cheeses, and a dish known as budín Azteca or pastel Azteca, which is basically a lasagna dish that uses tortillas in place of lasagna noodles, and has a cheesy, spicy chile and vegetable filling.
RELATED RECIPE: Tomato chipotle soup with star pasta
I've used the classic Barilla lasagne pasta in this recipe, but you can also substitute the Barilla whole grain lasagne if you prefer. Both products are high quality, and keep their shape, consistency and al dente texture when cooked. I love this dish because of its unique fusion and made a mi estilo, con mi sazón. And it's easy to find this Barilla product in your favorite grocery store to make your own dishes at home—traditional or with a modern spin, like mine.
The requesón or ricotta cheese and vegetable mixture can be made up to one day in advance. (Beyond that, you'll have soggy veggies.) You can also cook the lasagna noodles, spread the filling on them, roll up and refrigerate in a covered casserole dish for 12-24 hours in advance—just let them sit out for about 10 minutes before you put them in a preheated oven.
You can also bake and then portion and freeze this dish if needed. Defrost before reheating and you're good to go. I especially love to make this dish on Sunday nights so I have a quick dinner ready on Monday after a hectic day at work, and leftovers to take for lunch too.
Ingredients
1 cup frozen corn kernels, roasted
3 medium poblano chiles, roasted, skinned, seeds and veins removed, and diced into small pieces (should yield approximately 3/4 cup)
1 cup calabacita, finely diced
1 ½ cups fresh requesón or ricotta cheese
3 cups shredded quesadilla or Chihuahua cheese, divided in half
½ cup crema mexicana, plus ¼ cup
2 teaspoons kosher salt, or more to taste
¼ teaspoon freshly ground peppercorns (optional)
10 classic Barilla lasagna noodles or Barilla whole grain lasagne
For boiling the pasta: Follow package directions for water and add 1 teaspoon kosher salt
Instructions
Roast and sweat two poblano chiles. Allow to cool for about 15 minutes and then remove the skins, seeds and veins, and dice into small pieces.
Line a baking sheet with aluminum foil and spread the corn kernels evenly on the baking sheet. Roast under the broiler for about 5 minutes until the corn kernels begin to turn slightly brown. Remove from oven and set aside to cool.
In a medium mixing bowl, stir together finely diced calabacitas, diced poblano chiles, roasted corn, requesón, 1 1/2 cups of shredded cheese, crema mexicana and 1 teaspoon kosher salt until all ingredients are completely incorporated. Set aside.
In a stockpot, bring water and 1 teaspoon kosher salt to a boil. Cook lasagna noodles for 8-9 minutes, until al dente.
Spray two aluminum foil-lined baking sheets with cooking spray and remove lasagna noodles from the pot and place them on the baking sheets.
Spoon a few tablespoons of the requesón mixture on top of each noodle, leaving about ½ an inch at the end of one noodle, and spread thinly. Roll each noodle and place in a casserole dish greased with cooking spray.
Drizzle ¼ cup crema mexicana over the top of the lasagna rolls and sprinkle remaining 1 ½ cups of cheese over the top.
Bake in a preheated oven at 375 degrees F for 15 minutes and then finish under the broiler for 4-5 minutes or until the cheese starts to get bubbly and brown.
Notes
Feel free to add more shredded cheese on top if you like your lasagna rolls extra cheesy.
https://theothersideofthetortilla.com/2014/10/mexican-lasagna-rolls-recipe/
©2009-2015 theothersideofthetortilla.com
For more recipes and tips, visit barilla.com or in Spanish at pastaatuestilo.com.
6