As you may have noticed this year, I've been posting a lot of mango recipes. Mangoes are seemingly easier and cheaper to get on the West Coast, and available for a longer period of time than in Chicago where we used to live. We've been drinking a lot of agua de mango this year because I can't resist buying mangoes almost every week.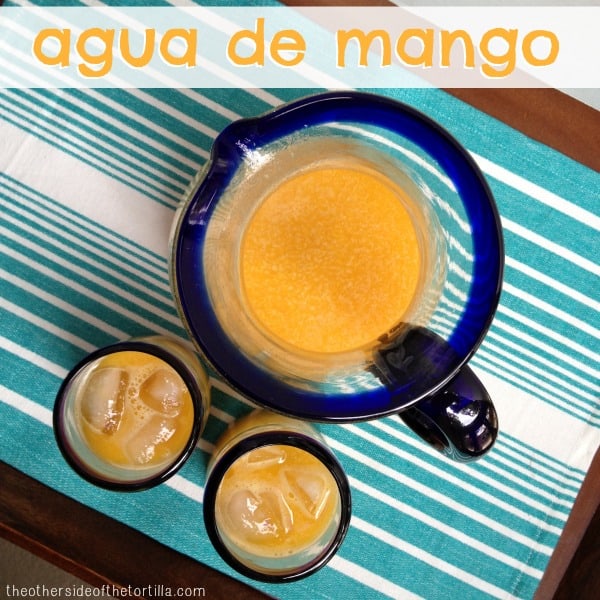 This recipe calls for Ataulfo mangoes, which are a yellow variety known for being sweet. Close substitutes or other names for this kind of mango can include Manila mangoes, honey mangoes or champagne mangoes. Ataulfo mangoes are in peak season between March and June, but can often be found in stores all the way through December depending on the part of the country where you live.
Leave the mangoes out on the counter at room temperature for a few days if they're firm at the time you buy them. You'll know they're ripe and ready to use when the skin gives a little when you press it and/or the skin starts to wrinkle slightly. If the skin is already wrinkled when you buy them, they're ready to use immediately. This variety of mango is less fibrous than the Tommy Atkins (green with red blush) variety, and therefore is more ideal for making aguas frescas.
If you like this recipe, you may also like my agua de fresa y mango recipe (strawberry and mango).
AGUA FRESCA: Agua de mango
Mango is a popular agua fresca flavor in Mexico. Mangoes are high in fiber, packed with Vitamin A, C and E, have more than 25 kinds of carotenoids which help boost immunity, and can help lower cholesterol. Ataulfo mangoes are best for this recipe because they are the sweetest variety and also least fibrous texture, which means you'll discard less pulp.
Ingredients
2 Ataulfo or Manila mangoes
3 1/2 cups cold water
3 tablespoons natural cane sugar (such as Zulka azúcar morena)
Instructions
Peel the mangoes and remove all the flesh from the pit. Put the flesh directly into a blender or food processor. Squeeze the juice out of any remaining flesh on the pit that is too difficult or rough to cut away from the pit.
Add 3 tablespoons of cane sugar and 3 1/2 cups of cold water to the blender or food processor and puree until completely smooth.
Place a fine-mesh strainer or sieve over a pitcher and pour the contents of the blender through the sieve. You should only end up discarding about 2 tablespoons or so of the fibrous pulp left behind from the mango flesh.
Serve over ice if serving immediately, or refrigerate. Will last about 4-5 days in the refrigerator.
Notes
Serve over ice. If you don't consume it all, you can refrigerate the rest of the pitcher for up to four days. Remember to stir the agua fresca well because the mango puree will separate slightly when at rest.
https://theothersideofthetortilla.com/2013/09/agua-fresca-agua-de-mango/
©2009-2015 theothersideofthetortilla.com
Try more of my aguas frescas recipes:
Agua de jamaica | Agua de mandarina | Agua de melon | Horchata | Agua de tuna roja (red prickly pear) | Agua de piña | Limonada
Try more of my mango recipes: 
Mangonada paletas | Mango and peach paletas | Paletas de mango con chile | Guacamole with mango and pomegranate seeds
40