If you love to entertain and want to whip up some fun, fruity cocktails that are so easy to make, you'll have plenty of time to spend with your guests, this is your cocktail! This is what I'll be serving up to visitors during the Labor Day weekend while we hang by the pool and soak up the last of the summer sun.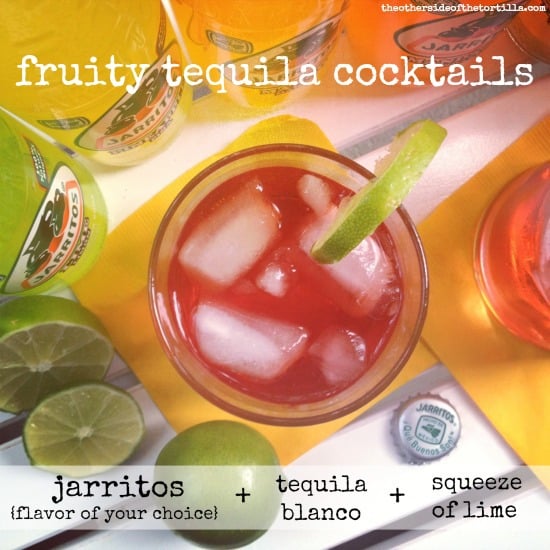 I typically stock the following flavors at home to make this easy cocktail: Fresa (strawberry), tamarindo (tamarind), mandarina (mandarin orange), piña (pineapple), guayaba (guava), limón (lime) and mango. For those who like to play bartender, you can try mixing some of the soda flavors to make more unique cocktails, such as pineapple-guava or strawberry-mango. If you like, you can also substitute rum for the tequila. Even when we're not entertaining friends, I like to hang out on the balcony or by the pool sipping these fruity cocktails.
Note: If you use the toronja (grapefruit) flavor + tequila, you can make a version of my paloma recipe!
Jarritos tequila cocktails
A fun and easy tequila cocktail made with fruity Jarritos soda.
Ingredients
1 12.5-ounce bottle of Jarritos soda (flavor of your choice)
2-4 ounces tequila (1-2 ounces per glass)
A squeeze of lime juice in each glass
6 ice cubes (3 per glass)
Instructions
Add ice and tequila to the glasses. Use 1-2 ounces of tequila per glass, depending on how boozy you'd like your cocktail to be.
Pour half of the soda into one glass and the rest in the other glass.
Squeeze a little fresh lime juice in each glass.
Garnish the glasses with a slice or wedge of lime.
https://theothersideofthetortilla.com/2013/08/jarritos-fruity-tequila-cocktails/
©2009-2015 theothersideofthetortilla.com
What's your favorite summer cocktail?
373