Frijoles charros is one of my all-time favorite Mexican dishes.
For weeks, José had been bugging me to make his Tía Carola's frijoles charros. Outside of El Charco de Las Ranas, his favorite taquería in Mexico City, Tía Carola's frijoles charros are the only ones he has ever raved about.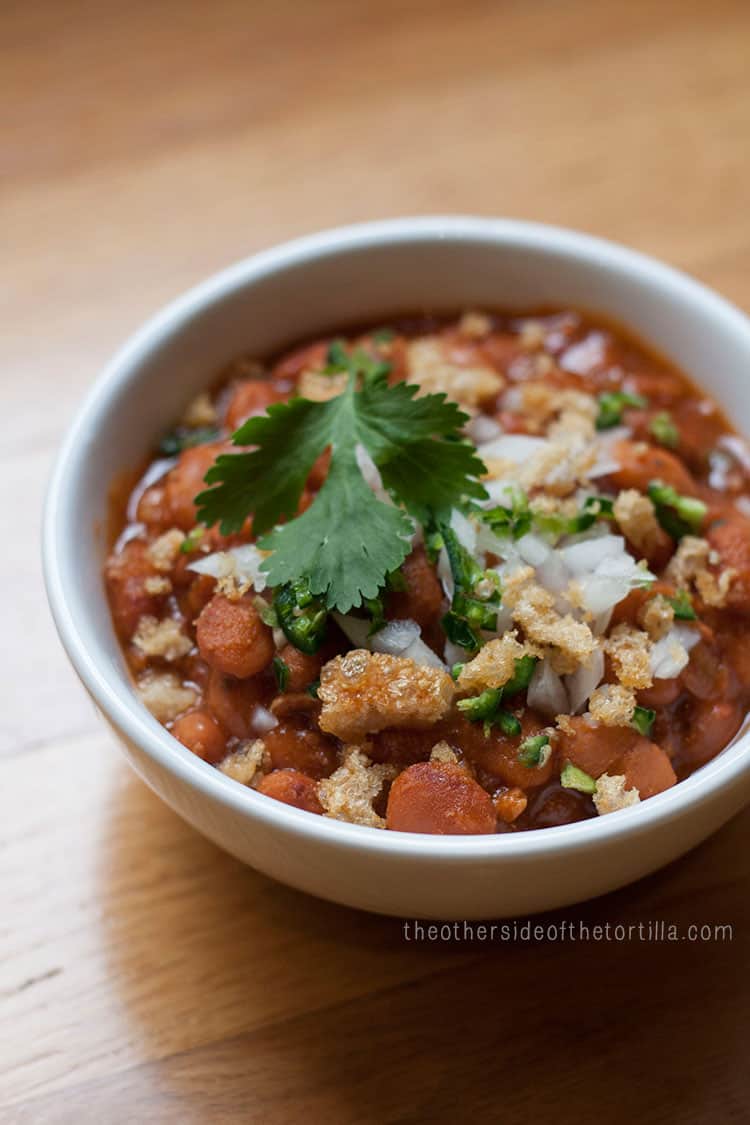 Until the day I decided to make them.
When I asked for the recipe, it felt like I was playing "teléfono descompuesto" with at least three people – where something surely gets lost every time someone relays the message on to another person. José called his sister, who called his aunt; then his sister called him back and he translated the ingredients to me. Note that he only relayed the ingredient list and not the portions. And he only got a vague set of instructions. Apparently, Tía Carola is not exactly keen on lots of details and also hadn't made this dish in at least 10 years. I'd be lying if I said I wasn't a bit nervous about making this vaunted recipe with such a vague idea of what I was supposed to do.
I returned from the store with a big bag of pinto beans. José argued with me that I had bought the wrong beans because they were supposed to be frijoles bayos. I knew that, but couldn't find them at the store so I settled confidently on a hand-sifted bag of carefully chosen pinto beans. I settled the argument with a quick google search that ended in my favor, which had me secretly feeling proud on the inside that I knew frijoles pintos and frijoles bayos were not the same, but often interchangeable because of their similarities in taste, color and texture ‑ especially in this recipe.
I knew when José argued with me about the beans that he was going to be a tough customer to please. I lit one of my San Judas Tadeo candles (the patron saint of lost causes and desperate situations) and hoped for a culinary Hail Mary with my limited instructions and the guesswork lying ahead. I was short on time with no room for mistakes since I was making the frijoles charros for lunch on a weekday and all I had as a backup were some emergency TV dinners in the freezer. Who could have ever imagined there could be so much pressure behind a pot of beans?
As I served the frijoles charros, my stomach was in knots. Would they live up to Tía Carola's recipe? I waited for the verdict as he savored the first spoonful.
Resounding success! "Muy bien!" José said as he nodded and ate another spoonful – as if he had perhaps doubted that I could get the recipe down on the first shot with such vague instructions. I couldn't blame him. After all, I hadn't been quite sure I'd be able to pull it off either, to be honest. But three servings and a high-five later, I was convinced I had gotten it perfectly right. I've now been making this dish for years and it's become a staple in my kitchen, especially during the fall and winter months.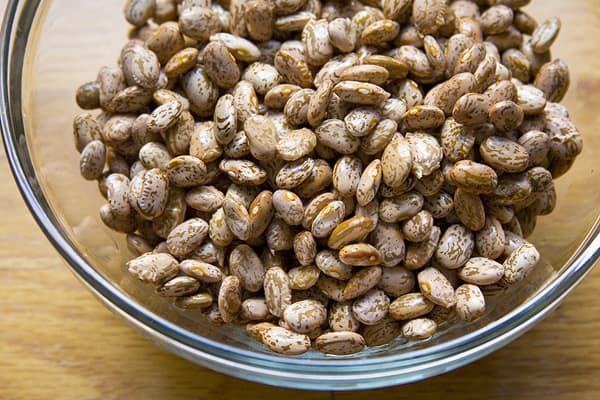 You need an olla express (a pressure cooker) for this recipe. Like I've said many times before to those who've asked me, you don't need to spend a lot of money on a fancy pressure cooker with lots of bells and whistles. I have a pressure cooker that I bought at a national household goods chain for $20 (less a 20% off coupon) that I've had for several years and it works perfectly fine. It's the easiest, quickest way to make just about any kind of beans from scratch. It's a shortcut even your abuelita would approve of – trust me.
One of the key ingredients in the flavoring of this recipe is Mexican beer, and to help you out in advance, here are a few brands I recommend: Victoria, Indio, Sol, Modelo, Bohemia, and Pacifico. In a pinch, you could also try Tecate or Corona. No matter where you live in the world, you should be able to get at least one of them!
This recipe is perfect as an appetizer, as a meal itself or as a side. It's especially perfect in the fall and winter because it's hearty and will keep you warm and full. And José will tell you: it's even better the second day. That is, if you have any leftovers.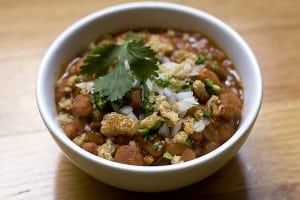 Print
Frijoles charros
Yield 6-8 servings
Frijoles charros (cowboy beans) are a hearty, meaty Mexican dish that can be served as a main dish or a side.
Ingredients
1 cup pinto beans (frijoles bayos can be substituted)
5 cups water
2 teaspoons powdered chicken bouillon (such as Knorr Suiza)
5 strips of thick center-cut bacon
4 ounces Mexican chorizo, cooked (I use pork, but you can also use beef)
4 Roma tomatoes (known in Mexico as jitomate Saladet)
4-5 serrano chiles
½ of a large white onion, sliced
1 clove of garlic (optional)
1 cup (8 fluid ounces) Mexican beer
1-2 small sprigs of cilantro
salt to taste
For garnish:
Finely diced white onion
Finely diced serrano chile
Crushed chicharrón (called pork cracklings in English)
Instructions
Rinse your beans well and remove any broken pieces. Add the beans and chicken buillon to the pressure cooker and cover with the water. Close the lid and heat on high until the safety valve closes on the pot and the pressure gauge begins to rock gently and consistently (or if your pressure cooker doesn't have a rocking gauge, follow the directions that came with the pot). Allow the beans to cook for 20-25 minutes.
While the beans are cooking, remove the stems of the tomatoes and roast them under the broiler in the oven with the onion, chiles and optional garlic. Turn them to the other side when you notice them getting darkened. Remove from the broiler and set aside.
On the stovetop, cook the bacon in a frying pan until it is moderately crispy. Remove from the pan and drain on paper towels. Tear the bacon into bite-sized pieces and set aside.
Next, cook the chorizo over medium heat in a frying pan, making sure to break up the meat into small pieces. Be sure not to overcook the chorizo. Drain on paper towels if necessary.
By this time, the beans should be halfway done. Remove the pot from the heat. If desired, you can gently alleviate the pressure by using an oven mitt to set the pressure gauge slightly off-kilter to allow steam to escape until the safety valve unlocks. Caution: it will be very hot and will burn you if you don't protect yourself with an oven mitt. I like to also use a kitchen towel to catch the steam carefully in addition to wearing the mitt. If you're not confident about trying this method, don't worry – just let the pot sit after you've removed it from the heat until you hear the safety valve unlock. It will take a little longer that way, but if you're at all nervous about safety because you're a first-time pressure cooker user, just let it rest and cool on its own.
Add the roasted tomatoes, chiles, onion and optional garlic into the blender and puree until completely smooth. Add torn bacon and chorizo to the blender and pulse blender until incorporated. The mixture will turn a shade of reddish-orange thanks to the chorizo.
Open the pressure cooker once the safety valve has unlocked. You still should handle the pot carefully – using oven mitts, slowly open the pot facing away from you so any remaining steam escapes safely. There should still be a decent amount of liquid in the pot covering the beans. If not, add a little water until the beans are completely covered.
Add the mixture from the blender to the pot and then the beer; stir once, throw the small sprig of cilantro on top and close the pot back up securely. Put it back on medium-high heat until the pressure gauge rocks gently and consistently again (it should not spin or spit liquid; if it does, the heat is too high). Reduce the heat just slightly and cook for another 25-30 minutes.
Remove from heat and allow to cool using the same method as before. Once you open the pot, the beans are ready to be served; just add salt to taste.
Garnish with finely diced white onion, serrano chile, crushed chicharrón and if desired, a few fresh cilantro leaves.
Notes
The cook time for this recipe is based on using a pressure cooker.
Cuisine Mexican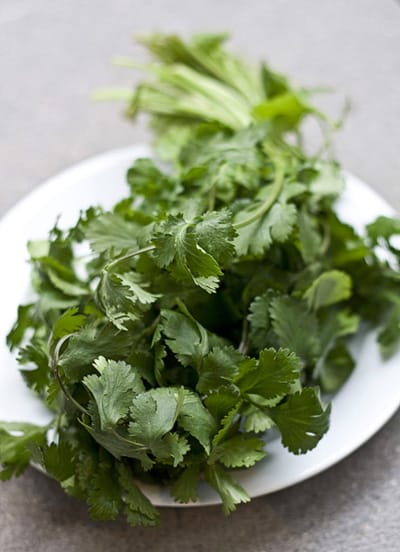 171