Watermelon and red prickly pears are one of my favorite fruit flavor pairings. This summer I've been making a combination agua fresca with both flavors, and I started modifying my agua fresca recipe to turn them into paletas (er… Zokuletas). While mixing them together and pouring straight into my Zoku Quick Pop Maker for a quick and tasty treat, I found that I enjoy them much more when they look pretty too. I love making these layered pops for a refreshing snack on a hot day.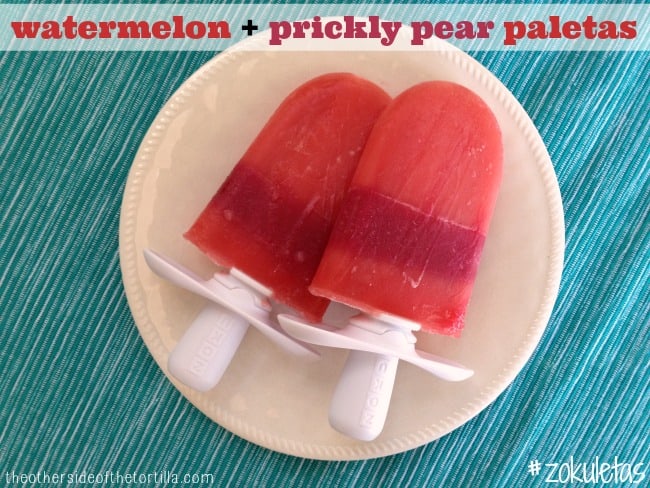 If you don't have the Zoku Quick Pop Maker, you can also use a popsicle mold with 2-ounce pops (affiliate links to El Mercadito, The Other Side of The Tortilla's Amazon aStore); you'll just have to wait longer for the layers to freeze before you can add another layer.
Watermelon and red prickly pear paletas
Ingredients
For the watermelon:
1 cup tightly packed watermelon
1 tablespoon natural cane sugar, such as Zulka azúcar morena
1/4 cup cold water
For the prickly pear:
4 red prickly pears
2 tablespoons sugar, such as Zulka azúcar morena
1/4 cup cold water
Instructions
In a blender or food processor, add the watermelon, 1 tablespoon of sugar and 1/4 cup cold water. Puree until completely smooth.
Pour through a fine mesh strainer into a measuring cup and set aside.
Rinse out the blender and dry.
Cut the ends and skin off the prickly pears and roughly chop. Add chopped prickly pear to the blender, along with 2 tablespoons of sugar and 1/4 cup cold water.
Strain through a fine mesh strainer into a measuring cup.
Choose which flavor you want to pour first, pour about one-third of juice into the Zoku Quick Pop Maker molds. Allow about 5 minutes for the first flavor to set, then pour the second flavor. Allow another 5 minutes to set, then pour the first flavor again. Be careful not to overfill the molds.
Remove from the molds using the super tool and eat or store for later.
Notes
If you don't plan to eat your popsicles right away, store in a Zoku storage case or put two pops per sandwich baggie, placing one pop at each end of the bag and folding in the middle so they don't touch. Put the baggie in the freezer until you're ready to enjoy.
https://theothersideofthetortilla.com/2013/09/watermelon-prickly-pear-paletas-zoku-recipe/
©2009-2015 theothersideofthetortilla.com
If you have a Zoku Quick Pop Maker and would like to try more of my Zokuletas recipes, I recommend these:
Mangonada Zokuletas | Mango and peach paletas (cut the recipe in half) | Paletas de mango con chile
What flavor Zokuletas would you like me to make next?
5