A mangonada is a quintessential Mexican treat, made of mango, orange juice, chamoy and chile lime salt, and they're sold just about everywhere from street vendors to neverías in Mexico.
This post is part of a compensated campaign with McCormick & Company but the recipe and opinions here are my own.
It's very popular, especially in the warm weather months, as it resembles an American slushie. You can grab one to go on the street or enjoy it with friends in an ice cream parlor.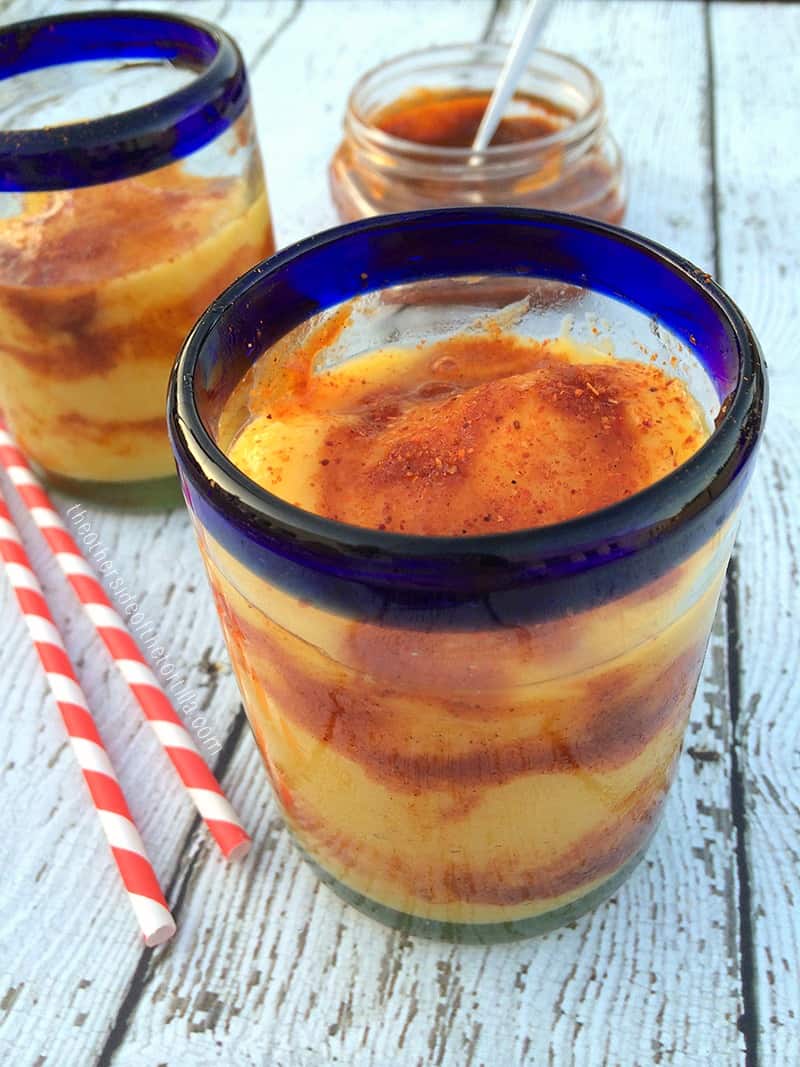 If you've been reading The Other Side of The Tortilla for awhile, you may remember I interviewed Chef Kevan Vetter about the 2013 McCormick Flavor Forecast and how global flavor trends were incorporating Mexican flavors and sensibilities on a worldwide scale. This year marks McCormick's 125th anniversary of the company celebrating the role flavor plays in all of our lives, inspiring flavorful conversation and giving back to communities around the world.
I'm thrilled to see that this trend and interest in Mexican cuisine has been growing exponentially and is again incorporated in the most recent report. The McCormick Flavor Forecast 2014 report includes two flavor insights particularly suited to highlighting Mexican cuisine: A worldwide obsession with chilies and a growing taste for regional Mexican fare in North America. Of the Mexican flavors considered to be trending globally this year is chamoy, a sweet and spicy condiment made with apricot, lime, chiles and salt. Chamoy also happens to be a key ingredient in the mangonada.
Chamoy is a versatile condiment, as it can be used in both sweet and savory dishes; anything from a salsa for dipping fruit or making jicaletas (jicama popsicles) to marinating meats or using it as a meat glaze.
RELATED RECIPE: Mango and chamoy paletas
Although bottled chamoy can be found in most Mexican supermarket chains in the U.S. as well as for purchase online, I like to make my own so I know exactly what's in it. Most of the commercially produced chamoy is loaded with sugar, preservatives and dyes. My version of chamoy uses apricot fruit spread (not jelly, jam or preserves) and natural ingredients so you can feel good about indulging in this treat. There are multiple brands that offer apricot fruit spread, which is more or less a jam or preserve made with little or no added sugar.
Ground ancho chile provides a subtle, earthy spice to this homemade chamoy without being overpowering. If you want to make your chamoy on the spicier side, you can add about 1/2 teaspoon more to the recipe below. And if you need to thin out the chamoy, you can add a little lime juice and store leftovers in the refrigerator. For a modern twist to the traditional mangonada, you can try substituting pineapple juice for orange juice.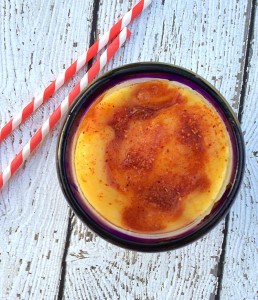 Print
Mangonadas
Yield 2 mangonadas
A traditional Mexican mango and orange juice slush with chamoy and chile lime salt, mangonadas are served everywhere from street vendors to neverías in Mexico and are very popular especially in the warm weather months.
Ingredients
For the homemade chamoy:
1/2 cup apricot spreadable fruit (not jelly, jam or preserves)
Juice of 1 lime
2 1/4 teaspoons McCormick Gourmet Collection ground ancho chile pepper
2 tablespoons apple cider vinegar
4-5 large dried apricots, rehydrated in warm water for 30 minutes
For the mangonadas:
2-3 tablespoons chamoy
2 cups frozen mango chunks
1 cup of freshly squeezed orange juice (about 3-4 large navel oranges)
Chile lime salt, such as Tajín, to taste
Instructions
For the chamoy:
Add 4-5 large dried apricots to a cup of warm water and allow to soak for 30 minutes to rehydrate. When the apricots are rehydrated, discard the water.
Add 1/2 cup spreadable fruit, juice of one lime, ground ancho chile pepper and apple cider vinegar to a food processor and run on high until completely smooth.
For the mangonadas:
Add 2 cups frozen mango chunks to blender and pour orange juice on top. Seal the top of the blender and blend on high until completely smooth.
Spoon chamoy around the inside of the glass, then pour the mango and orange juice mixture into the cup.
Top with more chamoy and swirl with a spoon.
Sprinkle chile lime salt on top and serve.
Notes
The prep time in this recipe includes 30 minutes of inactive prep time for soaking the dried apricots.
Cuisine Mexican
396