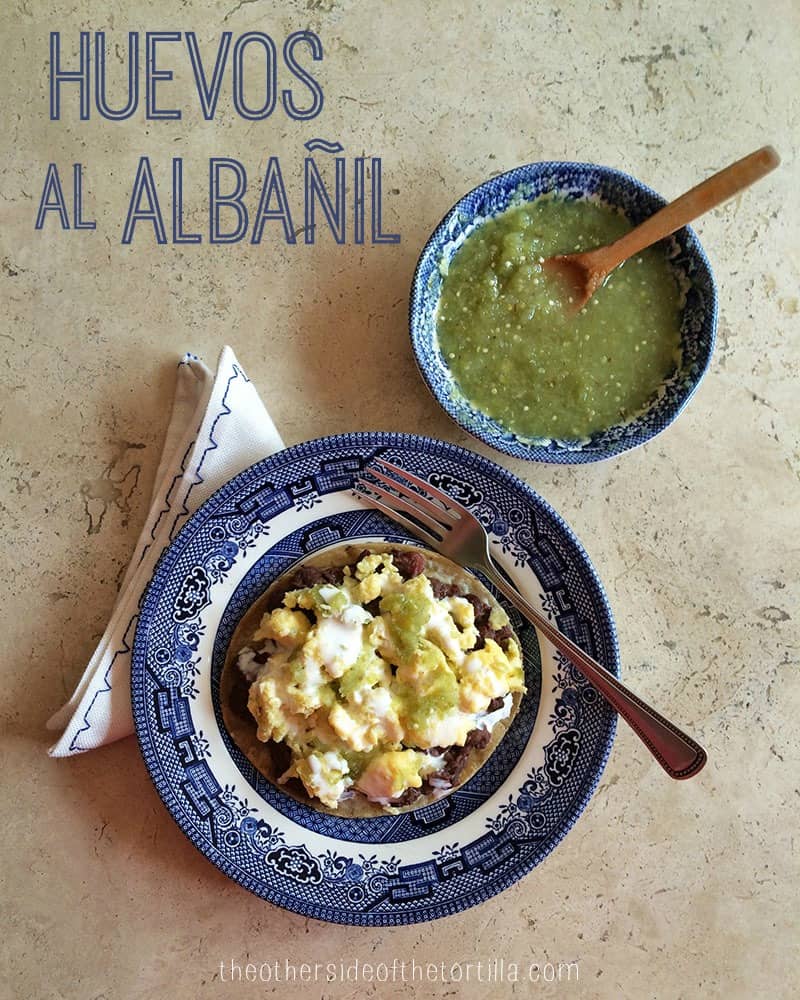 This post is part of a compensated campaign with BUSH'S Cocina LatinaTM and Latina Bloggers Connect but all opinions and the recipe here are my own.
Holiday vacation is my favorite time of year because it means I have time to make a special breakfast every day! This version of huevos al albañil, also known as bricklayer's eggs, is a popular breakfast dish in Mexico.
The key to what makes huevos al albañil different from other egg dishes is that the eggs are scrambled and mixed with salsa, and cooked together so the salsa fuses with the eggs. They shouldn't be too soupy when cooked; just wet enough that the salsa keeps everything moist. Whether you prefer to use salsa verde or salsa roja is up to you! The dish is served layered from the bottom up with a fried tortilla, beans, a scrambled egg and salsa mixture and then toppings such as crema mexicana and queso cotija, if desired.
RELATED RECIPE: Trenza de huevo con chorizo
Some recipes for huevos al albañil don't call for tortillas on the bottom, in which case the beans are served alongside the scrambled egg and salsa mixture.
We're salsa verde lovers in my household, so I typically make this dish with salsa verde and black beans. On the rare occasion that I make this dish with salsa roja, I swap the black beans for pinto beans. It's also dependent on your personal taste whether you want to use refried beans or frijoles de olla that have been mashed.
In this dish, I've used Bush's Cocina Latina Frijoles Negros Machacados — which are smashed and seasoned with poblano chiles, tomatoes and a little bacon — and my homemade salsa verde. If you want to use salsa roja, you can substitute the black beans for Bush's Cocina Latina Frijoles Charros Machacados — which are smashed pinto beans with tomatoes, serrano chiles and a little bit of bacon. Both are delicious options your family will love!
I made this dish for my suegro for breakfast the other day, and he loved it! Traditional tastes are really important in our family, so to get his stamp of approval let me know this recipe was a winner. I hope you have the opportunity to enjoy a delicious holiday breakfast with your family, too!
RELATED RECIPE: Salsa verde cocida
Huevos al albañil, also known as bricklayer's eggs, is a Mexican breakfast dish made with scrambled eggs, salsa, and beans layered on a fried tortilla.
Ingredients
2 corn tortillas
2 tablespoons canola oil
8 ounces (1/2 can) Bush's Cocina Latina Frijoles Negros Machacados
3 large eggs
1 1/2 tablespoons water
1/4 teaspoon kosher salt
1/4 cup salsa verde plus more for garnish
3 tablespoons crema mexicana
Optional: 1 tablespoon queso cotija for garnish
Instructions
In a small saucepan, heat beans over medium heat until warmed through. Remove from heat, cover and set aside.
Scramble three eggs with 1 1/2 tablespoons of water and 1/4 teaspoon of kosher salt.
In a frying pan over medium heat, cook scrambled eggs and when they're about 1/2 to 3/4 of the way cooked, add 1/4 cup salsa verde and mix in well with the eggs. Continue cooking until they reach desired consistency.
In a small frying pan, heat 2 tablespoons of canola oil while the eggs are still cooking. When the oil is hot, lightly fry each tortilla on both sides, about 1 minute per side. Remove from oil and drain on a plate line with paper towels.
To assemble: Spread half the beans on each tortilla, top with scrambled egg and salsa mixture, drizzle with crema mexicana, more salsa if desired, and sprinkle queso cotija on top if desired.
https://theothersideofthetortilla.com/2014/12/huevos-al-albanil/
©2009-2015 theothersideofthetortilla.com
RELATED RECIPE: Huevo con chorizo breakfast tacos
Frijoles Bush invites you to visit FrijolesBush.com for authentic BUSH'S Cocina Latina chef recipes, pairings and tips. And don't forget to check out the #ElFrijolazo hashtag on Instagram and Twitter for more recipes from your favorite food bloggers!
30