This savory Mexican breakfast pastry braid stuffed with scrambled eggs and chorizo—known as a trenza de huevo con chorizo—is a simple recipe to please your breakfast or brunch crowd.
If you ask me, breakfast pastries are a pretty genius invention, whether they're sweet or savory. And I admit it: I will pretty much eat anything wrapped in puff pastry. It's one of my weaknesses. This recipe is one of my go-to breakfast or brunch recipes when I'm trying to do something fancy that looks like I put in a ton of effort but don't want to spend hours in the kitchen cooking. I like to serve slices of this savory breakfast pastry braid with coffee, fresh-squeezed juice and seasonal fruit.
If you like, you can choose other mix-ins with your scrambled eggs such as chile poblano strips and onion, chiltomate (a salsa made with Roma tomatoes and chile habanero), or anything else you normally would scramble in with eggs.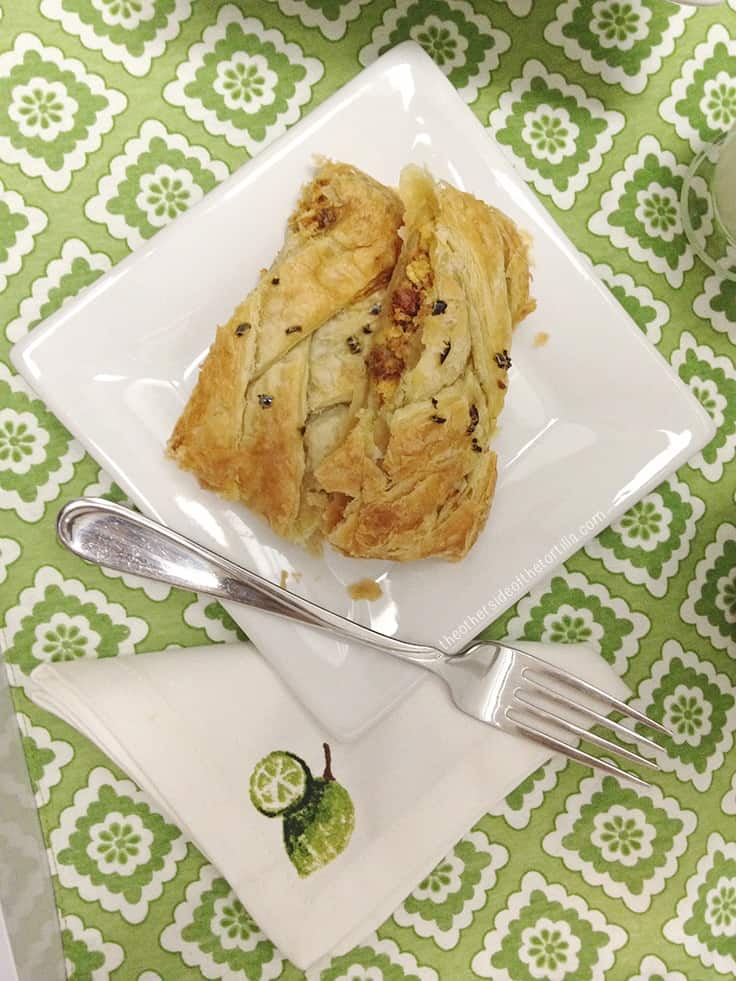 Another bonus: This recipe is great for Mothers' Day because it's quick, easy and the kids can even help.
Trenza de huevo con chorizo
An easy breakfast or brunch recipe, this trenza de huevo con chorizo is a simple pastry braid with a scrambled egg and chorizo filling.
Ingredients
1 sheet of frozen puff pastry, defrosted (usually found in the freezer aisle)
1 egg white, beaten
For filling:
3 eggs, scrambled
3-4 tablespoons cooked chorizo
2 tablespooks of milk or water
1/2 a serrano chile, chopped
Instructions
Defrost one sheet of puff pastry on a cookie sheet. The puff pastry should be folded in thirds when you remove it from the box; unfold on a piece of parchment paper and use a pair of kitchen shears to cut strips on the two outer edges of the puff pastry. Only cut to the edge of the middle panel, which should remain uncut so it can cradle the fulling. Set aside.
In a frying pan, cook 3-4 tablespoons of chorizo and then drain over a paper towel.
Preheat the oven to 350ºF.
Scramble 3 eggs with 2 tablespoons of milk or water to keep the eggs fluffy. Pour into a preheated skillet and add cooked chorizo. Mix well to incorporate the chorizo and cook the egg. Be careful not to overcook the eggs because they still have to go inside the pastry and be cooked in the oven.
Spoon the cooked eggs and chorizo into the middle part of the puff pastry, leaving a lip of pastry at the top and bottom that will puff up during baking and seal the edges closed.
Sprinkle a little more than half the chopped serrano chile over the egg and chorizo filling.
Fold the top strip down over the egg and then use the other strips you cut to create a pastry braid. Lay the next puff pastry strip from the left over the filling and then cross the one from the right into the middle. Repeat until you run out of pastry to braid.
Brush beaten egg white liberally over the top of the braided puff pastry (you won't use the entire thing, so just discard any leftovers).
Bake in the oven on a cookie sheet at 350ºF for about 25 minutes or until the top of the puff pastry is flaky and golden.
Serve with salsa for dipping if desired.
https://theothersideofthetortilla.com/2014/04/trenza-de-huevo-con-chorizo-recipe/
©2009-2015 theothersideofthetortilla.com
This recipe originally appeared in the Brunch with Mom bilingual ebook.
8