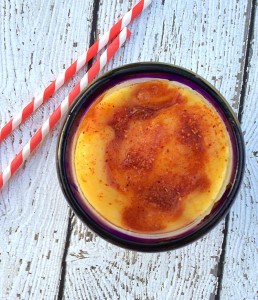 Mangonadas
Yield 2 mangonadas
A traditional Mexican mango and orange juice slush with chamoy and chile lime salt, mangonadas are served everywhere from street vendors to neverías in Mexico and are very popular especially in the warm weather months.
Ingredients
For the homemade chamoy:
1/2 cup apricot spreadable fruit (not jelly, jam or preserves)
Juice of 1 lime
2 1/4 teaspoons McCormick Gourmet Collection ground ancho chile pepper
2 tablespoons apple cider vinegar
4-5 large dried apricots, rehydrated in warm water for 30 minutes
For the mangonadas:
2-3 tablespoons chamoy
2 cups frozen mango chunks
1 cup of freshly squeezed orange juice (about 3-4 large navel oranges)
Chile lime salt, such as Tajín, to taste
Instructions
For the chamoy:
Add 4-5 large dried apricots to a cup of warm water and allow to soak for 30 minutes to rehydrate. When the apricots are rehydrated, discard the water.
Add 1/2 cup spreadable fruit, juice of one lime, ground ancho chile pepper and apple cider vinegar to a food processor and run on high until completely smooth.
For the mangonadas:
Add 2 cups frozen mango chunks to blender and pour orange juice on top. Seal the top of the blender and blend on high until completely smooth.
Spoon chamoy around the inside of the glass, then pour the mango and orange juice mixture into the cup.
Top with more chamoy and swirl with a spoon.
Sprinkle chile lime salt on top and serve.
Notes
The prep time in this recipe includes 30 minutes of inactive prep time for soaking the dried apricots.
Cuisine Mexican
Recipe by The Other Side of the Tortilla at https://theothersideofthetortilla.com/2014/08/mangonada-recipe/