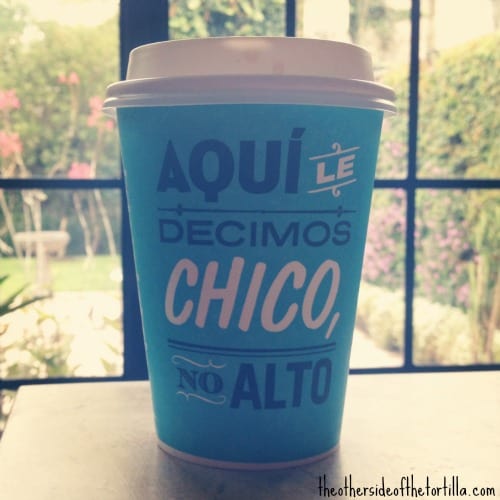 Last week while we were visiting Mexico City, we checked out a new coffee shop we hadn't seen before called Cielito Querido Café. Not only is the coffee some of the best we've tasted in Mexico (even their café de olla passed my test), but I also loved their cute, cheeky to-go cups that poke fun at Starbucks. Like Starbucks, they have the normal assortment of coffees, espresso and frappes, but they have a host of other offerings on the menu that are muy Mexicano, such as chamoyadas (in no less than four flavors), additions to your café con leche that include cajeta and rompope, chocolate caliente con chile and a house-made horchata. The snack offerings didn't disappoint either, with selections such as muéganos, palanqueta, molletes, panqué, pasteles and galletas.
I was surprised to learn that the quickly-growing Mexican chain has more than 30 locations in Mexico City as of July 2013 and that I hadn't stumbled upon one before. I went looking for some more information after a friend on Instagram mentioned that the company is looking to expand to the U.S. (and possibly to Los Angeles) and and found this story on NBC Latino with a great slideshow so you can get a feel for the ambience of Cielito Querido Café. We'll definitely be back again the next time we visit.
Have you been to Cielito Querido Café? What did you order? If you haven't been, do you think you'll try it out next time you're in Mexico City? 
2