If you've ever struggled with finding a ripe avocado in the grocery store, here are my foolproof tips to make sure you never buy unripe avocados by mistake again.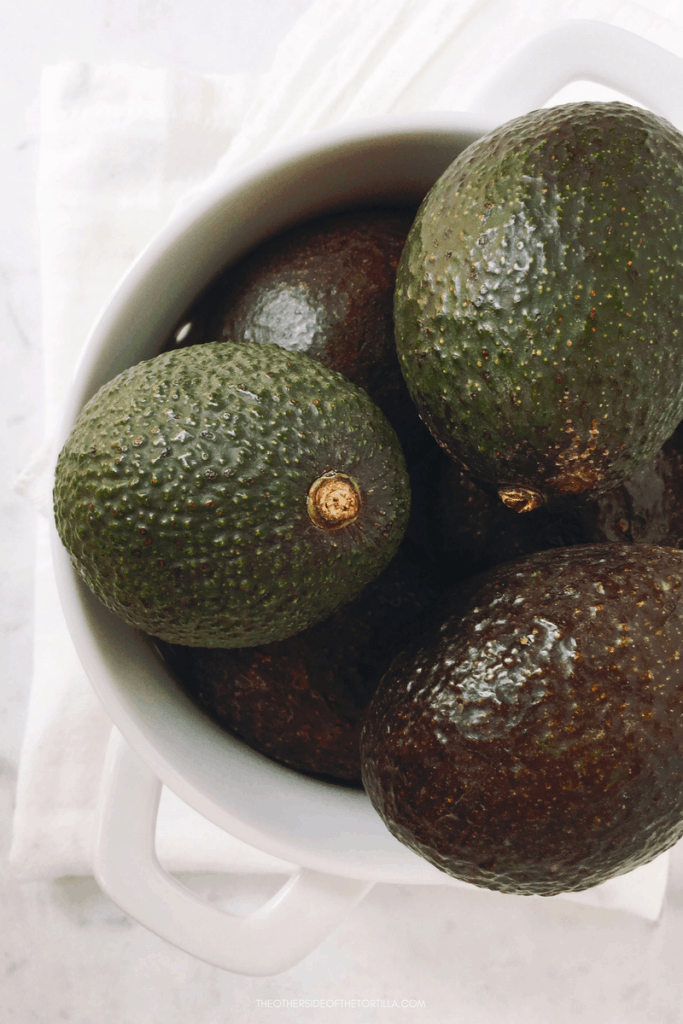 Avocado is a very versatile ingredient in Mexican cuisine. And although most people think of avocado just as a savory ingredient, you can use it for sweet recipes, too. Aside from typical recipes like guacamole and salsa verde with avocado, this fruit is also great for making avocado paletas, avocado fudge pops, and avocado chocolate pudding.
With so many potential uses, you'll want to ensure you always have avocados on hand. But when it comes to choosing a ripe Haas avocado, there are a few cardinal rules to follow.
DO
Evaluate the avocado's skin color and texture, and remove the stem to determine ripeness.
DON'T
Squeeze the avocado. There's a difference between using your fingers to gently feel if the skin gives—indicating softness—and squeezing it, which can damage the flesh inside, and in some cases, break the outer skin.
Put avocado in the refrigerator before they're ripened.
How to use an avocado's skin color and stem color to evaluate ripeness
If your avocado skin is emerald green:
The skin is probably pretty bumpy and the avocado will be very firm to the touch. Pop the stem off gently with your finger (it will likely take a little bit of effort). The color underneath should be very light or bright green, and the consistency will be very firm—too firm to eat. This avocado should ripen enough to eat in 3-4 days. You can put the avocado in a brown paper bag with an apple inside, and fold the bag shut. Natural gases from the apple's skin will help your avocado ripen faster. You can also just leave it out on the counter at room temperature.
If your avocado skin is forest green:
The skin has started to look more pebbled than rough bumps, and has turned a darker shade of green. The spot under the stem will likely be starting to turn tan or light brown. The consistency will be firm—still not ready to eat—and your avocado should be ripe in 2-3 days.
If your avocado skin is greenish-purple:
The pebbled skin is dark green, with hints of purple. Underneath the stem, the color should be turning tan/light brown. The consistency will be medium firm (known as breaking). This avocado will be perfectly ripe within 1-2 days.
If your avocado skin is purple:
The skin has a shiny, slightly pebbled texture, and the color may look deep green with a purple tinge or reddish-purple. When you pop the stem, the color underneath should be light or medium brown. The avocado's consistency is somewhat firm, and you can eat it within 24 hours or less for perfect ripeness.
If your avocado skin is dark purple or black:
The skin is shiny, smooth and dark. As it ages, the skin will wrinkle or show slight depressions and may start to look dry or lose its shine when over-ripe. When you pop the stem top off, the color should be brown (but not black or moldy). The consistency of the flesh is soft and your avocado is ready to eat immediately.
If you let it over-ripen, you may notice brown or black spots on the inside of the avocado. You can cut them out and still eat the rest of the avocado with no problem.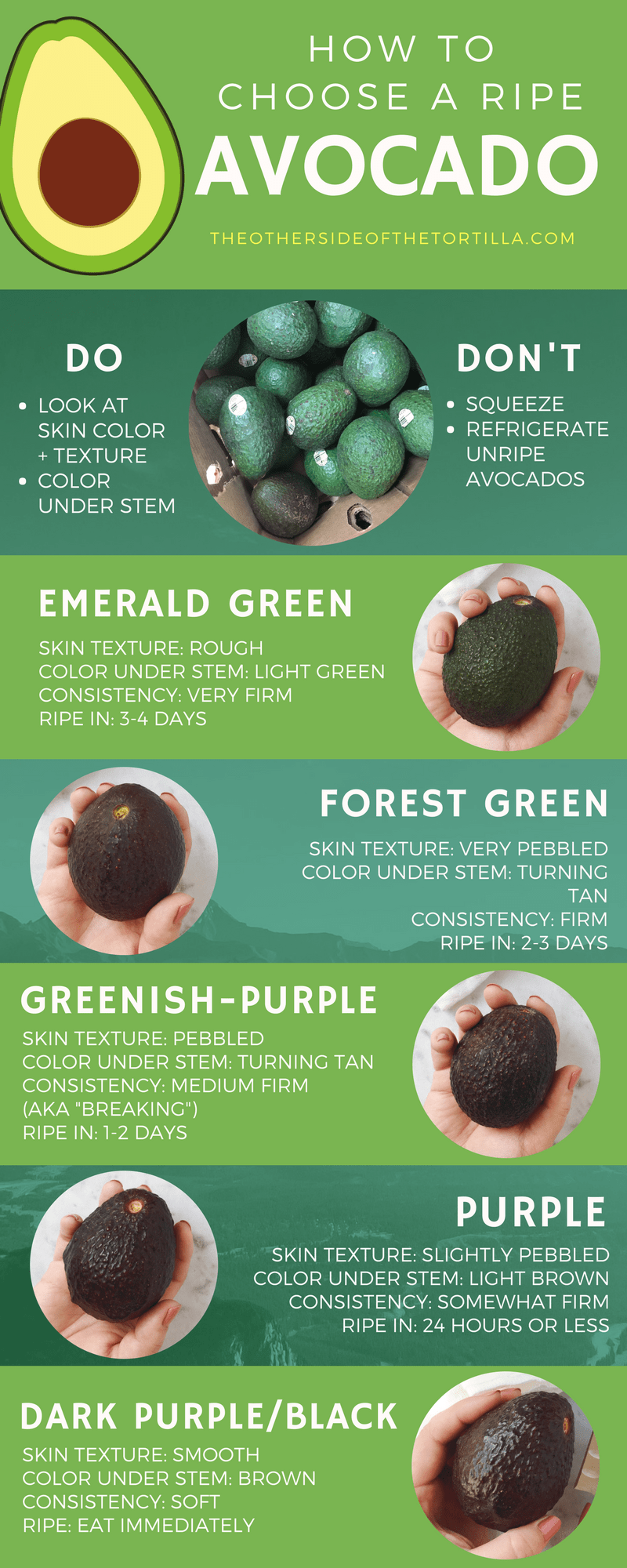 Whether you're going to mash avocado for guacamole, slice it, or leave half in the skin, if you need to store leftovers, you should make sure you seal it off from exposure to air. Avocado flesh changing color from green to brown is called oxidization, and happens because of an enzyme called polyphenol oxidase. Cling wrap does the best job of preventing avocado flesh from turning brown due to oxygen exposure.
Even if you don't do the best job of sealing off your avocado from exposure to air, it's still perfectly edible if it starts to turn brown. Contrary to popular belief, leaving the pit in the avocado does NOT prevent it from turning brown. Lime juice and chilling the avocado can slow down the enzyme that causes oxidation, but cannot stop it.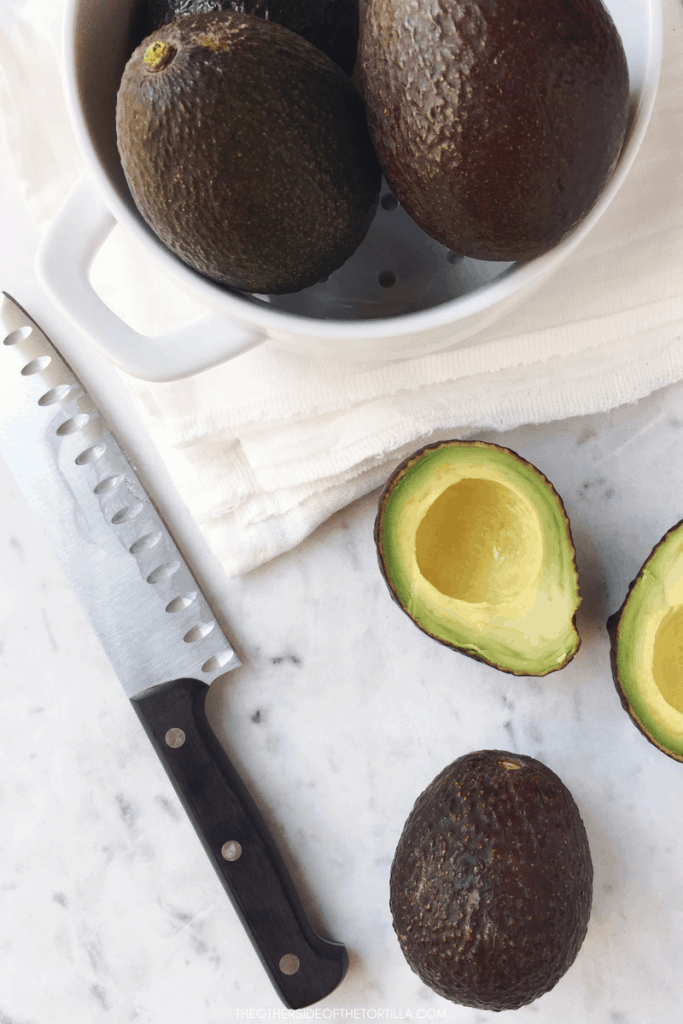 46