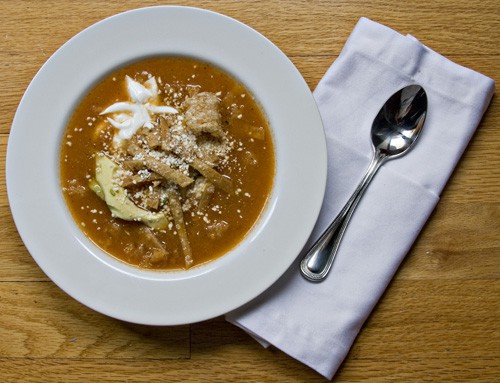 I love tortilla soup. I will order it just about anywhere, at any time of year, and I've been known to judge the entire menu of a restaurant solely on the quality of their sopa de tortilla. I'm obsessed in every sense of the word–and having not been able to find a version I deem delicious in Chicago, I learned how to make it.
This soup is very representative of a typical Mexican kitchen and uses the traditional flavors and textures of the tomato, chile, avocado, epazote and tortilla. I've never cared much for tomato-based soups or broths, but this soup converted me.
The secret, I've found, is adding a few crunchy little pieces of chicharrón (also known as pork rinds or cracklings here in the U.S.). They add a depth to the soup's flavor that I'm convinced cannot be achieved otherwise. All of my favorite places in Mexico for tortilla soup serve it similarly; all the ingredients for assembling the soup are brought to the table separately and the waiter puts it together right in front of you, almost like a little show with your meal….