Roles de canela are one of the most common types of pan dulce you'll see in a Mexican bakery. These fluffy cinnamon rolls have a dough base made from masa bizcocho, the same dough that's used to make conchas and other popular types of pan dulce.
I love making these cinnamon rolls around the holidays, especially when I'm visiting family or they're visiting me. Cooking for my family is my love language, so a breakfast spread with fluffy homemade cinnamon rolls hot from the oven, served with milk, hot chocolate or coffee on the side is an extra special way to let them know how much I love them. In fact, some of my happiest family holiday memories are of sitting around the table together, enjoying a meal and each other's company.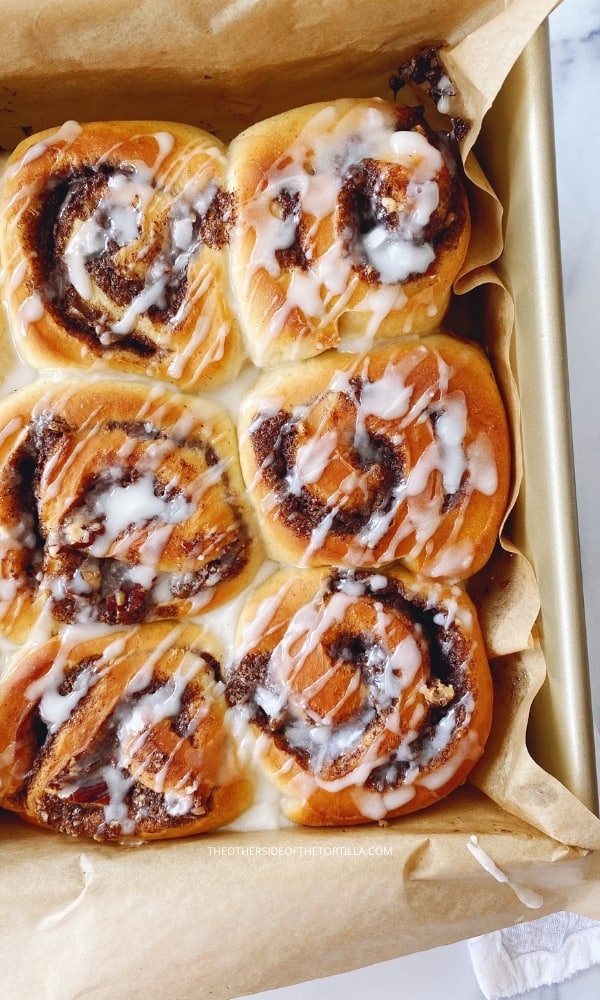 If you're a pan dulce-lover you should check out my Guide to Mexican Pan Dulce with photos and descriptions of dozens of types of Mexican sweet bread! Some of my other favorite types of pan dulce to make at home include conchas, pan de muerto, orejas, and garibaldi.
It's important that when baking for my family that I use traditional recipes that taste just like they always have, which means no skimping or substituting ingredients. It's got to taste like it came from abuelita's kitchen!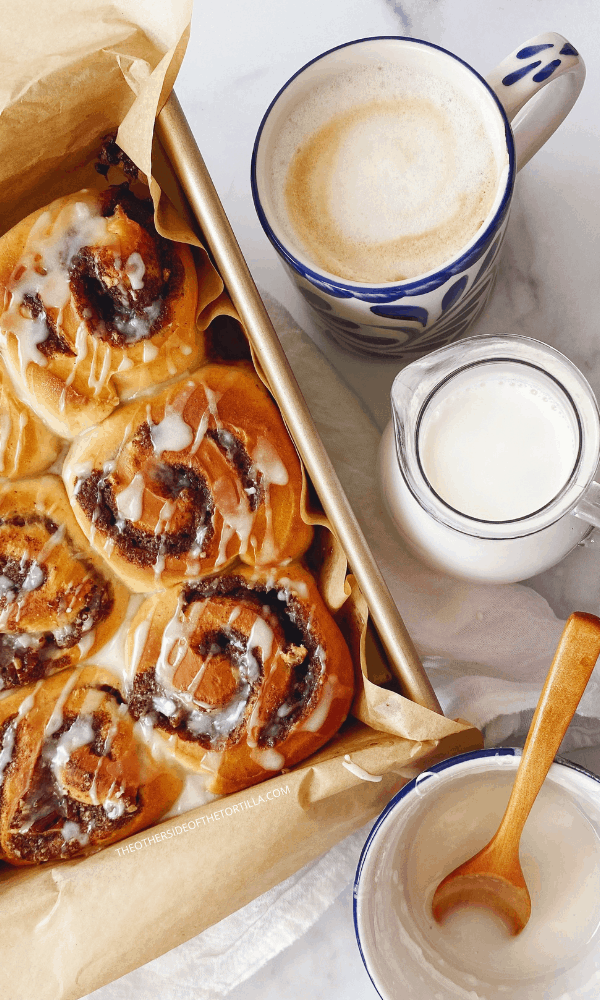 Ingredients you'll need for this recipe
It's easier to make your own roles de canela than you might think! The hardest part is waiting for the dough to rise twice. You can also make this dough the night before and let it rise in the refrigerator overnight.
There are three key ingredients to making the dough that you should not substitute.
Whole milk: Many baking recipes call for whole milk because it provides structure, flavor and moisture. The fat in whole milk also contributes to the tenderness of the bread.
Whole milk not only serves as a crucial structural ingredient to this recipe, but also helps achieve that perfectly browned color on top, while keeping the inside moist and fluffy.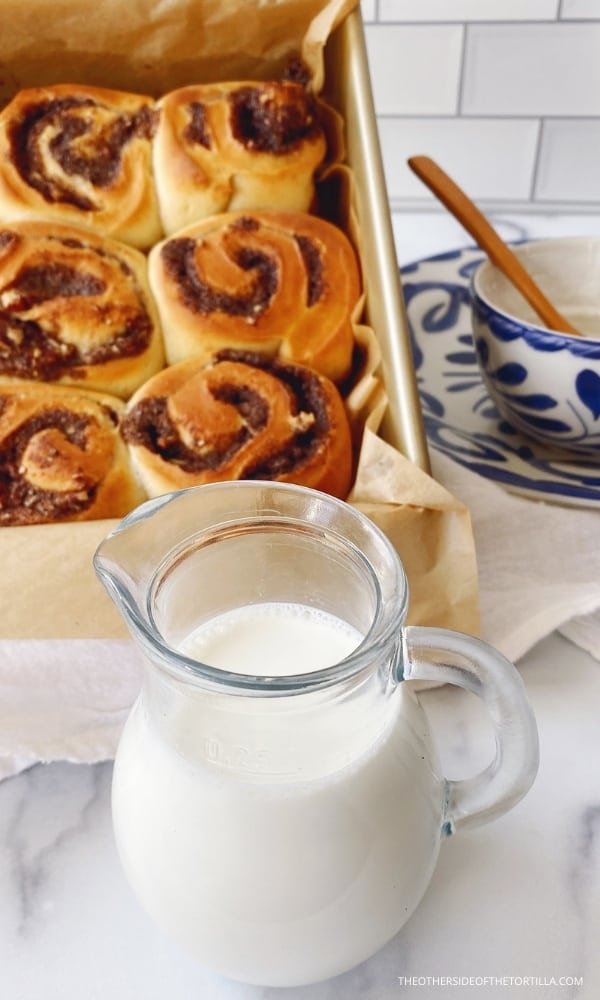 Bread flour: You want to use this because it contains more protein and therefore can absorb the milk and other liquid in this high-hydration dough in order to give it its elasticity and make it both light and chewy.
Fast-rise or instant yeast: This type of yeast does not need to be activated before you use it, so it makes the recipe quicker and easier. You'll throw the yeast in the mixing bowl with the other dry ingredients and save a couple steps and a little time in prep work.
You'll also need:
Granulated sugar
1 Large egg
Unsalted butter
Pure vanilla extract
Kosher Salt
Dark brown sugar
Ground cinnamon
Pecans
Powdered sugar
Kitchen tools you'll need
For perfect pan dulce every time, I recommend the following tools:
A kitchen scale to ensure your ingredient measurements are precise
A bench scraper to help you make more precise cuts in the dough
A greased 6-quart clear food container or large glass bowl to give the dough room to proof properly
A stand mixer with a dough hook attachment
Note: While you CAN knead this dough by hand, it is absolutely tedious to do so and takes a lot longer. I highly recommend using a stand mixer to do the hard work for you.
How to make roles de canela
Make your dough in a stand mixer with the dough hook attachment following the directions below in the recipe. Add ingredients in the order listed.
This is a high-hydration dough, meaning it will be sticky. The dough is ready to come out of the mixer when it mostly pulls away from the sides and sticks to the hook. Do not add extra flour to the dough, as the bread flour will absorb the liquid as the dough rises. Allow dough to rise undisturbed until it's doubled in size, about two hours.
While the dough is rising, you can prepare the filling and glaze. Add room temperature unsalted butter, ground cinnamon, dark brown sugar, pure vanilla extract and salt to your stand mixer with the paddle attachment and combine on medium speed until the filling looks like a paste.
To prepare the glaze, mix powdered sugar and whole milk in a small bowl and set aside.
Once the dough has doubled in size, sprinkle all-purpose flour on your work surface to prevent the dough from sticking. Turn the dough out onto the surface and gently roll into a 9×13 rectangle shape. Be sure not to roll the dough too thin, as this will prevent it from rising properly during the second rise, and absorbing sugar during the baking process.
Use a spoon or offset spatula to gently spread the filling over the rectangle-shaped dough, leaving 1/2 inch around the edges.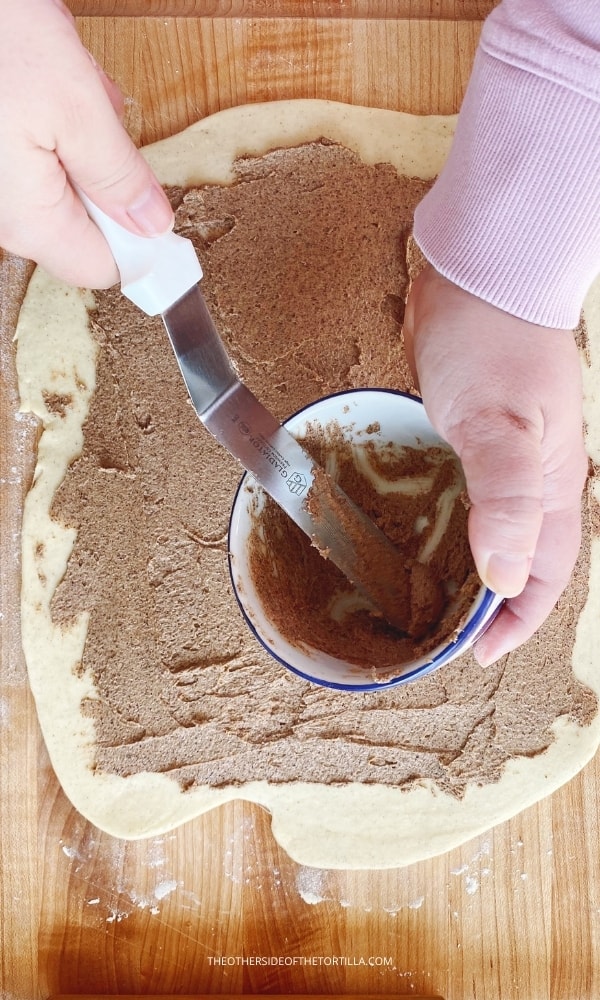 Sprinkle the chopped pecans evenly over the filling.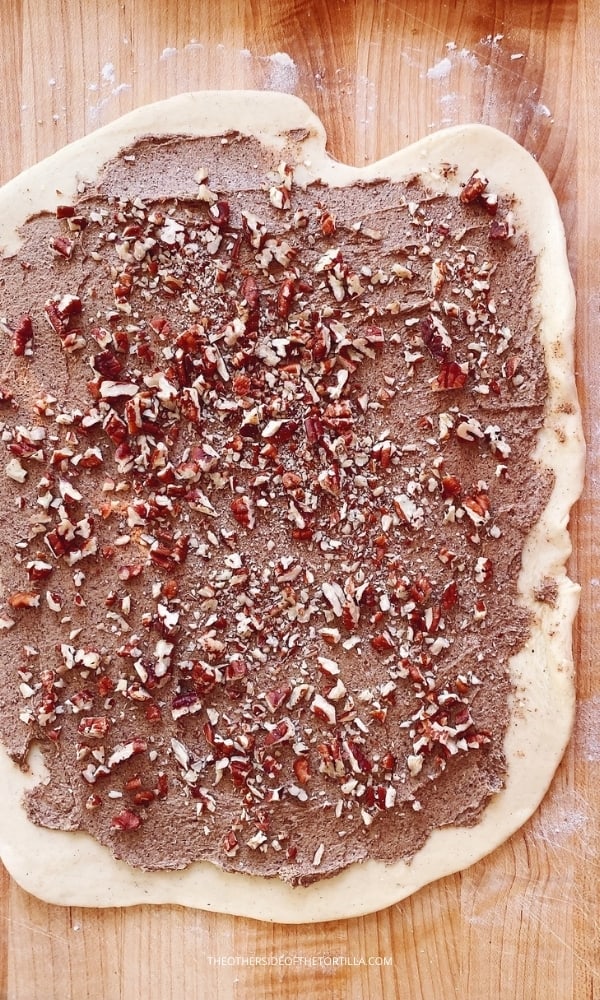 Roll from the long side inward and tuck the dough seam underneath.
Use your bench scraper to cut 6-12 equally sized rolls and place in a 9×9 parchment-paper lined pan and cover with a lightweight kitchen towel. Allow to rise again, undisturbed, for 1 1/2 to 2 hours, or until rolls have doubled in size.
After the second rise, the rolls should look like this: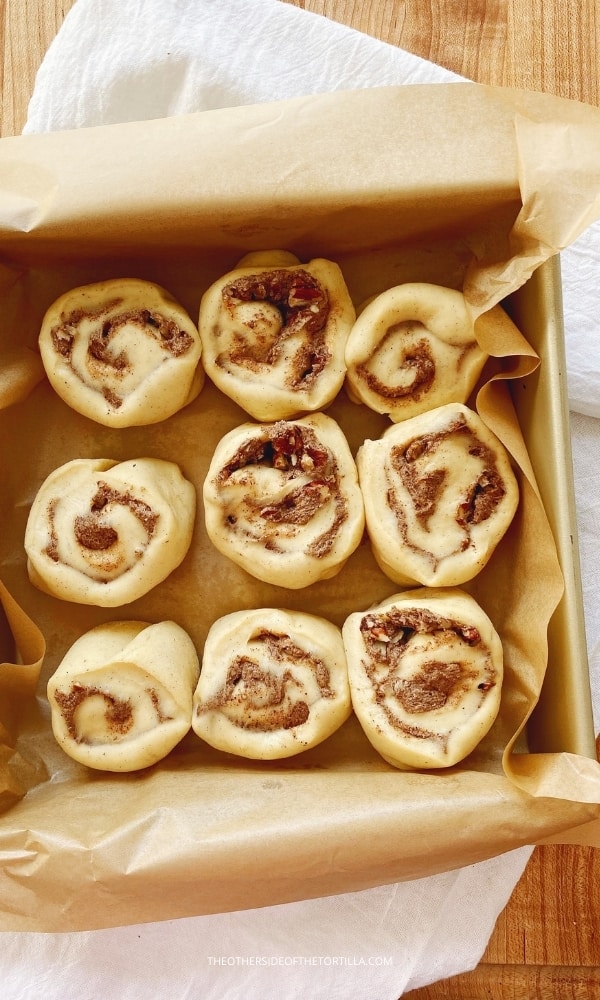 Bake in a 350 degree F preheated oven for 15 minutes, until the top of the rolls are sufficiently browned but not burned. Remove from oven and allow to cool for about 10 minutes, then drizzle glaze over the top of the rolls in a diagonal pattern. Allow the glaze to set for 10 minutes before serving.
What to serve with roles de canela
At home, I love to pair my pan dulce with warm beverages, especially on chilly fall and winter mornings. Here are some of my favorite drinks with milk you can either use to drink or dunk your pan dulce:
Print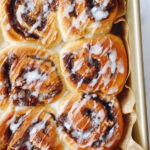 Roles de canela
Author:

Prep Time:

25 minutes active, 4 hours inactive

Cook Time:

15 minutes

Total Time:

4 hours, 40 minutes

Yield:

9

rolls

1

x

Method:

Baking

Cuisine:

Mexican
---
Description
Roles de canela are Mexico's answer to the cinnamon roll and are one of the most common types of pan dulce seen in a panadería.
---
For the bread:
200 grams

bread flour

36 grams

granulated sugar

5 grams

fast-rise instant yeast

100 grams

whole milk

1

large egg, room temperature

40 grams

unsalted butter, room temperature

1 1/2 teaspoons

pure vanilla extract

3 grams

kosher salt
For the filling:
113 grams

(

8 tablespoons

) unsalted butter, room temperature

2 1/2 tablespoons

ground cinnamon

1/3 cup

dark brown sugar, packed

1 teaspoon

pure vanilla extract

1

pinch kosher salt

1/2 cup

raw pecans, chopped
For the glaze:
1 cup

powdered sugar

1 1/2 tablespoons

whole milk
For greasing the container where you'll proof the dough:
For flouring your work surface:
All-purpose flour, as needed
---
Instructions
Add bread flour, sugar, and fast-rise instant yeast in the bowl of a stand mixer. Using the dough hook attachment, turn mixer to speed 2 to combine dry ingredients.
Add warm milk, 1 large egg, and butter to the bowl and increase speed to 4 for 5 minutes.
Add pure vanilla extract and kosher salt to the bowl and continue to mix on speed 4 for about another 10 minutes, until dough pulls away from the sides of the bowl and mostly gathers around the hook. You may need to stop the mixer partway through to scrape down the sides with a spatula so no dough is wasted.
Prepare a large glass bowl or a 6-quart food container with lid for proofing the dough by spraying the inside with cooking spray so the dough won't stick to the sides.
Turn the dough out from the stand mixer bowl into the bowl or container to proof and cover. Allow dough to rise undisturbed for about 2 hours, or until doubled in size.
Once dough has doubled in size, turn out onto a floured surface (use all-purpose flour for this part, just enough so the dough doesn't stick to your work surface). Gently roll out to 9×13 with a floured rolling pin. It's OK if your dough isn't a perfect rectangle.
In a stand mixer, make the filling with the paddle attachment. Cream the butter and sugar first, then add ground cinnamon, pure vanilla extract and kosher salt. Mix on speed 4 until well combined.
Using a spoon or offset spatula, spread the filling mixture on your rolled out dough, leaving about 1/2 inch around the edges.
Sprinkle the chopped pecans evenly over the filling and gently roll starting with the long side inward. Tuck the dough seam underneath the roll.
Using a bench scraper or very sharp knife, divide the dough into 9 equal pieces. Arrange them in a 9×9 parchment paper-lined pan and cover with a kitchen towel for the second rise, until doubled in size. This should take about an hour and a half to two hours.
Bake in a pre-heated 350 degree F oven for about 15 minutes, until the tops and sides are sufficiently browned but not burned. 
Remove from the oven and allow to cool for 10 minutes before drizzling the icing. Allow icing to set for 10 minutes and serve immediately.
---
Notes
TO MAKE THE DOUGH AHEAD OF TIME: Make the dough the night before and allow it to rise overnight in the refrigerator. Keep the bowl or container covered so the dough does not lose moisture. The cold temperature of the refrigerator will slow the growth of the yeast, but overnight will be plenty of time for the dough to double in size. It's OK if it rises a bit more. If it hasn't risen enough, allow it to rise for about 30 minutes on your countertop undisturbed.
Keywords: roles de canela, cinnamon rolls, pan dulce