This easy roasted, smoky salsa made with tomatillos and chile morita is great on everything from tacos to scrambled eggs.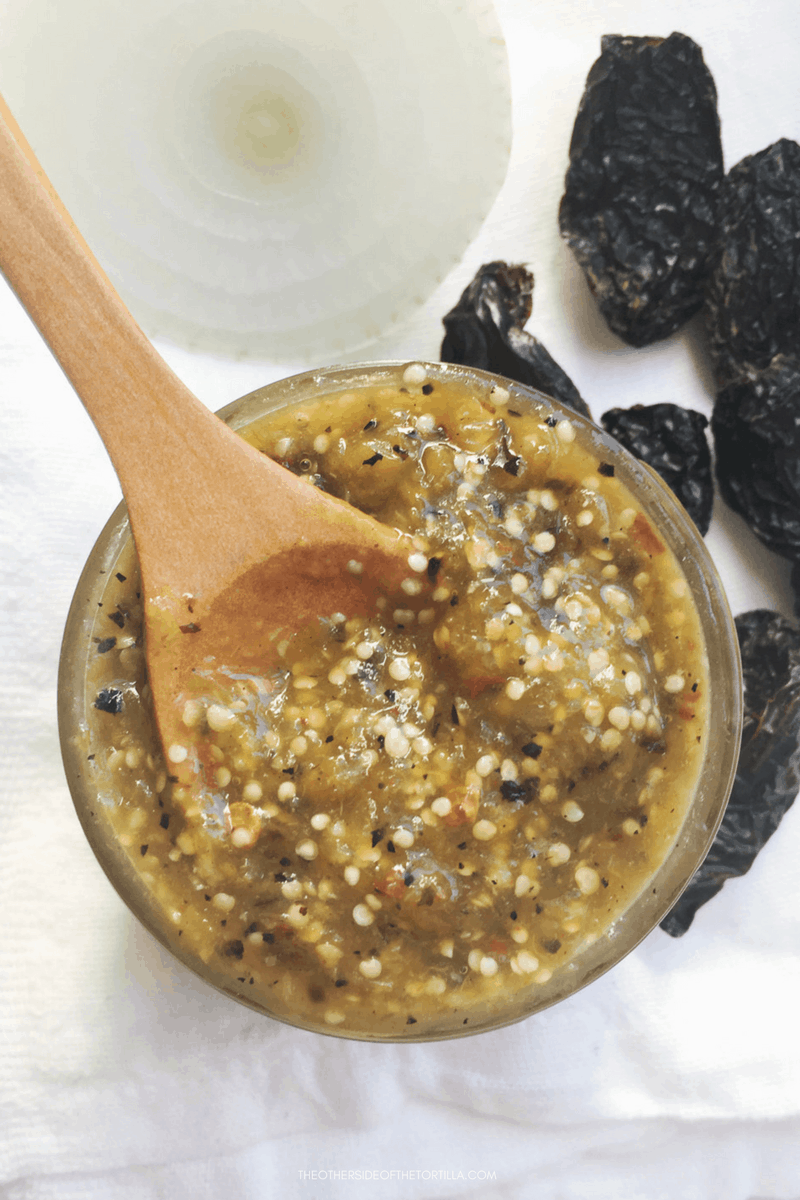 I'm all for simple salsas to dress up any meal of the day. Our dear friend Victor taught me how to make a version of this salsa when I was a newlywed and it's one that I've continued making frequently ever since. You should use tomatillos milperos for this recipe. They're a smaller variety of tomatillo, no bigger than about 1 to 1.5 inches in diameter. Anything much bigger than that is a larger variety of tomatillo. Tomatillos milperos have a more concentrated flavor, but are less acidic than the larger tomatillos, and have a slightly sweet, mellow taste when roasted. They're called "milpero" because they're often grown in the milpas in Mexico—the rows between corn planted in the cornfields.

How to choose tomatillos at the store
You want to choose only tomatillos with dry husks that are snugly enveloping the fruit. Stay away from bruised and shriveled tomatillos, and ones that have loose husks. The husks are green and papery on the outside, and have a sticky, bitter sap on the underside that you have to wash off before cooking or consuming them. Beware tomatillos that have holes (a sign it's been eaten or infiltrated by a bug), soft spots or brown husks. Tomatillos that are mostly green with purple-hued patches or spots are perfectly fine.
You can refrigerate tomatillos with their husks still on in the refrigerator for up to a month (2 weeks if you peel the husks off) if you store them in a paper bag or something else that won't gather condensation. If you allow them to sit in a bag with condensation in the produce drawer, they can get moldy within a few days to a week.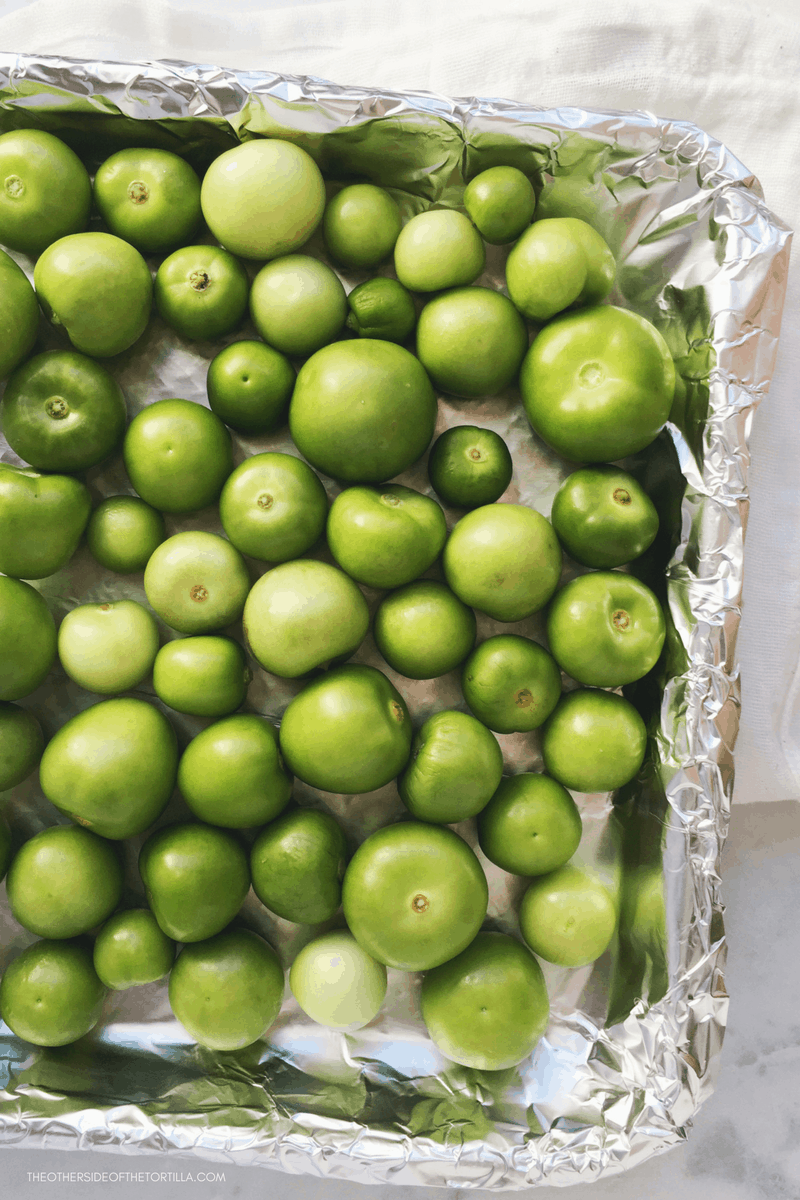 How to peel and wash tomatillos
Once you're ready to peel off the husks and use your tomatillos, you have to wash them because of the sap. If you don't wash them, they'll be sticky to the touch and leave an unpleasant, bitter taste in your mouth. Remove the husks and discard them; place the tomatillos in a colander and run warm (not hot) water over them. Pick up the tomatillos and rub them with your fingers under running water to wash off the sap. If it's still sticky, you can use some unscented hand soap or dish soap lathered in your hands and then roll the tomatillos around in your hands and rinse under the water until they're no longer sticky.
Tips for roasting tomatillos
Be sure to line your pan with aluminum foil. As the tomatillos roast in the oven, they'll pop and leak a bit. When you throw everything in the blender together, you can just tip the pan and let any liquid run off into the blender, too.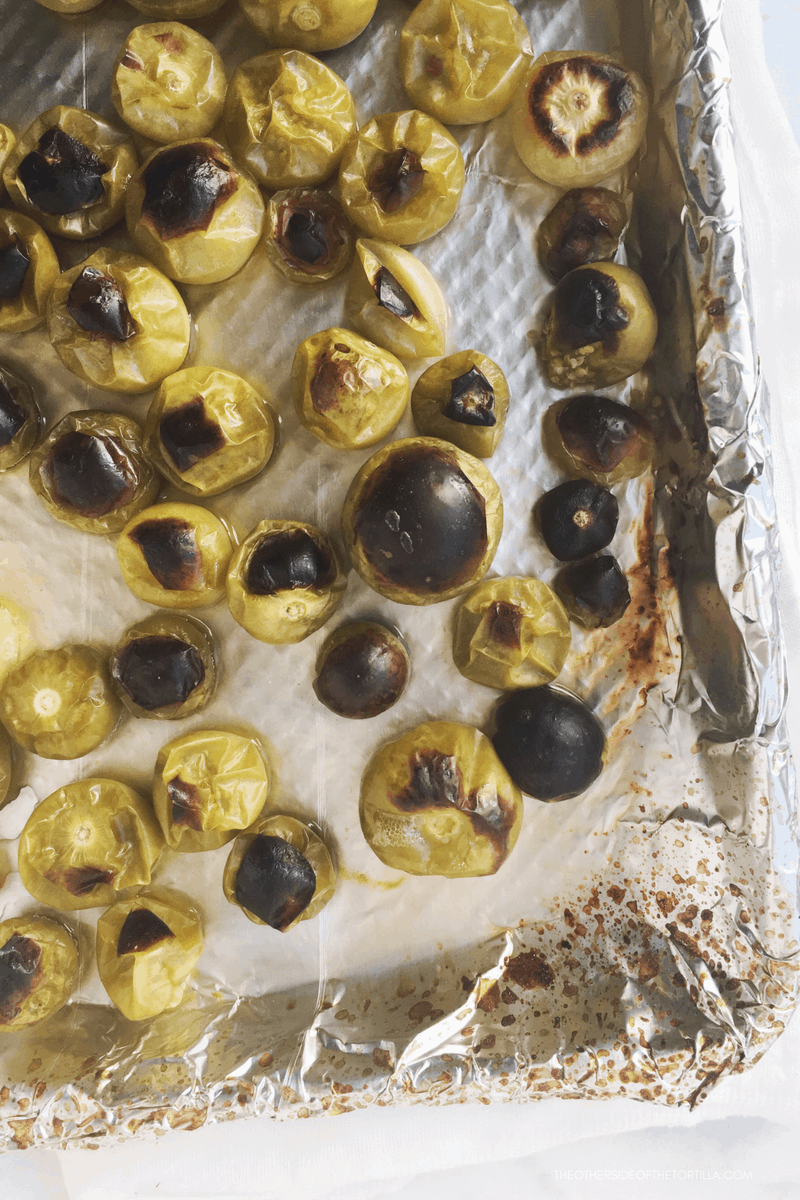 The key ingredient: chile morita
What makes this salsa so good is the spicy, smoky chile in it. Chile morita is a small, dried, smoked red jalapeño. Similar to a chipotle pepper, the morita is smoked for less time and retains its color. Unlike the canned chipotles you might be familiar with, they don't come in adobo sauce. Most Mexican supermarkets carry them, and you can also buy them online from specialty stores. If they look or feel brittle, or look dull, that means they're old—don't buy those. Try to get them as fresh as possible. The chiles can range in color from a red to a deep brownish red and have a slightly fruity flavor, and should have a shiny outer skin.
Although lots of recipes using this dried chile call for it to be rehydrated, this particular salsa is made by lightly toasting the chiles on a comal or skillet and adding them to the blender with the wet ingredients.
To toast the chiles, heat your comal or skillet over medium heat and remove any stems that might still be attached (most of the time they're already cut down to a stub, and those are OK to leave on). The ones pictured below are how you want them to be. About 30 seconds per side should do the trick; you want them to toast and inflate slightly, but not to burn.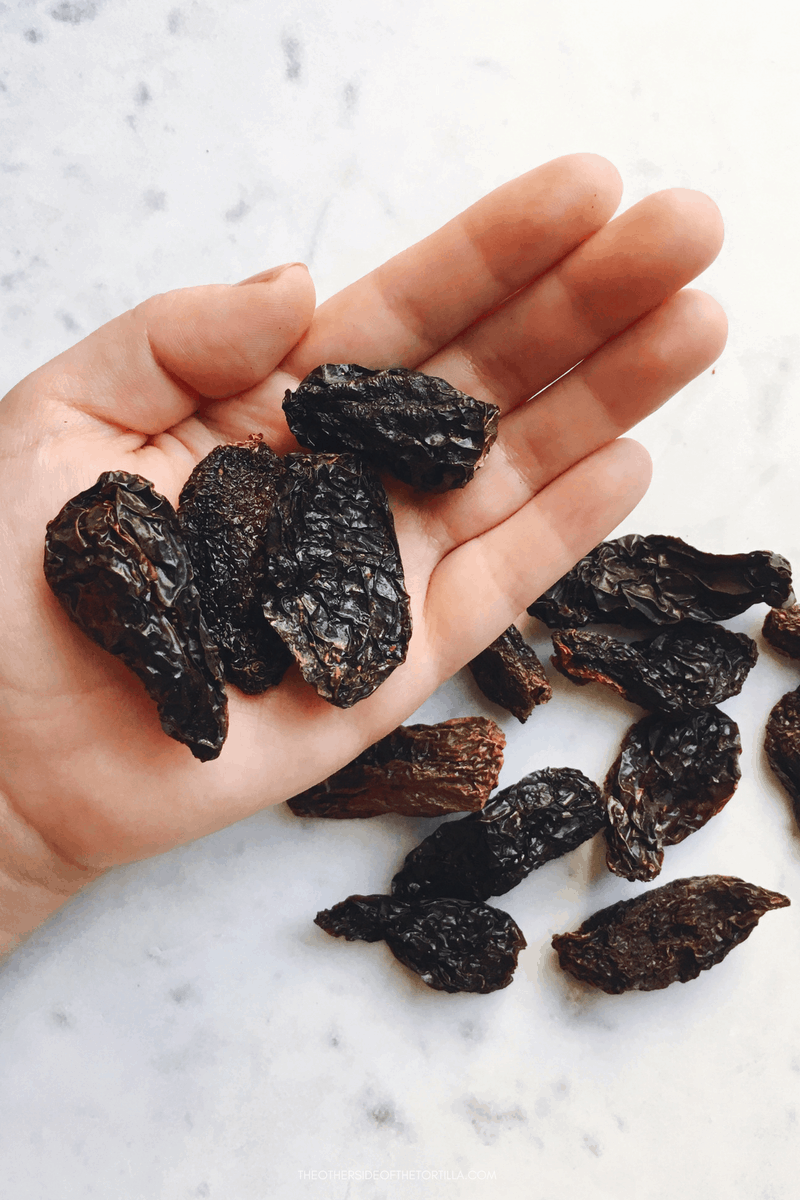 I've written this recipe with two chiles to start (and a third if you're new to chiles and brave) because sometimes they can be rather hot for people not used to eating spicy foods. However, if you taste it and think it's too mild, you can try adding one or two more. I like mine spicy so I usually add three chiles to start and sometimes add a fourth. Remember: a larger chile does not mean it's hotter, but the more chiles you use, the more red the salsa will look. However, don't be fooled about the heat factor with a salsa that looks less red—it can still be pretty spicy!
If you find that the salsa gets a little too thick or gels after refrigerating, that's completely normal. Tomatillos are naturally high in pectin. You can let the salsa come to room temperature and stir in a little bit of water if needed.
A note for those with food allergies or sensitivities: Tomatillos are part of the nightshade family.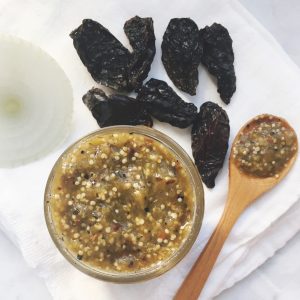 Print
Roasted tomatillo and chile morita salsa
Yield 1/2 cup
This easy roasted, smoky salsa made with tomatillos and chile morita is great on everything from tacos to scrambled eggs.
Ingredients
1/2 pound tomatillos milperos (the small tomatillos)
1 slice of white onion, about 1/4-inch thick
1 small clove of garlic
1/2 teaspoon of kosher salt
2-3 small dried morita chiles 
Instructions
Preheat your oven or toaster oven to 500ºF (alternatively, you can put them under the broiler).
Peel the husks off the tomatillos and wash them with warm water (and soap if necessary) To remove all the sticky sap. Dry and set aside.
Line a baking sheet or jelly roll pan with aluminum foil and put the tomatillos on the baking sheet. Roast for about 15 minutes, until the tomatillos start to get black char spots on the top, change colors to a deep, transparent green, and begin to pop.
While the tomatillos are roasting, heat a comal or skillet on the stove over medium heat. Once hot, place 2-3 small dried morita chiles on the comal (if they still have a stem on top, tear off and throw away). The chiles will start to inflate; make sure you heat both sides, but don't burn them. They only need to be toasted on the comal for about 30 seconds per side.
When the tomatillos are done roasting in the oven, transfer them to a blender or food processor while still hot. Add the toasted chiles, the slice of onion, garlic clove and salt. Blend on high until completely pureed; the salsa should be a reddish-brown color.
Serve immediately or refrigerate in a sealed container for up to 2 weeks.
Notes
This recipe is for a smaller batch, but you can easily double it if you're feeding a crowd.
If it's too spicy, add some more roasted tomatillos. If the salsa is too thick, you can thin out with a little bit of water.
Store in an airtight container in the refrigerator for up to 5 days.
Courses condiment
Cuisine Mexican
You might also like: Tacos de chicharrón guisado en salsa roja
43