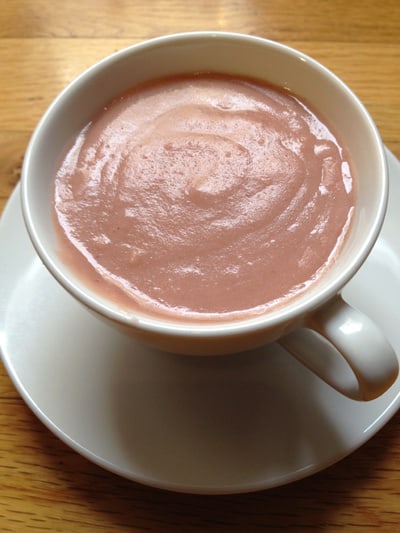 Long, cold winter nights mean one thing in my house: we're making hot drinks to warm us up! One of my favorite cold-weather drinks is atole, especially because it's customary to drink with breakfast or after dinner. The two most common flavors are vanilla and strawberry—atole de vainilla y atole de fresa. If you make it with chocolate, it's called champurrado.
It's a masa-based drink where the dissolved masa acts as a thickening agent to make this hot drink the kind of hearty treat that will really stick to your ribs. I've talked before about the availability of atole that comes in powdered packets, but next to my champurrado recipe (which uses prepared store-bought masa from my local tortillería), this version using Maseca instant corn masa flour is even easier to make and a sure step above the flavor from a packet. It's a homemade taste without all the work of grinding your own nixtamal or having to dissolve masa using cheesecloth. It's what you might call a semi-homemade version, if you will.
This drink dates back to pre-Columbian times in Mexico and is well documented as a form of sustenance amongst the Aztec and Mayan cultures. Historical texts tell us it was often flavored with fruits, spices or chiles.
Sometimes atole is also made with different colors of corn (I've personally tasted atole made with white, yellow and blue corn bases) and milk or water as the liquid. I don't like my atole to be too thin so I have a habit of making it very thick at the beginning and then thinning it out with milk or water as needed. If you prefer yours to be thinner, you can use all water instead of milk, and reduce the portion of Maseca instant corn flour to your liking.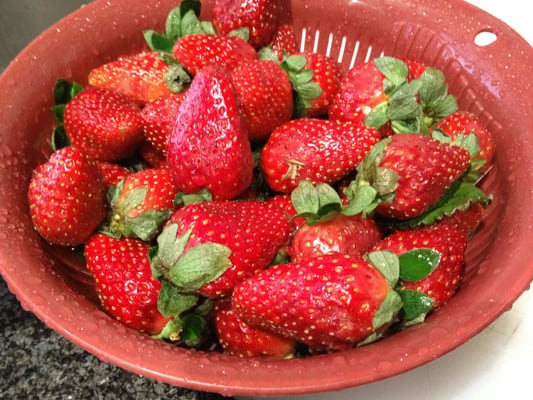 If you want more berry flavor, you can add another whole cup of strawberries and use more water than milk so it doesn't thicken too much or dilute the berry flavor.
This recipe produces the best strawberry flavor when you use berries that are very ripe. A trick to my recipe is that I macerate the strawberries before I put them in the blender (which just means I slice them up and, place them in a bowl and sprinkle sugar over them to allow the natural juices to come out).
If you won't consume the atole immediately after cooking, store in an airtight container with plastic wrap pressed to the top of the liquid so a skin doesn't form over the top. If a skin does form, you can gently remove it with a spoon, but then you're not getting to enjoy your whole batch. A final note: make sure the Maseca you're using is specifically for tortillas and not tamales or you'll get a different consistency.
RECETA | RECIPE
Atole de fresa
1.5 pounds of strawberries, hulled and sliced
1/2 cup of sugar plus 1 tablespoon (the tablespoon is for macerating the berries)
3 cups milk (the more fat in the milk, the thicker it will make the atole)
3/4 cup Maseca instant corn masa flour (you can use white or yellow)
1/2 cup water (to blend the berries) plus 1 1/2 cups (to thin the mixture) or more to desired consistency
Tools you'll need: A blender and a fine mesh strainer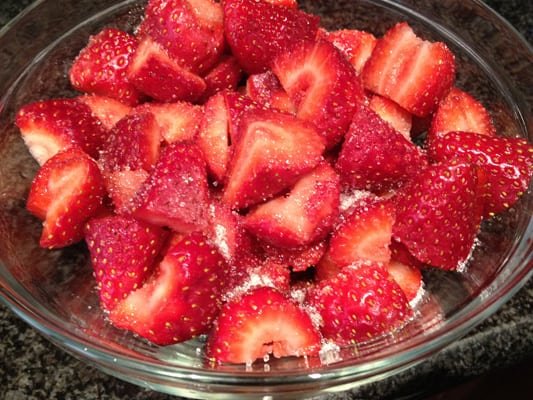 Begin by removing the stems of the strawberries and slicing them into quarters. Place them in a bowl and sprinkle with 1 tablespoon of sugar. Allow them to macerate for 30-45 minutes so the juices come out.
When the berries are macerated, add them, their juice, 1/2 cup of water and the remaining 1/2 cup of sugar to the blender. Puree until completely smooth. Set aside.
In another bowl, pour the cold milk and whisk the Maseca corn masa flour until it completely dissolves. Add the mixture to a saucepan and heat over medium-low.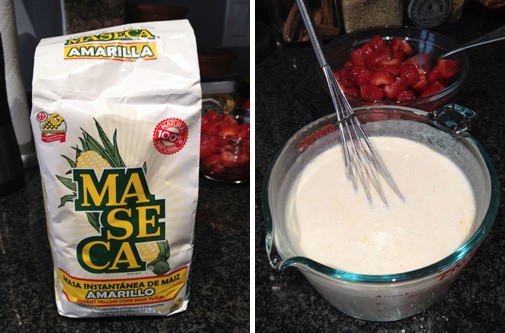 Hold the fine mesh strainer over the saucepan and gently pour the contents of the blender through the strainer to prevent the seeds from going into your atole. Press the inside of the strainer with a spoon to make sure all the liquid is pressed through, and then scrape the outside of the strainer to get every last bit that is still clinging to the outside.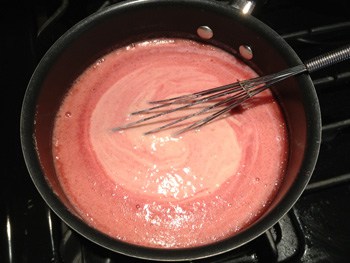 Whisk the strawberry mixture into the masa and milk mixture and continue heating over medium heat until it starts to thicken and bubble gently. You can begin adding the water to get to your desired thickness for the atole. Continue heating and stirring for about 20 minutes.
If at any time it seems too thick, you can add a little more water. But if it seems too thin, just continue cooking and stirring until it thickens more.
Yields about 5 cups.
 How do you make your atole de fresa?
This is a sponsored post through a campaign with Maseca and Latina Bloggers Connect. Though I am being compensated for participating, all opinions, recipes and stories are my own.
23