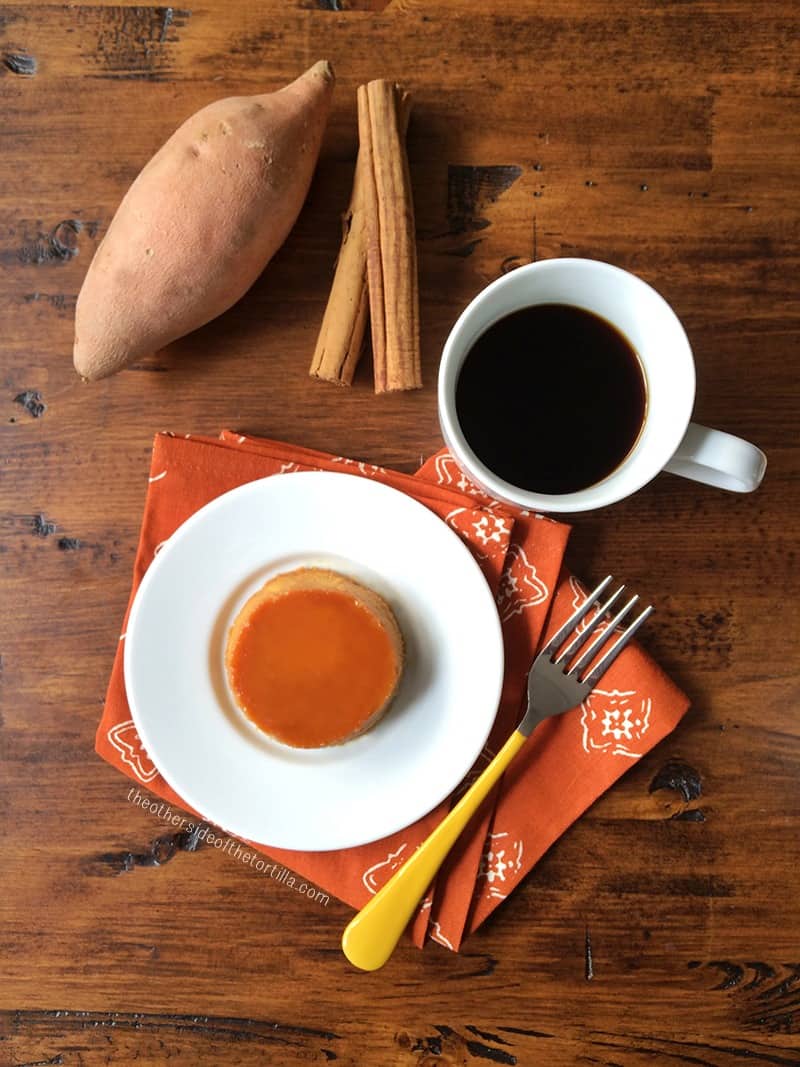 This post is part of a compensated campaign in collaboration with California Sweetpotatoes and Latina Bloggers Connect. All opinions and the recipe are my own.
Sweet potato flan is a non-traditional flavor for a very traditional dessert, but if you're a sweet potato fan, I guarantee you'll like this rich, decadent dessert. Mashed sweet potato gives this recipe a more dense, textured quality than your traditional flan.
I like cooking with sweet potatoes because they can be prepared in a variety of ways from savory to sweet. This low-carb and vitamin and mineral-rich vegetable is considered a superfood and one sweet potato contains more than one day's worth of Vitamin A. My favorite way to eat them is baked and sprinkled with a little chopped piloncillo, ground cinnamon and a little bit of butter, which is what led to the idea to create this flan recipe.
A few interesting facts about California Sweetpotatoes:
They're grown in sand rather than dirt, and are naturally sun-cured on the vine before they're harvested to ensure they keep for longer periods of time. Most are family-grown in the San Joaquin Valley, where they can produce sweetpotatoes year-round.
From plant to table, they're cared for by hand, which leads to a beautiful shape and skin texture with minimal scarring since they're not mechanically harvested.
One medium California sweet potato has 105 calories, more than 80 nutrients, 4 grams of fiber, 2 grams of protein, is packed with Vitamin A, and has no fat or cholesterol.
Sweet potato flan would be a great addition to your Thanksgiving or Christmas holiday meal, or for a holiday potluck with friends or family. I know at my house, it will be a welcome dish to switch up with sweet potato pie or a sweet potato casserole with marshmallows, brown sugar and pecans during the holidays to give our celebration a Mexican twist.
RELATED RECIPE: Pumpkin flan
I like to make flan in individual size soufflé ramekins that are 3.5 inches across and about 2.5 inches deep. These ramekins not only look great when you serve a small flan to each person at your table for dessert, but they also help with portion control and preventing overeating. I don't know about you guys, but if I serve a regular size dessert that I can go back to for seconds, my willpower is sometimes not strong enough to resist temptation, especially during the holidays. However, if you want to make one large flan, be my guest—but remember you may need to adjust the baking time depending on the depth of your baking dish.
Another little trick I use with the ramekins is to loosen the flan with a very sharp knife while the ramekins are still warm (but cool enough to touch) and before refrigerating to help with getting them out of the ramekin easily when it's time to serve dessert. You may want to also make and refrigerate a little extra caramel syrup for drizzling. I always like to keep a little extra on hand because it helps keep the flan looking moist as you serve it, and it can also assist in hiding any cracks or imperfections, along with a garnish such as glazed pecans.
Ingredients
1 cup cooked, mashed sweet potato (about 1 medium-large sweet potato)
3 1/2 ounces (weight) piloncillo, chopped
1 teaspoon freshly ground Mexican cinnamon
1/2 cup water, divided (1/4 cup for piloncillo mixture, 1/4 cup for blender)
1 teaspoon Mexican vanilla extract
1/2 cup sweetened condensed milk
3/4 cup evaporated milk
3 large eggs
For caramel:
1/2 cup sugar
1/4 cup water
Instructions
Prick a sweet potato with a fork and cook on high for 3 minutes in the microwave. Turn over and cook for another 3 minutes. Remove from microwave and let cool for a few minutes. Cut the sweet potato in half, scoop out all the flesh and mash. It should yield 1 cup of loosely mashed sweet potato.
With a microplane grater, grate 1 teaspoon of Mexican cinnamon over a small bowl, about 1/3 of a cinnamon stick or so. It's normal for small chunks to break off and fall into the bowl. When you're done grating, sift the cinnamon through a fine mesh sieve so only the powder falls through. Discard any chunks or woody shards.
In a small saucepan, add chopped piloncillo, water and freshly ground Mexican cinnamon. Cook over low heat to dissolve the piloncillo. Reduce to a simmer if necessary to avoid boiling the mixture. You'll be left with a syrup. Remove from heat and allow to cool for a few minutes.
Preheat the oven to 350 degrees F.
Add ingredients to blender in this order: mashed sweet potato, sweetened condensed milk, evaporated milk, 1/4 cup water, eggs, vanilla extract piloncillo cinnamon syrup. Blend on high until completely smooth. Set aside.
In a small saucepan, make the caramel to coat the bottom of the dish. Bring 1/2 cup sugar and 1/4 cup water to a boil over medium heat, constantly stirring until the sugar turns a caramel color. Be careful not to burn the sugar.
Remove caramel from heat and pour evenly into bottom of oven-proof ramekins. Use a spoon if you need to spread the caramel, but it hardens quickly so you'll have to be fast.
Pour the contents of the blender into the ramekins, about 3/4 of the way full.
Place ramekins in a large casserole dish with a water bath (known in Spanish as a baño María) that goes about a third to half-way up the sides of the ramekins.
Bake at 350 degrees F for about 45-60 minutes or until a toothpick comes out clean from the center of the flan. Check the flan after 45 minutes.
Remove ramekins from oven and water bath, and place on a cooling rack to cool for about 20 minutes. Loosen around the edges of the flan with a sharp knife.
Refrigerate until ready to serve. Invert ramekins over dessert plates. Optional: Garnish with glazed pecans.
https://theothersideofthetortilla.com/2014/08/sweet-potato-flan-recipe/
©2009-2015 theothersideofthetortilla.com
17