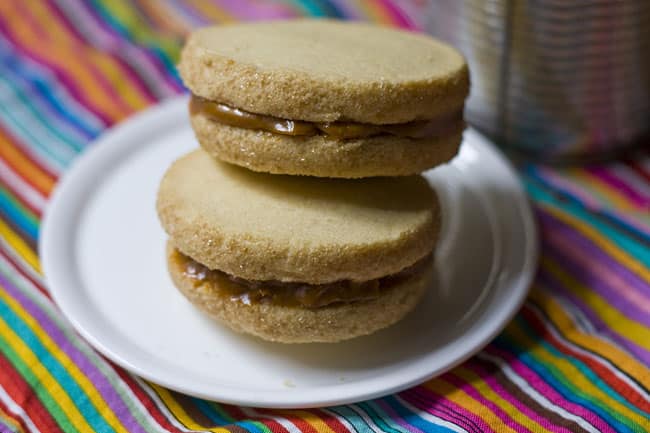 Alfajores are basically code for delicious cookie sandwich with dulce de leche in the middle. They're a popular confection in Spain and parts of Latin America. They're delicate cookies made with corn starch that give a buttery, satin texture with the perfect amount of crumble. I love alfajores (and usually try to pick up a box of the fancy, individually-wrapped kind from Palacio de Hierro while in Mexico) but sometimes I just need a quick fix without the hassle of making cookies from scratch when I can't buy the fancy kind.
On the Kenmore Genius Blog, I confessed  my dirty little secret on how to make alfajores with all of the flavor and hardly any of the work. If you're a disaster in the kitchen, are pressed for time with a busy schedule or just having a lazy moment, this recipe is for you! It's so easy, you'll wonder why you never thought of it yourself.
I can't take ALL the credit though—I owe big thanks to my friend Marta from My Big Fat Cuban Family for her genius discovery on how to make dulce de leche in a slow cooker. With this handy little trick, cheating in the kitchen has never felt so good.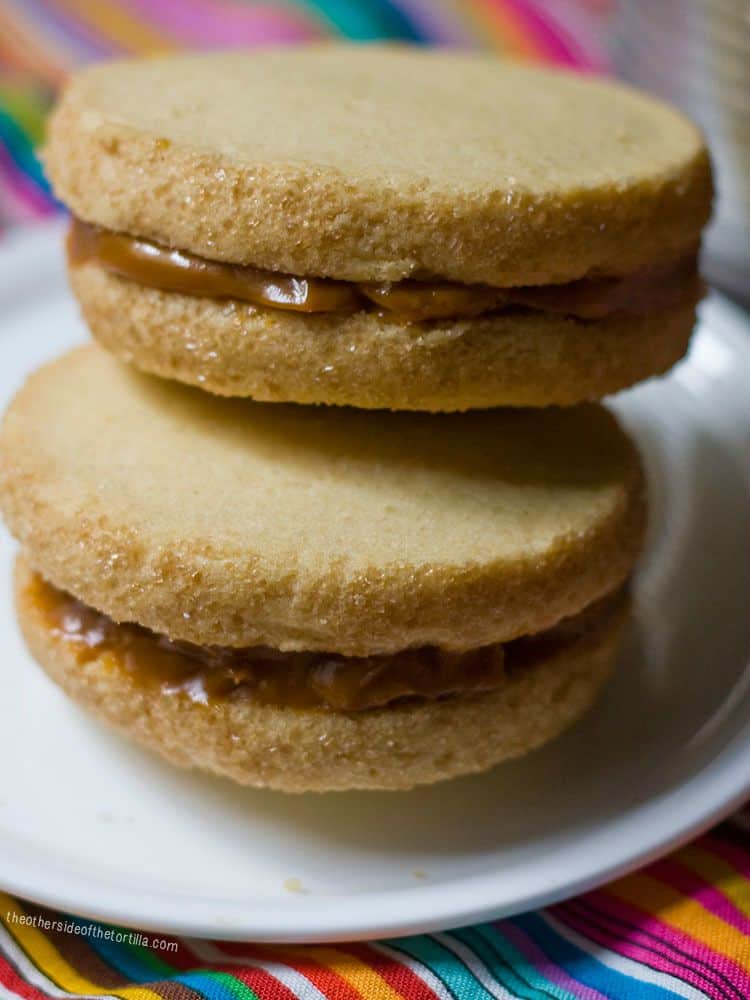 Use your slow-cooker or Crock-Pot to turn a can of sweetened condensed milk into dulce de leche and use store-bought shortbread cookies to create "cheater's alfajores" for a delightful dessert.
Ingredients
You'll need a slow-cooker or Crock-Pot for this recipe.

One box of store-bought shortbread cookies (as thin as possible)
One can of sweetened condensed milk (also known as la lechera)
A few tablespoons of finely shredded coconut (optional)
1 tablespoon of confectioner's sugar, sifted over the cookies (optional, for dressing up the top of the cookie if you don't roll it in the coconut)
Instructions
Remove the label from the can of sweetened condensed milk and discard. Place the can in the crock of the slow cooker. Fill the crock with water until the can is completely submerged. Set your slow cooker on high for 6 hours.
At the end of 6 hours, turn the slow cooker off. If you're in a hurry, you can immediately remove the can from the crock using tongs and submerge it in a bowl of room temperature water. When the can is cool to the touch, you can open it with a can opener. Once you open the can, you'll see the sweetened condensed milk has turned into dulce de leche.
Place a generous spoonful of dulce de leche in the middle of one cookie and press another cookie on top. Make sure not to overfill them or the dulce de leche will ooze out the sides and make a mess. Ideally, the dulce de leche should just peek out. If you like, roll the edges of the cookie through finely shredded coconut which will stick to the dulce de leche.
Notes
Store any leftover dulce de leche in an airtight container in the refrigerator for up to six weeks.
https://theothersideofthetortilla.com/2011/08/cheaters-alfajores/
©2009-2015 theothersideofthetortilla.com
Share this post with your amig@s, but don't tell your abuela!
4