I've been quiet lately because I've been busy in the test kitchen, out tasting new dishes and talking with chefs at local Mexican restaurants, and reading up on Mexico in the news. You can expect some new recipes here soon, but until then, here's a small roundup of the best things I've read in the last week: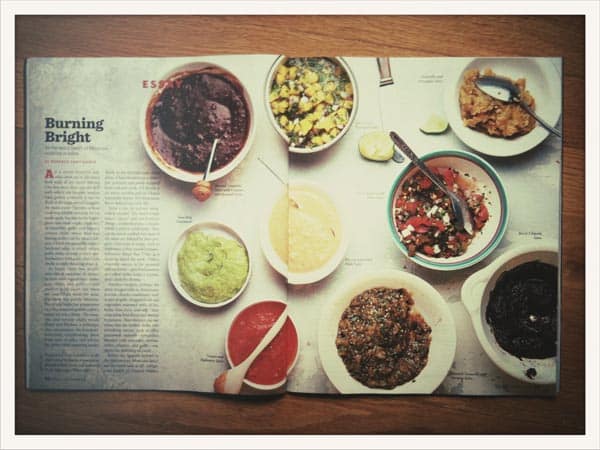 I'm really in love with Saveur magazine this year, more than ever. They've really impressed me over the last several issues, which have had excellent features about Mexico and Mexican cuisine – especially about traditional cooking methods. "Burning Bright," a feature about salsa is no exception. You'll have to pick up an actual copy of Saveur because I can't find the article online yet. But this article by Roberto Santibañez was so good (in part because of the drool-worthy photos and accompanying recipes) that after reading it I ordered a copy of his recent book, "Truly Mexican," which came out earlier this year.
I've been learning more about mezcal so I was excited to see this article talking about artisanal mezcal and small producers who are keeping the tradition alive.
"Move Over, Tequila, It's Mescal's Turn to Shine" from The New York Times
Of course, I certainly think Mexico City is one of the world's best food cities, but to see others recognizing the city and country for its world-class cuisine warms my heart. Personally, I feel this attention is long overdue but thanks to Mexican cuisine's UNESCO designation last year as an intangible cultural heritage, a light is being shined (by some of the world's most important newspapers and magazines, nonetheless) on all the city has to offer. Bueno pues… ¡más vale tarde que nunca!
"The World's Greatest Food City? With delicious food from markets to top restaurants, Mexico City is a contender" from The Wall Street Journal
If you've read anything particularly great recently, please share a link in the comments below or tweet me a link. Learn something new from these articles? Let me know what you liked!

1