One of the things I love most about the summer is grilling. It's an opportunity to do all kinds of different things with meats and vegetables that I don't get a chance to do during the rest of the year.
During the spring and summer, my local Mexican markets have a wider variety of produce which means endless combinations for creative dinners at my house. I've recently been craving calabacita, a zucchini-like squash that has lighter green speckled skin, and is also one of José's favorites. As I was strolling through the aisles, I was trying to decide what to stuff them with and as soon as I saw chilaca chiles, I knew that was what I wanted.
They're long and skinny with dark green skin, but you may recognize them better when they're dried – known as chile pasilla. When fresh, they're mild with a very subtle sweet flavor and you can char and peel them just the same way you do with a poblano.
This dish is a variation of one that José grew up eating and when I served it for dinner over the weekend, the first thing he said after taking a bite was, "sabe a mi casa." To me, that's the ultimate compliment.
TIPS: If you don't have a grill or want to make this dish during other times of the year, you can also use a grill pan to cook the calabacitas. You can roast and sweat chilaca chiles in the same way you would with poblano chiles.
This dish can also be made vegetarian-friendly if you substitute soyrizo for the chorizo.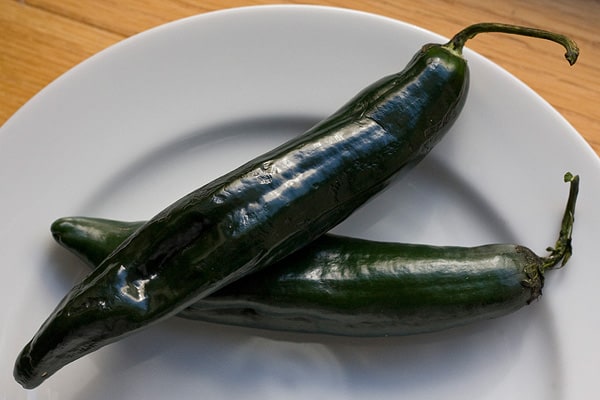 This stuffed Mexican squash recipe is an easy and healthy side dish with a smoky filling which can also be made into a vegetarian meal by substituting soy chorizo (AKA soyrizo).
Ingredients
2 medium or large calabacitas or 4 small calabacitas, stem removed and cut lengthwise
2 chilaca chiles
6 tablespoons diced white onion
4 ounces Mexican chorizo, cooked and drained
2 ounces finely crumbled queso fresco
Instructions
Cut the stem off the top of the calabacita. Grill them face-down over medium heat for 15 mins or until the middle is soft enough to dig out with a spoon. Let them cool a bit before you actually remove the middles. You'll just scoop them out to make a little boat for the filling to go.
Blister and sweat the chilaca chiles like you would do with a poblano. You can do this by putting them on the grill and watching them carefully, turning until the skin blisters on all sides, or you can follow my tutorial on how to blister chiles on the stove. It's important to note that chilacas are much thinner-skinned than poblanos, so they will blister quicker. Place them in a plastic bag once they're blistered to allow them to sweat for 5-10 minutes or so. When they're done sweating, remove the skin and cut the top off of the chile. Cut a slit lengthwise and remove any seeds. Slice the chile into small, bite-sized strips.
Dice a few slices of white onion until you have about six tablespoons. Mix with the chilaca chile strips.
Cook the chorizo and drain the grease. Combine with the onion and chile and then crumble the queso fresco over the top. Stir to mix. Spoon into the calabacitas.
Notes
If you're not going to serve them right away or if they are not warm by the time you get the filling in them, put the calabacitas in an oven-proof baking dish or serving tray and heat in the oven at 350 degrees F for about 5-7 minutes, depending how cool they are. Serve as appetizers or as a side dish with a main course; more queso fresco can be crumbled over the top if desired.
https://theothersideofthetortilla.com/2011/06/calabacitas-rellenas/
©2009-2015 theothersideofthetortilla.com
How do you like your calabacitas?
11