Albóndigas are a simple Mexican comfort food, easy to make and even easier to eat. I always serve these Mexican meatballs in a tomato chipotle sauce. Some people like to make their albóndigas bigger so they can accommodate a whole egg filling on the inside. My husband only likes them without egg, so I finally learned this recipe from our family friend, Esmeralda. It's an easy but traditional Mexican dish sure to please the whole family.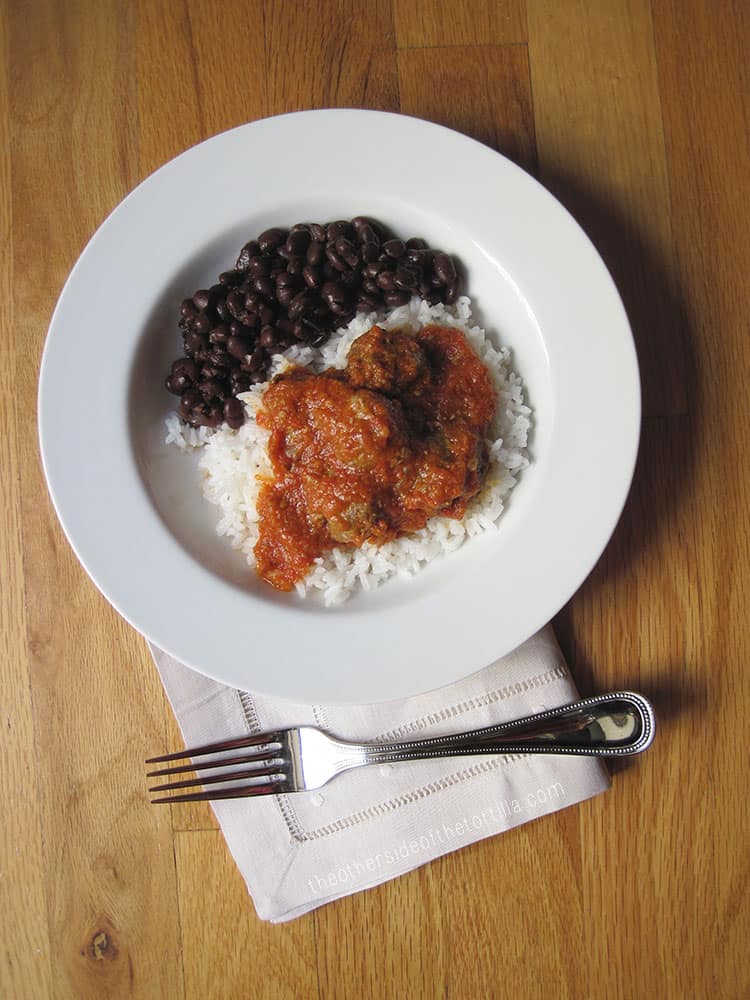 This past weekend I had the pleasure of speaking at the Blogalicious Weekend conference at the Ritz-Carlton South Beach in Florida. I had an absolutely incredible time and was inspired by so many of the women I met.
The kind folks at Kenmore hosted a pop-up kitchen at the conference and invited me several weeks ago to do a cooking demo using their kitchen. There was one challenge: I had to choose a recipe that could be made only using small appliances.
I thought for several days about what I could make with only access to a blender, a convection toaster oven, a toaster, a stand mixer, an induction pad, a food processor, a coffee maker or teakettle and a slow cooker. It was a tough decision because I really wanted to make rajas con crema, but without a sink and an oven, I didn't think I could pull it off.
A few weekends ago, my mom was foraging through my refrigerator looking for a snack and I ended up giving her some albóndigas (meatballs) over rice. She loved them so much that she gobbled up the last of what little was left in a Tupperware from a few nights before.
The next day at 7 a.m. – a Sunday – my mom called to tell me she'd been up all night thinking about albóndigas and that she needed my recipe so she could make them herself that day. Seldom in my life has my mom, who is an amazing cook, called me for a recipe – it's always me calling her. That's when I decided if they were good enough for mom to call me at 7 a.m. on a Sunday and risk waking me up on the one day a week that I like to sleep in, then the Blogalicious crowd would surely love this recipe, too. If you weren't able to see it live in Miami, check out the video below of the cooking demo from start to finish.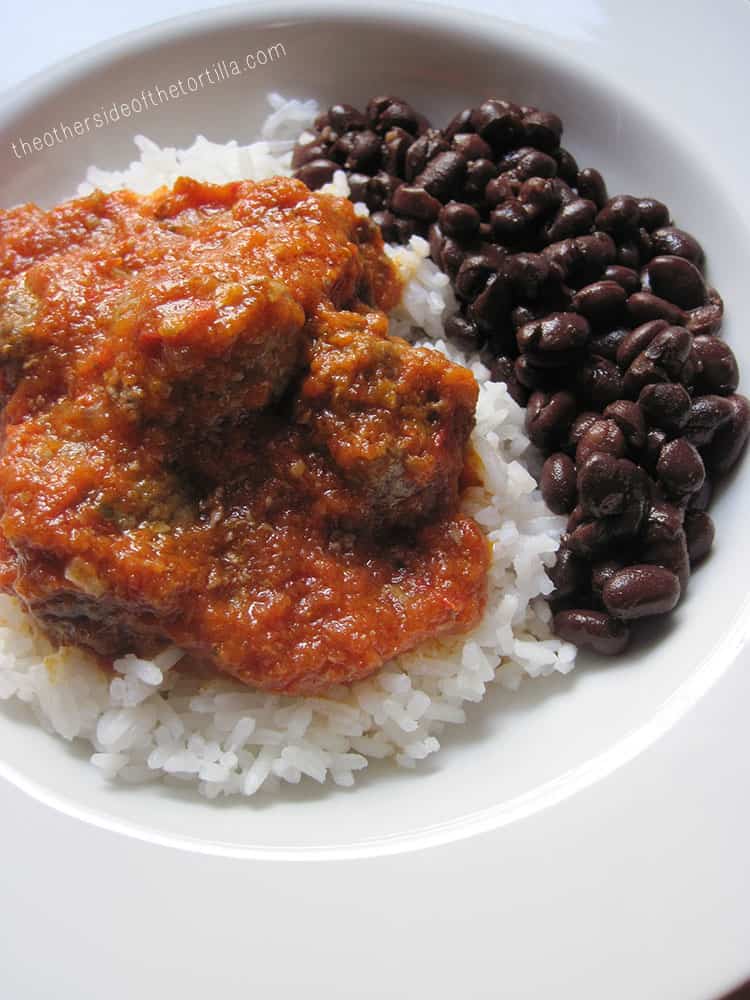 [youtube]http://www.youtube.com/watch?v=CGOeny70SdQ&feature=channel[/youtube]

Muchas gracias to Kenmore for inviting me to share this recipe with the Blogalicious crowd and for providing me with video to share with my readers. Thanks also to all my wonderful fans and the conference attendees who came to the demo and tasting.
ALBÓNDIGAS EN SALSA CHIPOTLE
A classic recipe for albóndigas al chipotle, a Mexican meatball dish with a tomato-chipotle sauce.
Ingredients
1.3 to 1.5 lbs ground beef
kosher salt & pepper to taste
1/4 to 1/3 of a white onion, finely diced
1 egg, scrambled
For salsa:
3.5 oz can of chipotles en adobo (you'll only use a portion of the can)
5-6 Roma tomatoes
1 slice of white onion
1/2 cup water
2-3 tsp powdered chicken bullion, or about ½ of 1 chicken bullion, chopped (optional)
a few tablespoons of canola or vegetable oil (to fry the salsa puree)
Instructions
Mix the ground beef, onion, salt, pepper and egg in a bowl. Form meatballs about the size of a round tablespoon or slightly larger. Place them on an aluminum foil-lined baking sheet and broil on high for about 8-10 minutes. (If using a convection toaster oven, use the broil option and cook for about 15 minutes.)
While they're cooking, cut up 5-6 Roma tomatoes and put in the blender with 1 thick slice of onion and about 3/4 of a 3.5 oz can of chipotles en adobo. Puree.
Add a few tablespoons of canola oil to a stockpot and heat the oil. Fry the puree for a few minutes, then stir. Add a half cup of water and about 2-3 tsp of chicken consommé if desired. Stir in well.
Once the meatballs are done in the broiler, they will have rendered some juice. Spoon the meatballs into the tomato and chipotle puree and carefully add the juice from the meatballs by picking up the foil and funneling it into the pot.
Bring to a boil and then cover and simmer for 8-10 minutes. Turn off burner and remove from heat.
Allow the pot to sit for 15 minutes to let the meatballs absorb the chipotle flavor from the sauce.
Serve over white rice and with a side of whole black beans.
Notes
Serving this dish with a soup ladle is best to ensure you get both meatballs and enough salsa.
Serve with: White rice or whole black beans (canned or made from scratch; if using canned, just make one 12 oz can).
https://theothersideofthetortilla.com/2010/10/albondigas-en-salsa-chipotle/
©2009-2015 theothersideofthetortilla.com
Have you ever had albóndigas? How do you like them? Do you make them differently? If you put something other than egg in the middle, let me know here in the comments.
19