In December 2012 during a visit to Mexico City for the holidays, I had a chance to once again visit La Casa Azul, the home of Frida Kahlo and Diego Rivera, which is now the Museo Frida Kahlo. I visited specifically to see a new exhibit called "Las apariencias engañan: los vestidos de Frida Kahlo" (which runs through January 31, 2014 and is a must-see exhibit for any serious Frida fan).
In the museum, there are several displays of Frida Kahlo's personal journals, filled with artwork between the pages of her thoughts. There's a famous quote of Frida's from one of her personal journals which reads: "Pies para qué los quiero si tengo alas pa' volar."
It means: "Feet, what do I need them for if I have wings to fly." As I flew over Ciudad Universitaria in early January on my way back home to Chicago, I snapped this photo of one of my favorite views of the city and added the words.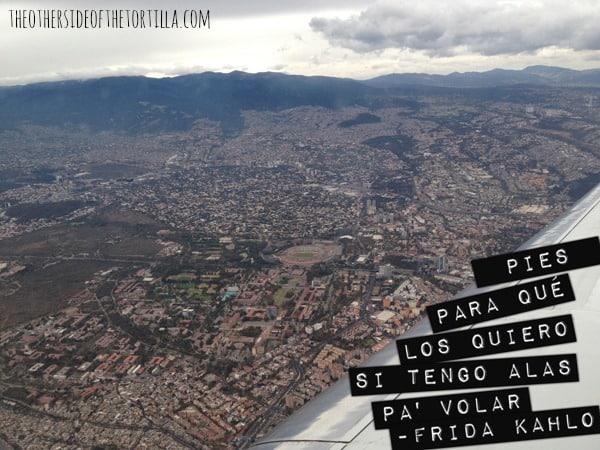 Do you have a favorite Frida Kahlo quote? Share it with me in the comments below!