This fruity guacamole recipe that includes pineapple and pomegranate seeds for a little touch of sweetness, and red onion and garlic for a little touch of savory.
I recently made several versions for a game night gathering, and this one was the quickest to disappear.
RELATED: Mango and pomegranate guacamole
If you'd rather not mix sweet and savory, you can leave out the jalapeño and garlic if you prefer. But after trying this recipe, nobody was eating the classic guacamole recipe I brought! I love to buy a whole bag full of avocados and make several different versions for parties because it's so easy to do. Just keep the base the same with avocado, garlic, lime juice and salt, split up the base between several bowls, and add other ingredients as you like. It looks fancy but takes very little time to do.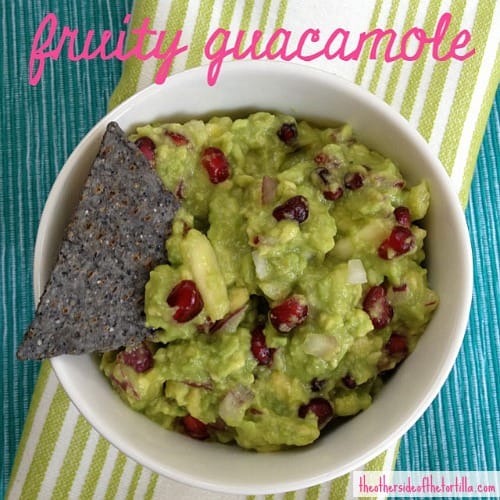 I use red onion when I make guacamole with fruit because they're less pungent, have a milder onion flavor, and still give you an added texture and crunch. You can substitute white onion if you prefer, but it will have a different taste. Red onion complements the sweetness of the fruit better, while white onion can overpower the delicate taste of the pomegranate and sweet acidity of the pineapple.
This nontraditional recipe is perfect for any party or get-together with family or friends, especially if they've never had anything but classic guacamole before. I hope you enjoy it as much as my family does!
One last note: Always use fresh-squeezed lime juice over the bottled kind. The flavor becomes dull and sometimes bitter due to time since bottling means it's pasteurized and has preservatives in it. The brightness from fresh lime juice can't be matched by the bottled stuff.
This fruity guacamole recipe with pineapple and pomegranate is gluten-free and vegan-friendly. …