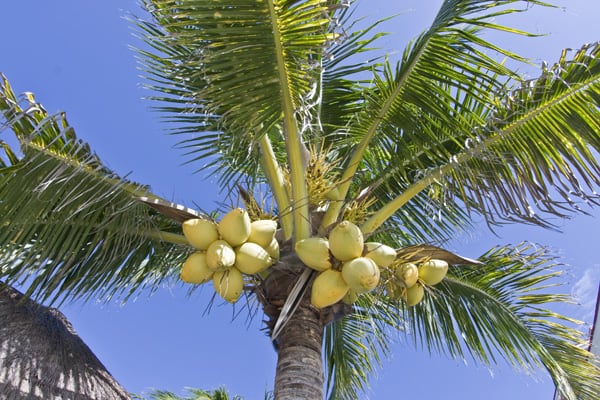 I'm back from Cancun and finally starting to recover from the intense humidity–about 95 percent–and nursing some mosquito bites so nasty that it looks like I'm coming down with a case of the chicken pox.
But aside from the weather (Hurricane Ida couldn't stop me) and some bugs, Cancun did not disappoint.
There's something I just love about coconuts–and piña coladas don't even begin to cover it. All over Cancun, I saw palm trees with coconuts growing on them. In some cases, I saw them ripe and brown and falling off the tree; in other instances I saw gardeners trimming the leaves and picking up broken coconuts that had fallen to the ground. To some, getting to see coconut trees is no big deal, but to a Chicagoan it was a little slice of heaven. How glorious to have these natural beauties growing in your front yard or on the side of the road near where you live. These are things I dream about during the long Chicago winters.
As I was only in Cancun for a few days and working when I wasn't sleeping, I didn't get much of a chance to explore local taco joints much to my chagrin. But I did eat a few noteworthy items and jotted down a few thoughts to share.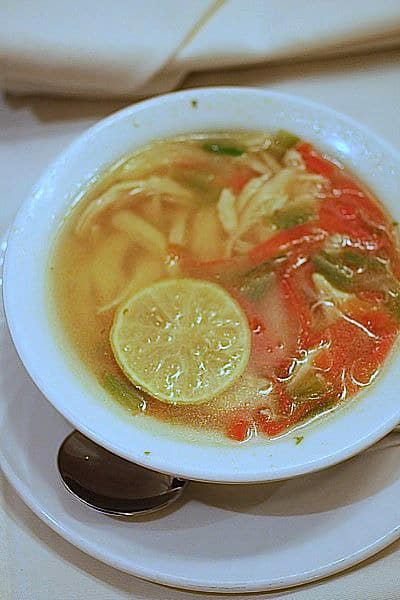 Sopa de lima, the quintessential Yucatecan dish, was undoubtedly the culinary highlight of my short trip. This version was the traditional broth with the addition of shredded chicken, strips of red bell pepper and nopales (also known as cactus paddle, and new to me as an ingredient of this soup), a generous floating slice of lime and a handful of perfectly crunchy tortilla strips which I promptly devoured before I even managed to take a photo.
I'm big on soups, and as my husband might also remind me, I'm big on lime juice even when it doesn't technically belong there. I've never made sopa de lima at home; my first authentic taste of it was at El Faisan, a Yucatecan restaurant in Cuernavaca (a stone's throw from Mexico City) about a year ago. Sopa de lima is simply a chicken stock-based soup with a lot less lime juice than you'd think neccesary in order to be called lime soup. A number of the recipes I've been studying include either serrano chiles or habaneros, and many have interesting spices like cloves or bay leaves and peppercorns in the preparation as well.
I'll be experimenting with some sopa de lima recipes from Spanish-language cookbooks this winter, and when I find one that I think is worth sharing, I'll let you know. I'm hoping to also get some more authentic sopa de lima taste-testing in when I travel to Cozumel soon. If you've got a good recipe, please get in touch and share so I can try it out. I've seen so many variations on the recipe that it almost makes my head spin when I think about it. Of course, I'll be seeking advice and recipe suggestions from friends and family in Mexico when I make my annual December visit.
Other food notables from the trip: each day with breakfast, I ate chistorra, a notoriously fatty, delicious, fast-curing pork or pork/beef sausage not unlike chorizo (except for its size). The first night, I had a torta de cochinita pibil with an elegantly sliced avocado garnishing the plate, and as you can probably imagine, it didn't take me too long to enjoy it–avocado and all.
I'd love to see any comments about your favorite Yucatecan foods as I'll be headed back to the region in January.
How do you like your sopa de lima?