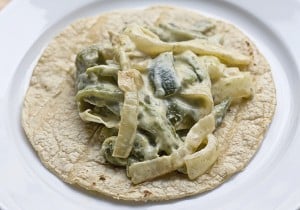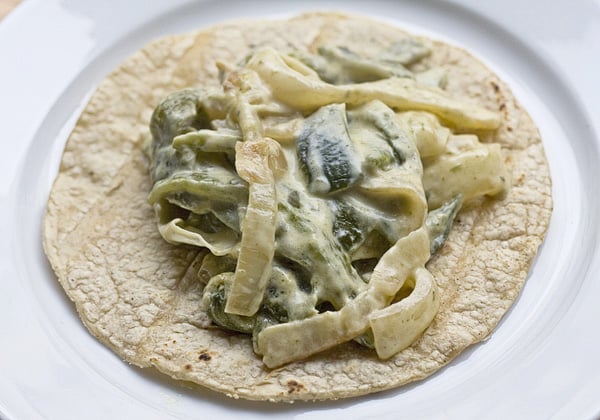 Rajas con crema
Yield 12 servings
Rajas con crema is a hearty dish made with poblano chiles, onion, Mexican sour cream and a little bit of cheese. It's used as a taco filling or served as a side dish.
Ingredients
5-6 poblano chiles, roasted, skinned and cut into strips
1/2 of a large white onion, sliced into rings and then cut in half (to make half moon strips)
2 tablespoons salted butter (do not substitute margarine)
5 ounces crema Mexicana
1/2 of coarsely shredded Chihuahua cheese
A pinch of kosher salt, or more to taste
Instructions
Roast poblano chiles. Allow them to sweat for 15 minutes, then peel off the skins, remove seeds and cut into strips. 
Using a deep skillet, melt the butter and cook the onions in the butter on medium-low heat until they start to change color and caramelize a bit (slightly transparent and a little brown). Turn off burner and remove pan from heat.
Add the chile strips (rajas) in the pan with the onion, stir to coat well with the remaining butter, and warm over medium heat until the rajas are warm and a little wilted.
Add about 5 ounces of crema and stir in well. Cook for about 2-3 minutes and then reduce heat to low and add a half cup of coarsely grated Chihuahua cheese (if you can't find cheese labeled Chihuahua, any cheese labeled "queso para fundir" will do). The cheese should melt slowly and not be gooey, and it should be barely visible once incorporated. It's really more of a bonding agent so the cream doesn't get soupy. Once the cheese is melted, turn your burner as low as it will go, just so it is on to keep the rajas warm.
Notes
Leftovers can be stored in an airtight container in the refrigerator for up to 5 days, and reheated on the stove over medium heat or in the microwave at 30-second intervals.
Recipe by The Other Side of the Tortilla at https://theothersideofthetortilla.com/2010/02/rajas-con-crema/