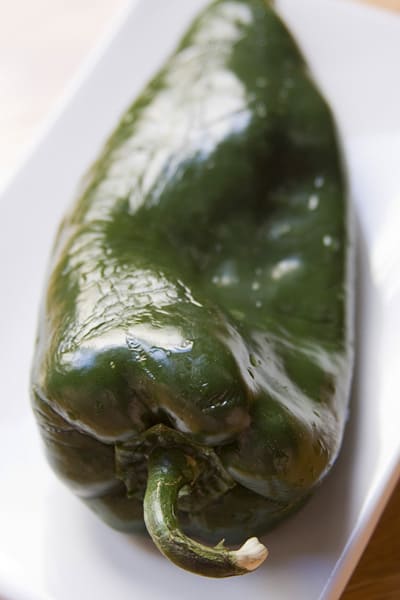 Over the years, I've been asked many times how to roast poblano peppers. It's easier than you think, but takes a little bit of time because you have to roast, sweat, peel, seed and devein them to prepare them for use in a dish. Poblano chiles are used for a number of Mexican dishes such as chiles rellenos, chiles en nogada and rajas con crema, to name a few. I can't think of many dishes I make without roasting the poblano chiles first, which gives them a more robust flavor. Poblano peppers are also called chile poblano, poblano chiles or, in some cases depending on the region, pasilla chiles. (These are not to be confused with the dried pasilla chile.)
I sometimes make the mistake of using my bare hands to peel, devein and remove the seeds of a poblano chile because it doesn't smell too spicy. Usually each time I do, I get fooled and the back of my hands feel like they're burning for the rest of the day. A few times, I've scratched my forehead only to feel the searing sensation and have a little red raspberry spot to show off my mistake.
You can save yourself from the burn by wearing fitted latex gloves.
There are several methods for roasting chiles. The two ways I prefer are over a direct flame or on a hot comal. Either way, be sure not to burn the meaty flesh of the chile or it will have a bitter taste. With both methods as the skin starts to blister, you'll hear what sounds like little zaps of electricity or sizzling—that's normal.
ROASTING POBLANO PEPPERS OVER A FLAME
Place 1-2 chiles directly on the stove burners over a medium flame. Turn with kitchen tongs as each side blisters until the skin is toasted and blackened, but it should not blacken so much that it starts to peel or turn into ash. It should take a few  minutes per side and about 10-12 minutes total, depending on how large they are.
You can also follow this same method  on a barbecue grill to roast more peppers at once.
ROASTING POBLANO PEPPERS ON A COMAL
If you don't have a comal (a flat, thin, and usually round or oval shaped pan for cooking tortillas), use a cast-iron or heavy non-stick skillet. Heat over medium flame and add 2-3 chiles to the comal. Turn them until the surfaces are toasted and blackened. The amount of time it takes will depend on whether you have a gas or electric stove and the thickness of your comal or skillet.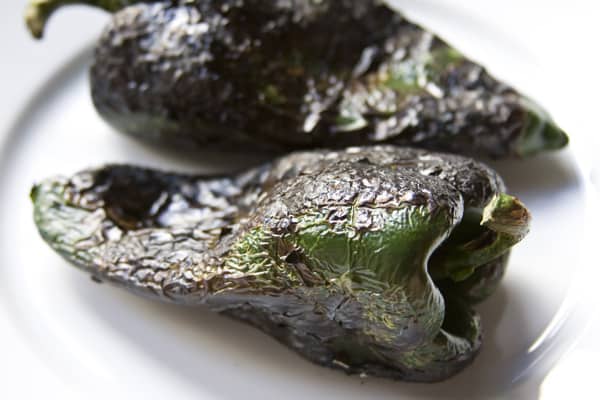 HOW TO SWEAT THE CHILES
Place the chiles in a sealed, plastic Ziploc bag to "sweat" for about 15 minutes. (You can also refrigerate the chiles for a day or two after sweating if you are not ready to peel, devein and remove the seeds for use.) Sweating has two purposes: first to remove the skin and then to cook the chile a bit further in its own vapors to acquire the characteristic taste of a freshly roasted chile. Have a bowl or plate ready to hold the skinned chiles.
Put on your latex gloves.
After 15 minutes, open the bag and one at a time, pinch part of the skin so it tears and peel it off. Remove the skins from each chile and transfer them to the bowl or plate you have waiting. Discard the skins.
HOW TO SEED AND DEVEIN POBLANO PEPPERS
To devein and remove the seeds, cut a slit along the side of the chile. Use your fingers to dislodge the seeds. Pull out what you can with your fingers and then using a slow but steady stream of cool water, rinse the inside of the chile. This should flood the rest of the seeds out if you knocked them loose but couldn't remove them with your fingers.
Feel for any thick veins along the side of the chile. Using a small paring knife (and being careful not to pierce the skin) gently cut the veins away from the skin. Pat the chiles dry with a paper towel to remove any extra moisture inside and out.
Now the chiles are ready to prepare for a dish.