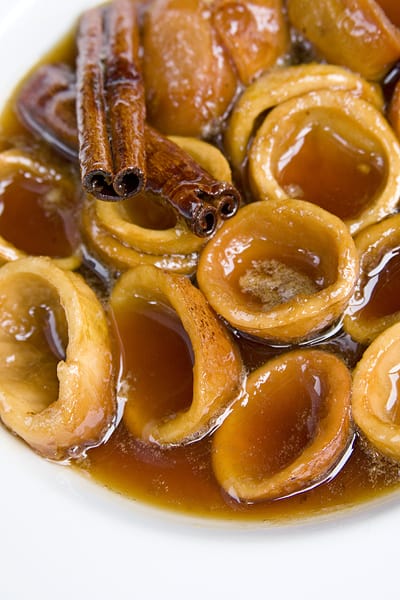 Guayabas en sancocho, also known as guayabas en almíbar, is a delicious dessert of guavas stewed in a cinnamon and piloncillo syrup.
I love the smell of ripe Mexican guavas. Their creamy white flesh and tropical fragrance are simply intoxicating. They remind me of this one particular little stall that sells fruits at the Mercado Coyoacán where my mother-in-law likes to shop. Whenever I visit Mexico City, I'm always eager to tag along with my suegra when she needs to grab something from the mercado because I love walking among the vendor stalls discovering new things.
José also likes the smell of guayabas–but for a different reason. You see, as a big brother, José has always dabbled in a serious form of sibling rivalry. My cuñada, on the other hand, can't stand the smell or taste of guayabas. The smell actually makes her wretch. A few years ago when we were visiting around Christmastime, we bought a big bag of guayabas for making ponche navideño. I'm sure you can guess what happened next.
RELATED RECIPE: Ponche navideño
José dangled the bag of pungent guavas right in her face. As if that wasn't enough, he mocked her, making fake vomiting sounds. She ran upstairs and locked her bedroom door to escape the torture–her first mistake. After more than 20 years of experience, you'd think she'd learn to just roll over at the first hint of his big-brother shenanigans, ­but she always falls prey. Sometimes I'm convinced that the worse you get teased or tortured, the more he loves you.
But that's not where it stopped. He decided to wait a day to both allow his sister to forget about the guavas and to allow them to ripen further to a rather stinky state. He waited until she wasn't home and he hid several of them around her bedroom. Some were easy to find but others so impossible that no amount of looking on her part was going to yield treasure.
When she returned home and entered her room, she could almost immediately sense the smell. She hadn't quite figured out how it got there until she came out of her room and saw José smirking. "¡Mamá!" she yelled — as if calling for my suegra's help was going to solve the case — her second mistake.
As she began searching her room trying to figure out where the smell was coming from, she held a towel over her nose and mouth as if the smell was toxic. One under the bed. One in a pillowcase. She began to wretch. One behind a picture frame in her bookcase. By now, my suegra was helping with the search.  They found another and another. Finally, José relented and removed the remaining guavas — some from the closet and some from a chest of drawers in her adjacent bathroom. We all had a good laugh, hugs were exchanged, and the torture was forgotten.
Ever since then, guayaba jokes have been made at my cuñada's expense any time they're brought into the house. But she's always been a good sport about it.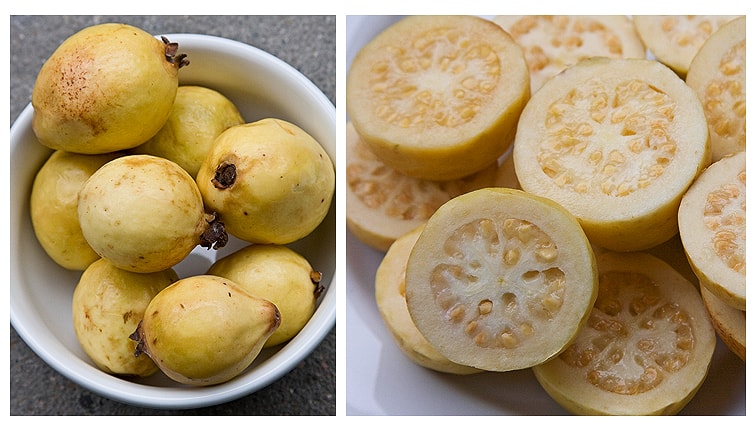 Lately, there's been an abundance of good-looking guavas at my local market and I felt compelled to take some home and create something delicious with them. Lucky for me, no amount of torture by guayaba will send me running.
This recipe is adapted from one of my favorite Spanish-language cookbooks that I purchased in Mexico, Las Fiestas de Frida y Diego: Recuerdos y Recetas. It's a beautifully written cookbook that has both recipes and the family history behind them. The book contains recipes from the cocina de la Casa Azul of Frida Kahlo and Diego Rivera and the book is co-written by Rivera's daughter, Guadalupe.
This recipe is also often known as guayabas en almíbar in Spanish. This dessert pairs well with a cup of hot coffee.
This traditional Mexican dessert of guavas in a cinnamon and piloncillo syrup is known in Spanish as guayabas en sancocho or guayabas en almíbar.
Ingredients
1 large cone of piloncillo (about 8 ounces or 225 grams), cut into pieces
1 cup of water
3 cinnamon sticks
1 pound of Mexican guayabas (white-fleshed guavas)
Instructions
Cut the ends off the guavas, halve them and then remove and discard the seeds. Set aside.
Using a sharp knife, cut the piloncillo into pieces. The cones are usually packed very tight and are difficult to cut, so take care with the knife.
Heat the water, piloncillo and cinnamon sticks over medium heat in a saucepan until the piloncillo is completely dissolved and the syrup begins to boil.
Add the guavas to the syrup. If necessary, add a little water to the syrup if it is too thick, two tablespoons at a time. Allow the syrup to simmer until the guavas are soft and the syrup is thick.
Remove from heat and allow to cool before serving.
https://theothersideofthetortilla.com/2010/03/guayabas-en-sancocho/
©2009-2015 theothersideofthetortilla.com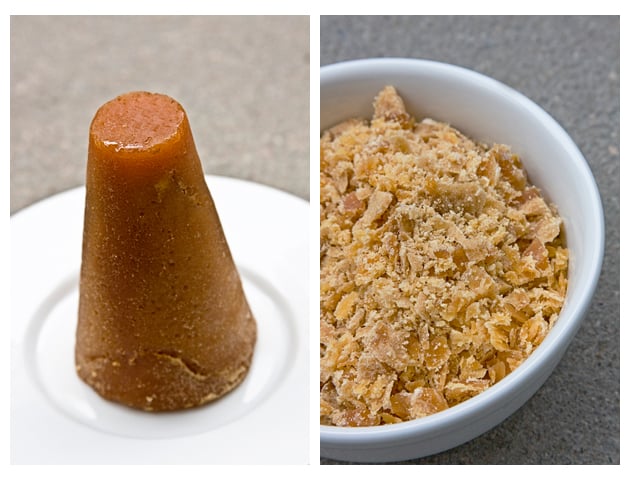 34