I'm sharing my sopa de fideo recipe because this tomato-broth and noodle soup is a comfort food for me that evokes one specific fond memory.
After more than a decade of dreaming about visiting Teotihuacan, I finally made the 40-kilometer trip northeast of Mexico City in 2009 with my suegro and my cuñada. I yearned to visit this archaeological site since I first learned about it in history books as a kid. The Aztec pyramids fascinated me and I never dreamed I'd be able to travel there, let alone make it all the way to the top of the Pirámide del Sol.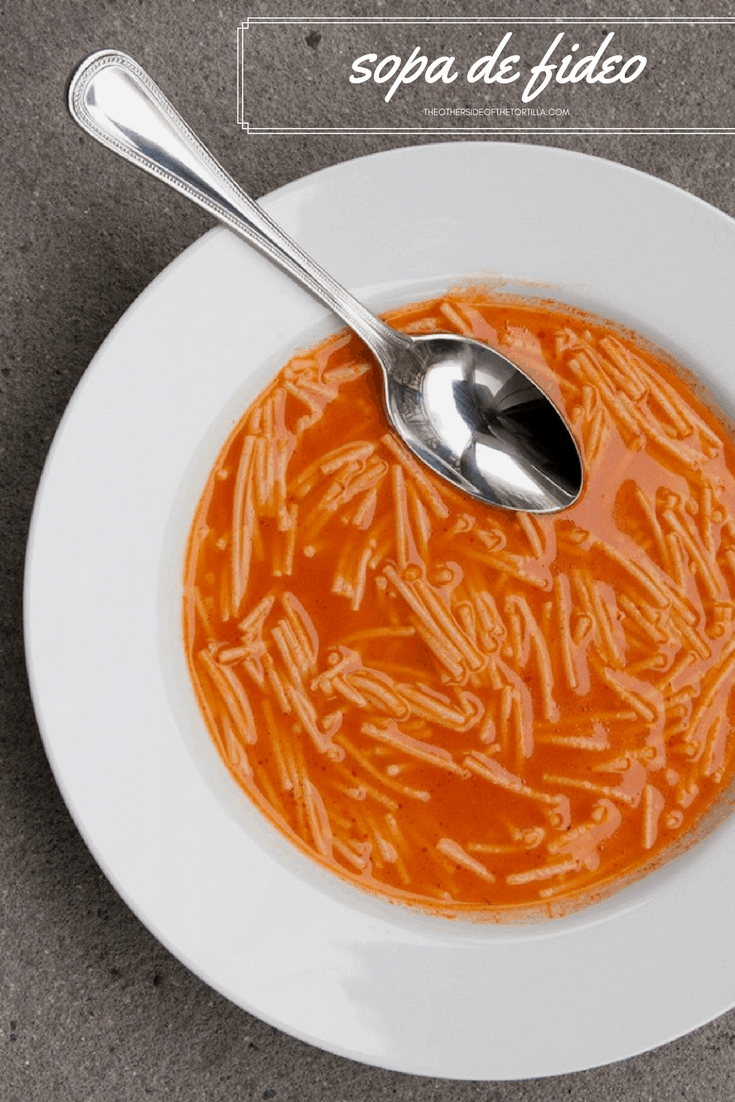 RELATED RECIPE: Tomato chipotle soup with star pasta
After what seemed like a long car ride on the highway from Mexico City (in reality, it was only about 25 miles), we finally arrived at Teotihuacan. I had worn loose clothes to be comfortable while climbing, and as it was cloudy, I decided against wearing a hat. I had also decided that I couldn't climb to the top of the Pirámide del Sol without toting two cameras so I could have the advantage of shooting photos with two different lenses without risking getting dirt in my camera's sensor. Sort of crazy on all accounts, right?
I didn't expect to get so winded on the way up, but I had to stop at each tier of the pyramid to rest. My suegro, who was 66 years old at the time, had no problem beating me all the way to the top. To be fair, and so you don't think I'm a total huevona having been beaten to the top of the pyramid by someone more than twice my age, I think it's important to mention the altitude difference. In Chicago, I was used to an altitude of 583 feet above sea level. In Mexico City, the altitude is a whopping 7,349 feet and Teotihuacan's altitude is 7,484 feet above sea level. Add to that the additional height of the pyramid itself (246 feet up) and you might get more of a feel for my inability to keep up. In fact, I felt like my lungs were going to explode. But I kept going, all the way to the top. I couldn't let my suegro show me up, after all.
Once I finally reached the top, huffing and puffing, it was everything I had hoped it would be. I felt like I was on top of the world, and I could see up and down Avenida de los Muertos. I witnessed a wedding ceremony atop the pyramid and snapped probably over a hundred photos. The way down felt incredibly steep, but it took only about 12 minutes to decend after nearly an hour to get to the top.
RELATED RECIPE: Crema de elote soup
After we'd had our fill of climbing and exploring, we stopped for some lunch at a restaurant down the road that one of the security guards at the exit had recommended. But as soon as we sat down in the shade at a plastic table with a brightly colored checkered tablecloth, the side effects of too much sun finally hit me. The cloudy sky had been deceiving; I had pretty awful sunburn on my head, face, neck, arms and anywhere else that had been exposed. I could barely eat my quesadillas. Some orange Fanta was all I could manage.
When we returned home, I showered, put on my pajamas and crawled under the covers of my nice, soft bed. I felt too nauseated to even think of food, let alone keep anything down. My suegra took my temperature and gave me some medicine to reduce the fever. She tried to convince me to eat some crackers, but I just couldn't. I had just gotten too much sun. The fever and the chills wouldn't subside and so we decided a nap was in order to let my body rest. After awhile, the smell of tomatoes, onion and garlic wafted upstairs. When I woke up, my mouth was watering a little.
I made my way downstairs to the kitchen and found my suegra setting the table for one. She had made me sopa de fideo because she was worried I hadn't eaten anything since breakfast. She said it would be light on my stomach and make me feel better. I slowly ate the soup until it was all gone. And what do you know… I actually started to feel better. That day, I became certain of two things: first, that my suegra knows best and second, she loved me just like one of her own.
This soup is a favorite not only for cuando me duele la panza; but when I'm really missing my suegra, too.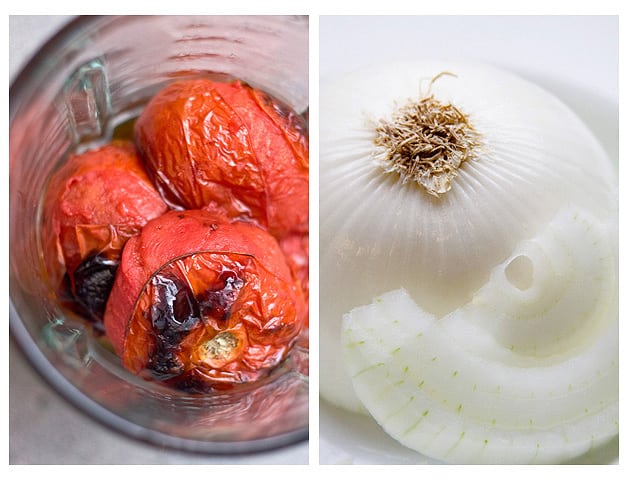 I like to use fideo that are already the appropriate cut and size for this recipe just for ease. There are several brands that make fideo cut pasta, but if you can't find them in your grocery store, you can also break spaghetti or vermicelli noodles on your own.
RELATED RECIPE: Tortilla soup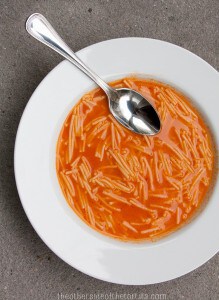 Print
Sopa de fideo
Yield 4
A traditional Mexican tomato broth soup with noodles. Perfect for rainy days and whatever ails you!
Ingredients
6 medium tomatoes, roasted (I like to use vine-ripened or Roma tomatoes)
2 tablespoons vegetable oil
2.5 teaspoons of kosher salt
1 big slice of white onion
1 large clove of garlic
3 cups chicken broth
1 cup fideo cut noodles
Instructions
Roast tomatoes in a shallow cazuela (or a ceramic or glass casserole dish) under low broiler heat on each side until both the top and the bottom have blackened a bit.
Remove the tomatoes from the oven and transfer to a blender. Puree the tomatoes.
In a saucepan, heat 2 tablespoons of vegetable oil over a medium-high flame. Put one spoonful of tomato puree in the hot oil to make sure it is hot enough to fry the puree. When the oil is hot enough, pour the tomato puree slowly from the blender into the saucepan. Let the tomato puree fry for about 5 minutes over medium-high heat, stirring a few times once a minute; be careful, the puree may splatter.
Pour the fried puree back into the blender and add the salt, onion and garlic. Blend well so puree is completely smooth. Pour back into pan and add the chicken broth. Bring to a boil and then turn down to medium heat for 20-25 minutes until the liquid reduces a bit. Remove from heat and let cool for about 10 minutes.
If using spaghetti or vermicelli noodles: While the soup is cooling, break up the vermicelli noodles into small pieces until you have 1 cup of noodles. I like my soup heavy on the noodles, but you can use less than 1 cup if you prefer.
Once the soup has cooled a bit, using a mesh sieve over a deep bowl, pour liquid into sieve and strain the puree so the liquid flows through into the bowl. Use a spoon to press puree against the sides of the sieve to force the liquid out. When the puree is mostly dry and all that remains is a paste, scrape the outside of the sieve and add to the soup.
Pour the bowl back into a clean saucepan and heat over medium-high flame. Add the noodles. Bring to a boil and then reduce to medium heat, cooking for 7-8 minutes or as directed on the vermicelli packaging. Remove from heat and let cool slightly. A thin skin may form over the top of the soup; use a spoon to remove it and discard.  Soup will thicken slightly with the addition of the noodles and upon cooling.
Ladle into bowls.
Notes
When reheating leftovers, add a few tablespoons of water per serving.
Courses Lunch/Dinner
Cuisine Mexican
RELATED RECIPE: Sopa de poro y papa (leek and potato chicken broth soup)
429