Impress everyone with this easy recipe for hibiscus-glazed doughnuts for breakfast. They look fancy but you won't believe how quick they are to make!
Who doesn't love doughnuts for breakfast? I don't trust anyone who says they don't. I first got the idea to make this doughnut recipe when Fany Gerson posted a photo on Instagram of a similar-looking doughnut she was making at her doughnut shop in Brooklyn—appropriately called Dough. If you're not familiar with Fany, she's one of my favorite people in the culinary world and she wrote a beautiful book called "My Sweet Mexico" in 2010 that has made me one of her biggest fans. As a lover of pan dulce and Mexican candies and desserts, her book was the first one I found that made these treasured recipes accessible in English.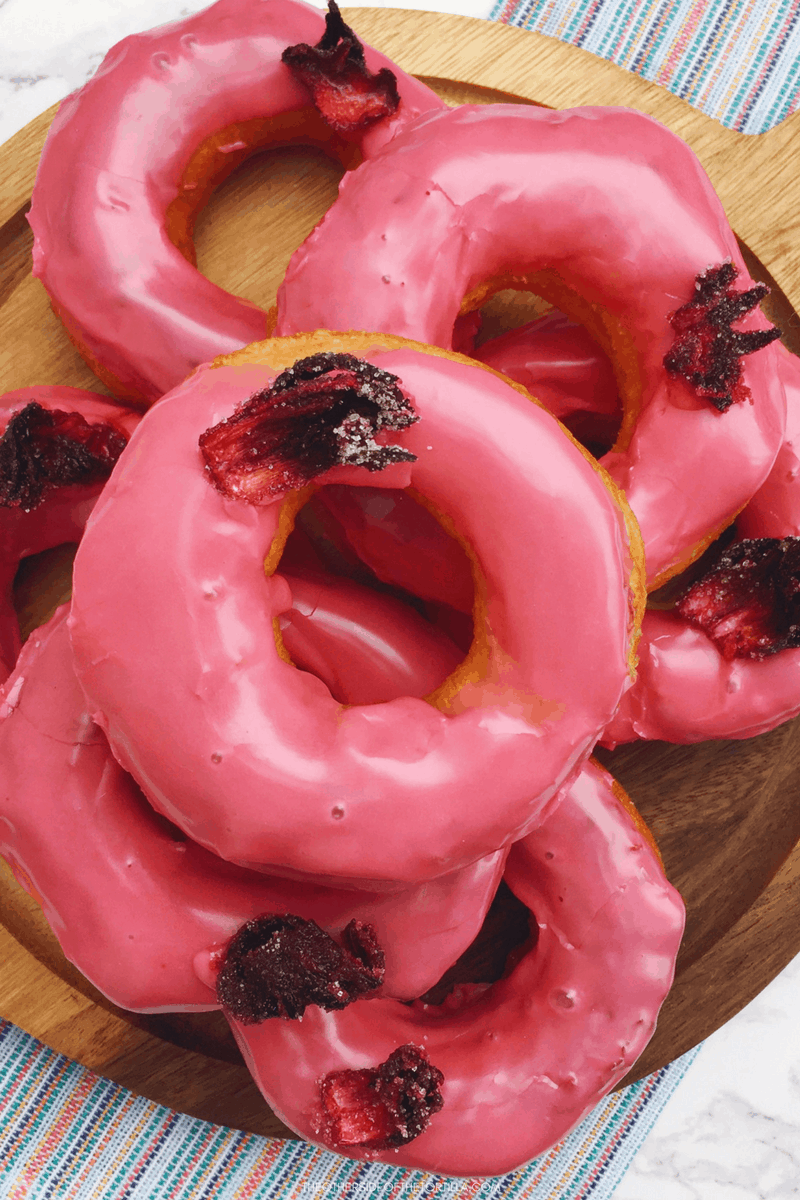 My love for Fany, breakfast and entertaining gave me the idea to make these doughnuts one lazy weekend, and they were so good, I shared a photo on my own Instagram account. Lots of people have asked for the recipe since I posted it, so I finally decided to write it out to share. Of course, mine will not taste as good as hers, and if you find yourself in New York, head over to Dough in Brooklyn to check out all her fabulous doughnuts. But since I live on the opposite side of the country, I don't make it to New York very often, so I have to improvise at home.
The great part about these doughnuts is that if you're not entertaining or you don't have more than a couple people at home, you can just separate the dough and just make a couple at a time, and put the rest of the dough back in the refrigerator.
Dried hibiscus flowers give the icing the distinct flavor of jamaica, a popular agua fresca in Mexico. I add a little Mexican pure vanilla extract to the icing to give a little more depth. (Mexican vanilla definitely tastes different than other vanillas, but if you can't find the Mexican kind, you can substitute another pure vanilla extract.)
The garnish is what really delivers the fanciness factor, and since you've already soaked the dried hibiscus flowers, all you have to do is roll them in a little sugar to make them look pretty, and they're very easy to attach to the icing with just a little extra dab of icing on the bottom of the flower to help anchor it. And you can eat the garnish!
I've made many cheater versions of doughnuts using the Pillsbury biscuits, but these are absolutely the best version and I can't wait to host a brunch with friends to make a huge batch to share.
RELATED RECIPE: How to make orejas
Easy Hibiscus-Glazed Doughnuts
Ingredients
Canola oil (pour enough so it's 1 inch deep in your pot)
1 can of Pillsbury Grands flaky layers original biscuits
For the frosting: 1/4 cup boiling water
3 tablespoons dried hibiscus flowers (jamaica)
2 cups confectioner's sugar (powdered sugar)
1/8 teaspoon Mexican vanilla extract or pure vanilla extract
For the candied hibiscus leaves: 3 tablespoons granulated cane sugar (preferably not processed white sugar)
1/8 teaspoon ground cinnamon
Instructions
Boil 1/4 cup of water in a microwave-safe measuring cup. Add 3 tablespoons dried hibiscus flowers to the water and use a spoon to push them completely under the water to steep. Set aside.
Pour about 1 inch deep of canola oil into your pan. Heat over medium to bring the oil to temperature.
Remove the biscuits from the packaging and place them on a parchment paper-lined cookie sheet. Use a small circular cookie cutter or a small juice glass to cut circles out of the middle of the biscuits. You should have 8 doughnuts and 8 doughnut holes.
When the oil is ready, it should bubble or pop very slightly. You can test its readiness with one of the doughnut holes if you're not sure. The dough should start frying immediately after touching the oil. Add the doughnuts to the oil 3-4 at a time and fry for a minute or two, until the dough starts to turn golden. Flip them gently with a wooden spoon or tongs. When they're done frying, remove from the oil and place them on a paper towel-lined dish to drain any remaining oil. Repeat with the remaining doughnuts.
While the doughnuts are cooling off a bit and draining excess oil, add 2 cups confectioner's sugar to a bowl. Pour the hibiscus juice through a strainer into the confectioner's sugar and set the flowers aside. Stir the confectioner's sugar and juice until it's a smooth consistency.
Add 1/8 teaspoon of Mexican vanilla extract or pure vanilla extract and stir well to incorporate. The icing should be thick.
Dip the tops of the doughnuts in the icing, twisting them slightly to ensure they're coated evenly all the way around the tops. Place them on the parchment paper-lined baking sheet to dry. You should have leftover icing.
In a small dish, stir 3 tablespoons granulated cane sugar and 1/8 teaspoon ground cinnamon together. Add some of the hibiscus flowers you set aside earlier and shake the dish a little to completely coat the pieces.
Using a small spoon or your finger, stick a little dot of the leftover icing to the bottom of each piece of sugared hibiscus flower. Stick them to the top of your iced doughnuts for an edible garnish.
https://theothersideofthetortilla.com/2017/01/easy-hibiscus-glazed-doughnuts/
©2009-2015 theothersideofthetortilla.com
RELATED RECIPE: Café de olla
20