This post is part of a compensated campaign with Montejo. All opinions are my own.
I had never eaten dinner on the field of a Major League Baseball park, so when Montejo, a Mexican beer company I adore, invited me to have dinner on the field at Dodger Stadium — with a Mexican-inspired dinner cooked up by Chef Eduardo Ruiz of LA's Corazón y Miel — I knew it was a once-in-a-lifetime opportunity. We are big baseball lovers in our household, so I knew I would have a great time even though the Dodgers are not my home team.
Cerveza Montejo is a golden lager beer that has been brewed for more than 100 years in Mexico.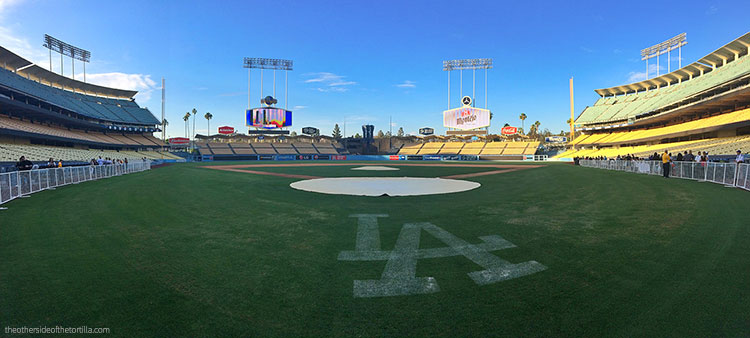 Named after Don Francisco de Montejo, the founder of the city of Mérida in the state of Yucatán, Cerveza Montejo was originally brewed at the Cervecería Yucateca beginning in 1900, and is now brewed in Tuxtepec, in the state of Oaxaca, by Cervecería Modelo. Although this tasty Mexican beer has been around for a long time in Mexico, it has only been available in select states in the U.S. since September 2014. As a newer beer to the American market, it was cool to learn that Montejo is an official beer sponsor for the L.A. Dodgers and the Texas Rangers. If you've been to other ballparks in California, Arizona or Texas, you've also probably seen Montejo sold at the concession stands. And at Dodger Stadium, they even have a Montejo bar behind the right field pavilion!
We've had Montejo plenty of times in Mexico, so I'm excited to have it available in the U.S. because not only is it good for drinking plain and making micheladas, it's also a great beer for cooking — especially when it comes to marinating and tenderizing meats for summer grilling!
RELATED RECIPE: Arrachera borracha
The dinner
I was joined by about 100 friends (old and new) for a tour of the stadium, followed by a dinner where every course included Montejo Mexican beer as an ingredient. Some dishes disappeared more quickly than others, but here are some of my favorites from the night.
We kicked off the evening with Montejoladas (the cute name they came up with for micheladas made with Montejo beer) at the stadium entrance, tailgate-style. If you've never had a michelada before, it usually consists of beer, tomato juice (or Clamato), freshly-squeezed lime juice, salsa Maggi and/or Worcestershire sauce, and sometimes even some hot sauce. It's similar to a Bloody Mary, but made with beer. This particular version was a peppery, spicy one that was garnished with a lime and a pickled green bean, which I have never had in a michelada before, but was tasty!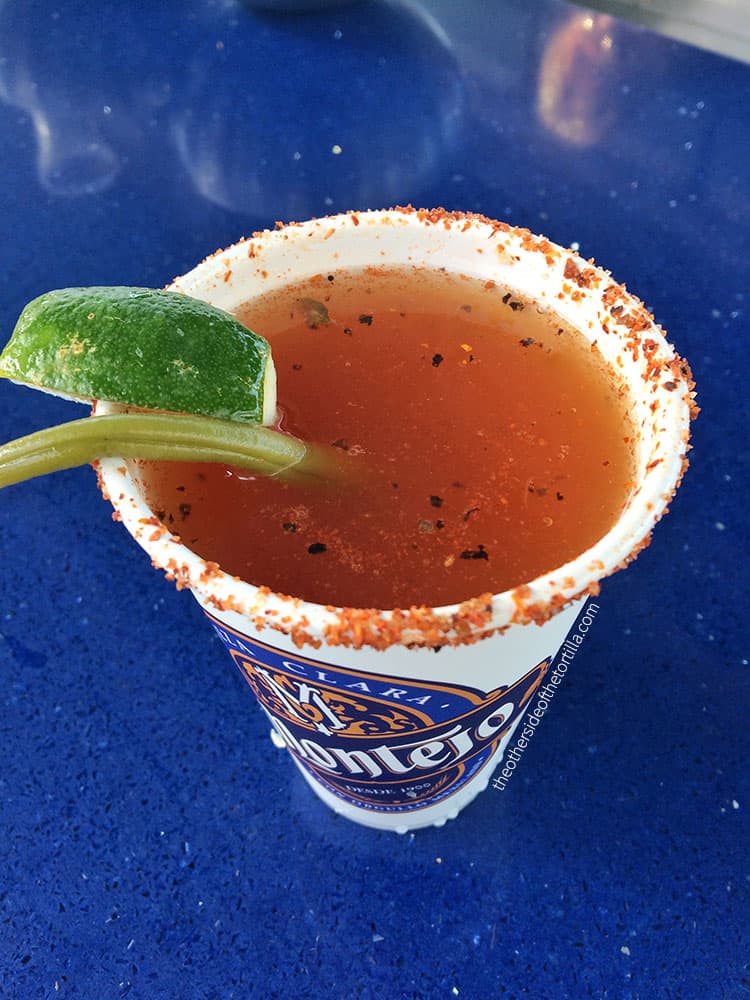 We arrived on the field to a long table, simply but beautifully set with flowers and menus.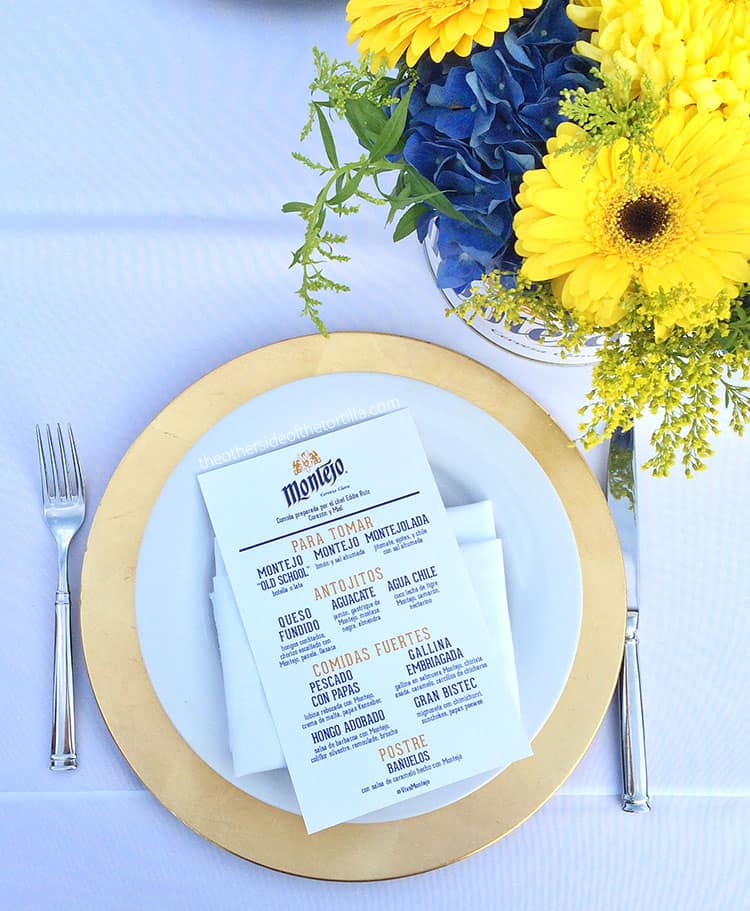 As we were arriving and being seated for dinner on the field of Dodger Stadium, we were serenaded by a mariachi band!
No big deal. Just hanging out with a mariachi band at Dodger Stadium and having dinner with @CervezaMontejo and 100 friends! #VivaMontejo #sponsored

Posted by The Other Side of The Tortilla on Monday, June 29, 2015
This chorizo escalfado (poached in Montejo) with mushrooms, panela and Oaxaca cheeses, and topped with chopped scallions, cilantro and edible flower petals was definitely one of the stars of the night! The consistency of this locally made chorizo was similar to a morcilla, so it was heartier and more solid than your typical Mexican chorizo.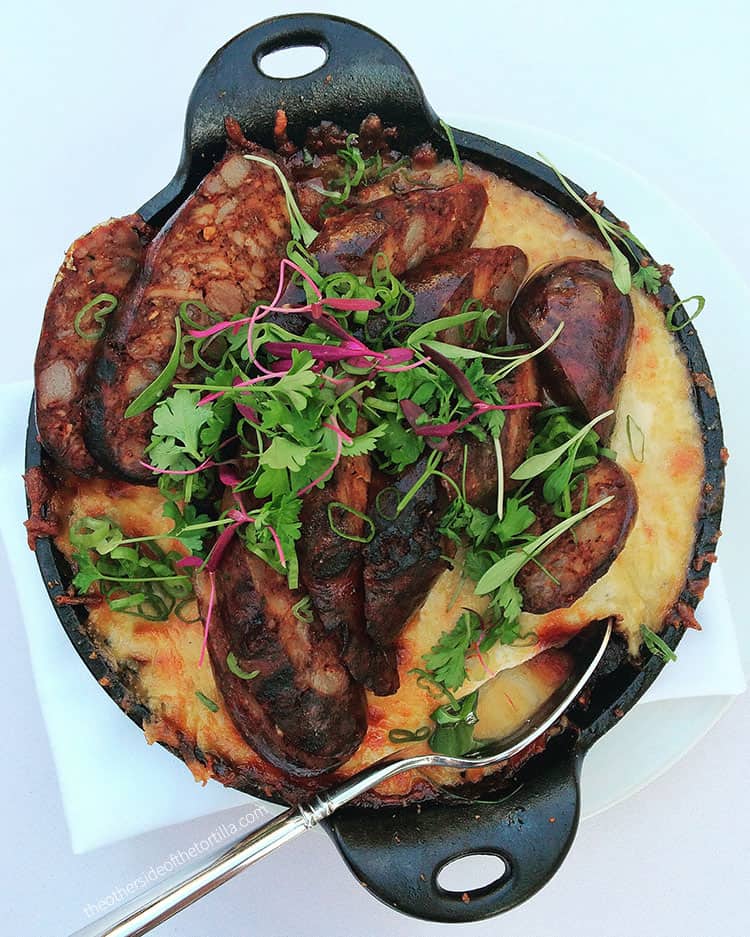 This sandwich, called an hongo adobado, was a marinated portobello mushroom with a barbecue sauce made with Montejo beer, a cauliflower cole slaw-like topping with a spicy remoulade and served on a brioche bun.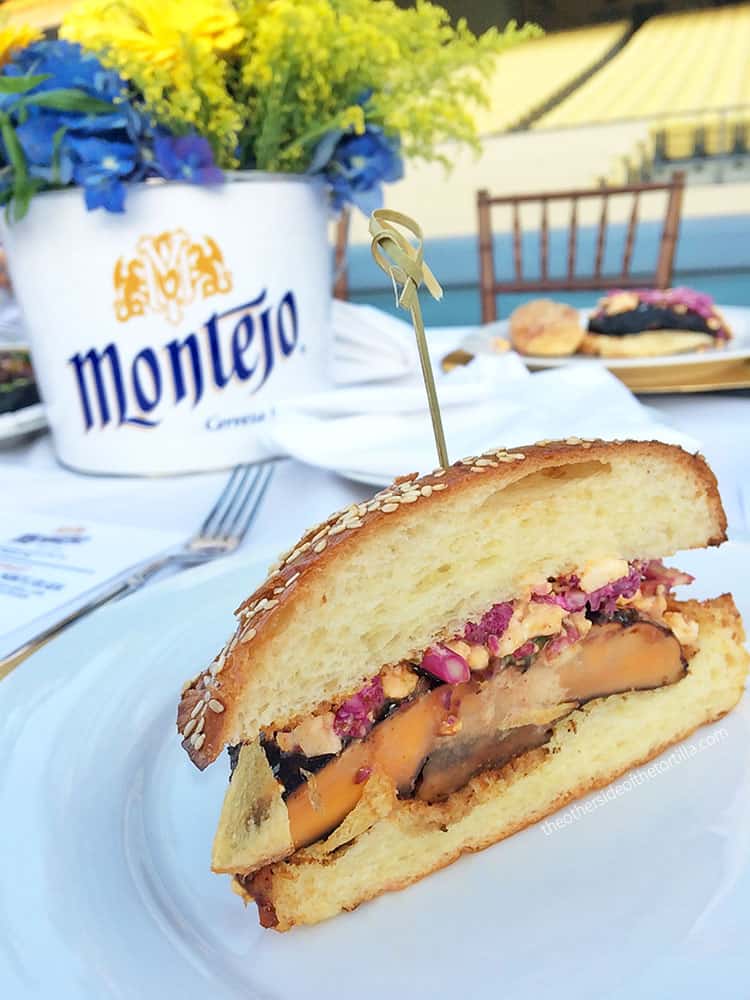 The next item on the menu was, gallina embriagada, a Montejo beer-brined hen served with caramelized parsnips and crunchy pea tendrils. I may or may not have embarrassed myself a little at the table while trying to separate a leg and a thigh to share with a friend. We discovered it wasn't coming apart in a nice way with a fork and knife, so we got a little un-ladylike and just used our hands. Worth it!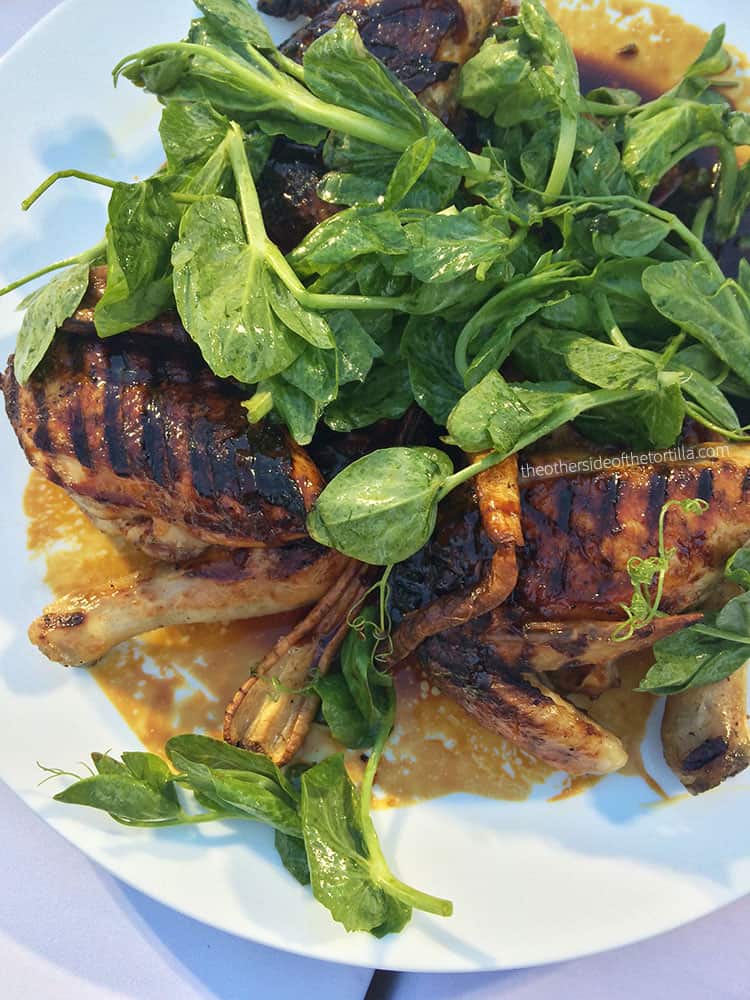 We also ate an amazing, juicy steak marinated in Montejo and served with a chimichurri sauce, sunchokes and roasted potatoes. But that disappeared before I was able to snap a picture, so you'll just have to imagine it.
And then finally, we ended with an incredible dessert — a banana-filled cinnamon sugar buñuelo with a caramel sauce made with Montejo!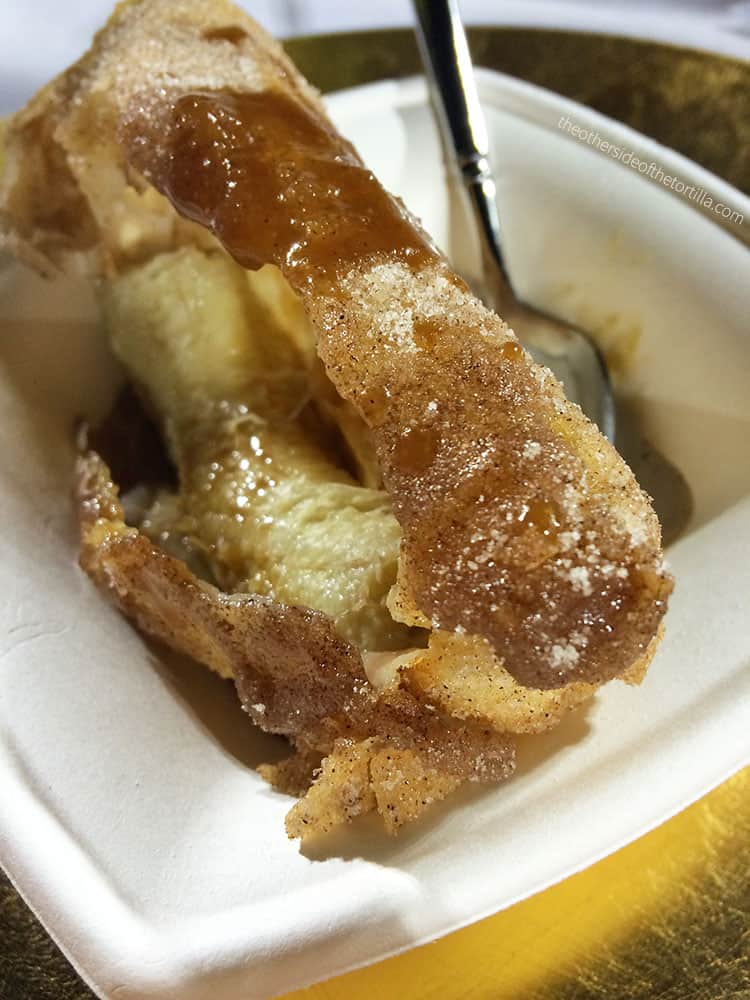 Thanks to Montejo for the invite and to Chef Ruiz for showing us all the creative ways to use Montejo Mexican beer in recipes! For more fun photos and videos from our night out at Dodger Stadium, check out #VivaMontejo on Instagram!
If you'd like to try Montejo, you can currently get it in the following states: California, Arizona, New Mexico, Texas, Florida, Colorado, Nevada, Washington, Oregon, Illinois, North Carolina and South Carolina (and more states coming soon).
Here's what to look for in your grocery or liquor store: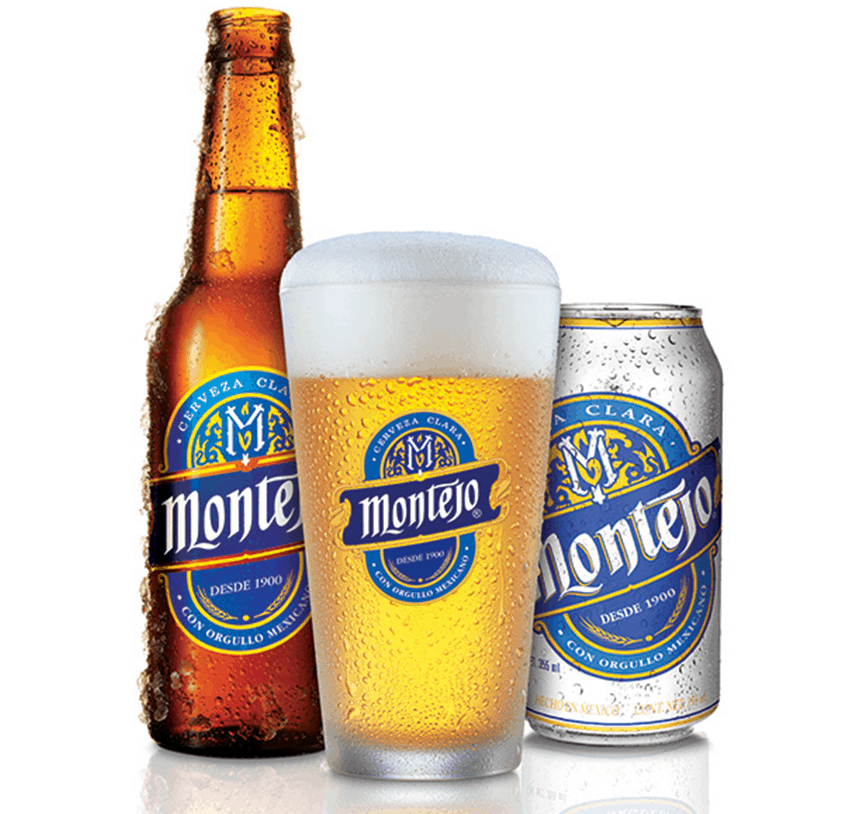 This is a sponsored conversation written by me on behalf of Montejo. The opinions and text are all mine.
1