*Note: This post is part of a Blog Hop among the Mexico Today Ambassadors in celebration of el mes de la patria and el Día de la Independencia Mexicana. If you've written a tribute post for this patriotic Mexican holiday, I encourage you to leave a link in the comments on this post in addition to checking out the posts from the other ambassadors participating. The official blog hop is set to only accept entries from the ambassadors.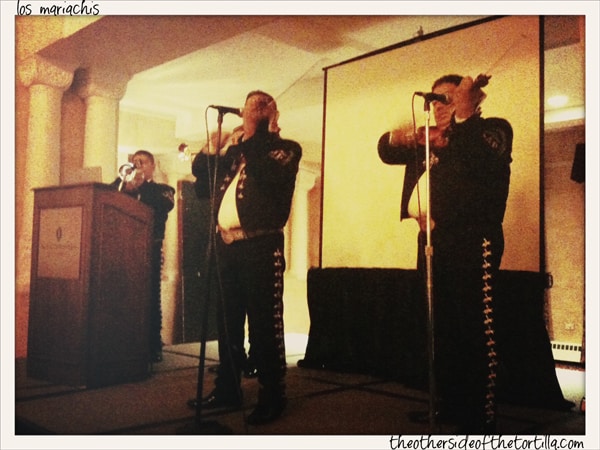 I love mariachi music like I love tacos, and if you know me well, then you know that I love tacos and mariachi music to the end of the world and back. We have a storied relationship and yes, even my iPod is full of mariachi classics.
Nothing quite stirs my soul like mariachi music. I wish I could put my finger on an exact reason, but I can't. It's a bit like how Mexico has always felt like home to me even though I was born in the U.S. Whenever I'm having a bad day, a little mariachi music always cheers me up. Or sometimes when I'm really missing Mexico and it's been too long since my last visit, a few classic tunes always do the trick to make me feel better and look forward to the next visit.
Recently, I had an opportunity to attend a special dinner in Chicago hosted by the Jalisco Tourism Board. The food was fabulous, the company genuine, and the after dinner entertainment… yep, you guessed it: mariachi!
But not just any mariachi band; this group was all the way from Guadalajara! It was such a surprise and a treat and most of the people I was seated with at my table were singing along. It was the birthday of someone at my table so they even played Las Mañanitas!
[youtube]http://www.youtube.com/watch?v=EJgJicDoQfk[/youtube]
A few weeks ago, the 18th Annual International Mariachi Conference (yes, this really exists!) took place in the state of Jalisco, and one of our cousins from Mexico City shared a link with me of a BBC World News report about a new Guinness World Record set for the most traditional Mexican dancers on the floor at the same time. To be exact, there were 457 dancers and 300 mariachi musicians from all over Mexico and other countries, including the U.S.—and some came from as far away as Colombia, Ecuador and Argentina to participate and play in the record-breaking ceremony. I was amazed watching the video. Click through to the link to watch it—I know you'll enjoy it as much as I did!
No Mexican celebration is truly complete—especially las fiestas patrias—without mariachi music. So put on some tunes (I recommend anything by Mariachi Vargas de Tecalitlán), wave your Mexican flag and don't forget to watch El Grito tonight! I'm even pulling out my papel picado to decorate. I hope to see the zócalo of Mexico City on TV, filled to the brim with people like last year and the year before.
For past years' celebrations, check out my posts on chiles en nogada (with a video of Calderón giving El Grito), and my two posts from last year's Mexican bicentennial: guacamole y papel picado and how I celebrate Mexico every day.
¡Viva

México!
How are you celebrating Mexican Independence Day this year?
Marca País – Imagen de México, is a joint public and private sector initiative designed to help promote Mexico as a global business partner and an unrivaled tourist destination. This program is designed to shine a light on the Mexico that its people experience every day. Disclosure:  I am being compensated for my work in creating content for the México Today program. All stories, opinions and passion for all things México shared here are completely my own.
0