Today in some parts of the world, it's Valentine's Day. But in Mexico, it's called Día del Amor y la Amistad. While Valentine's Day is mostly a celebration of romantic love, Día del Amor y la Amistad encompasses love and friendship.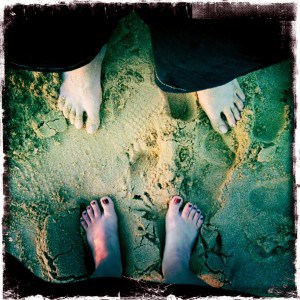 We don't really celebrate Valentine's Day in our house, and in fact, this past weekend we sort of forgot about the fact that all the restaurants were going to be full of people celebrating Valentine's Day when we called to see if we could get last-minute reservations at one of our favorite places. Of course, we couldn't get a table, so instead we cooked dinner together at home. If you ask me, as much as I love eating at restaurants, there's something special about cooking together that makes a meal truly enjoyable.
And as any of my friends and family will tell you: a home-cooked meal is how I show my love best. Whether it's rajas con crema for José, salsa de tres chiles (video recipe coming soon!) for my mom or Crock-Pot cochinita pibil for my best girlfriends, I love cooking for the special people in my life.
Take a few minutes today to remind your friends and family how much you love them. Whether it's a hug in person, a phone call, an email or a big ol' batch of Mexican comfort food like papas gratinadas to go with dinner, there's no better feeling than to know how much others care about you, so don't forget to spread the love as liberally as you'd add queso to those papas!
If you've got escuincles, check out these adorable print-and-color valentine cards from our friends at Spanglish Baby and Viva Greetings.
And head over to our Facebook fan page if you have a chance – today we'll be talking about the foods we love – including non-Mexican foods, just for one day – including linky love to recipes from some of our favorite food blogs.

From our home to yours, ¡Feliz Día del Amor y la Amistad a todos! We'll be celebrating by reminiscing about our recent trip to the beach in Oaxaca (pictured above) over a home-cooked meal.

I'd love if you'd leave a comment below to let me know which recipe from The Other Side of The Tortilla you've served to your family to show them how much you love them or what your favorite recipe is that you've seen here and why.
1