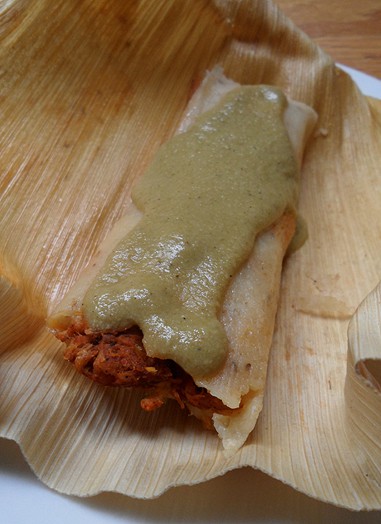 Today marks the Catholic holiday of Día de la Candelaria, known as Candlemas in English.
In Mexico, whoever cuts the Rosca de Reyes on Día de Los Reyes and ends up with the baby Jesus figurine is responsible for bringing tamales for everyone on February 2. Several times I've gotten the figurine while celebrating Día de Los Reyes with our family in Mexico and always get teased that I'll have to come back for a visit soon (with tamales in tow).
Today, we're eating tamales de pollo con mole verde at our house to celebrate. I admit: I bought mine this year from my favorite tamalería, the Tamalli Space Charros. They've got a tamal truck and when they stopped near my house the other day, I just couldn't resist and bought a few for the holiday.
It's also common in Mexico to enjoy your tamales on Día de la Candelaria with an atole. You can check out my recipe for champurrado for a delicious chocolate atole.
We're working on a great recipe for tamales in the test kitchen based on a recipe given to us by a friend who grew up along the Texas-Mexico border. Her mother owns a well-known restaurant and one of the cooks there was generous enough to share their recipe with us. We can't wait to pass it on to you soon!
How does your family celebrate Día de la Candelaria? What are your favorite kind of tamales?

3