Día de los Muertos is this week and as a special treat, I've asked some of my friends to send me photos and descriptions of their altars to share here on The Other Side of The Tortilla to show the variety of ways that people celebrate this holiday.
Today, I'm sharing the altar of my friend Vianney Rodriguez from Sweet Life Bake.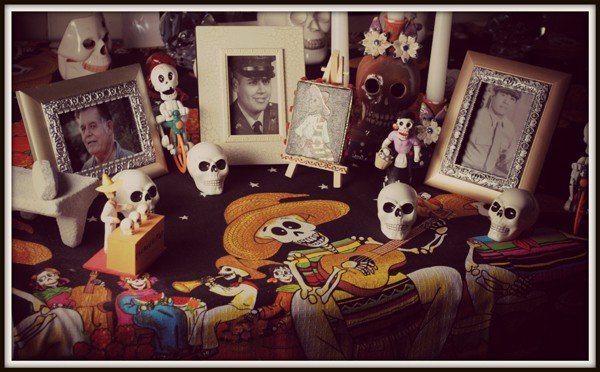 Where in Mexico are your family's roots?
Both my mom and father are from Matamoros, Tamaulipas.
Who does your altar honor?
My altar honors my Uncle who died in Vietnam and both of my grandfathers.
Any special ofrendas or items on your altar?
I have a small metate which represents the one given to me by my grandfather, and whose mother gave it to him. I also have original Día de Los Muertos artwork by local Texan artists from San Antonio, McAllen, Edinburg and Houston. My main is altar is very small, but in every room I display objects or art that family members, my husband and children have gifted me over the years. Dia de Los Muertos is my favorite holiday and they shower me with gifts they find along the way in their travels.
Why do you make an altar for Día de los Muertos? How does it keep your connected to Mexican culture? And do you involve your kids to pass on the tradition?
I make my altar to honor my family. My altar keeps me connected to my childhood summers spent in Mexico with my grandfathers. I did not have the honor to meet my uncle, so every year as I begin to display my altar I read the letters he wrote from Vietnam to my daughters. I involve my daughters in every step of putting together our altar. We make papel picado, paper marigolds and they help me to decorate the table, arrange the flowers for the grave sites and help me in the kitchen as we prepare the meals that will honor our loved ones.
For more photos and a story about how Vianney celebrates Día de los Muertos, click here to go over to Sweet Life Bake.
0