Día de los Muertos was this week and as a special treat, I've asked some of my friends to send me photos and descriptions of their altars to share here on The Other Side of The Tortilla to show the variety of ways that people celebrate this holiday.
Today, I'm sharing the altar of my friend Silvia Martinez from Mamá Latina Tips.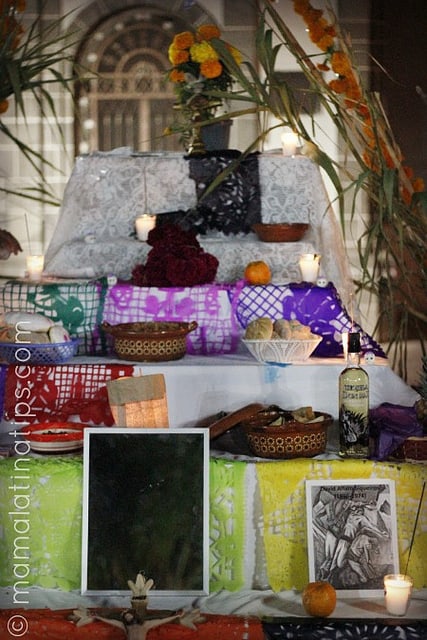 Where in Mexico are your family's roots?
My family is from Guanajuato, a beautiful state in central Mexico. Before I moved to the U.S., I don't recall participating much in the type of Day of the Dead celebrations that have become so popular recently. What we do is this: each year my family goes to the cemetery, with literally thousands of others, to place flowers on the graves of family members and clean up around the grave site. There is usually music and even food—it feels more festive that one might think—and then we go to Mass. Since living in California with my own family, the desire to share this particular part of my culture with my boys has increased. We just spent Day of the Dead in Mexico and it was both fun and fascinating.
Who does your altar honor?
We didn't prepare an altar this year at home; however, the boys had two at school, and we really enjoyed walking downtown to see all the beautiful altars displayed by both students and families.  At school, their altars honored a patron saint of the school and a friend of the school's who recently passed. There was a contest in El Jardin (the central court in the city), where we saw everything from pre-hispanic altars, to traditional altars, to modern altars. Many of the students' altars came with explanations of the symbolism behind their ofrendas and some history of the Day of the Dead tradition, so we learned a lot.
What do you typically put on your altar?
As I mentioned, we didn't have our own altar this year, but typical items include, an image of a saint dear to the family, bread, salt for purification, fruit, images of souls in purgatory, candles, and favorite belongings of family who have passed.
How has celebrating Día de los Muertos in Mexico this year been different for you than the way you celebrate it in the U.S.? Have you noticed anything interesting or different than what you remember it being like from when you were growing up in Mexico?
I would love to share something that I haven't seen before, as it seems to be a new tradition in my pueblo. On the night of November 1st, families go out into la calle (what we call the streets downtown) and kids carry bags and ask for candy just like on Halloween in the U.S., but instead of saying "trick-or-treat," they say "Mi calaverita" (which means "my little skeleton"). Also, a lot of women dress up as Catrinas, some with elaborate dresses and hats. Catrinas have been a symbol of Day of the Dead for a long time and I think it is just beautiful seeing them embrace and expand on this tradition.
For more photos and a story from Silvia about celebrating Día de los Muertos in Mexico, click here to go over to Mamá Latina Tips.
0