Día de los Muertos is this week and as a special treat, I've asked some of my friends to send me photos and descriptions of their altars to share here on The Other Side of The Tortilla to show the variety of ways that people celebrate this holiday.
Today, I'm sharing the altar of my friend Jessica Seba from Mexican at Heart.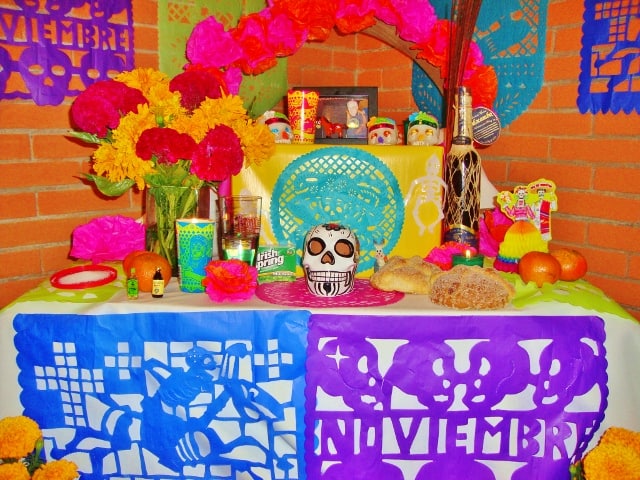 What is your connection to Mexico that makes you participate in this tradition?
I love Dia de los Muertos and everything it represents, not to mention papel picado and cempasuchils are my some of my favorite Mexican things! I thought this year it would be good to make my first altar instead of Halloween decorations.
Who does your altar honor?
My altar is dedicated to my grandpa, who passed away earlier this year.
Any special ofrendas or items on your altar?
I put bars of Irish Spring soap on my altar because that scent has always reminded me of my grandpa. I happen to find Walmart selling the soap—which is not a normal shelf item in Mexico—so I grabbed a few boxes. I also put a donkey on there because my grandpa once told the family that if he were to be reincarnated into an animal after he died, he "would be an ass." He was a real jokester. Other than that, it's quite hard to find my grandpa's favorite Polish foods here in Mexico so I didn't put too much food.
Why do you make an altar for Día de los Muertos? How does it keep your connected to Mexican culture?
I made an altar because I thought it would be interesting to learn the significance behind what everything meant (the water, the colors, the levels, etc.). Mexico has been overtaken by Halloween celebrations in recent years, so I wanted to do something more traditional.
For more photos and a story about Jessica's altar for Día de los Muertos, click here to visit Mexican at Heart.
1