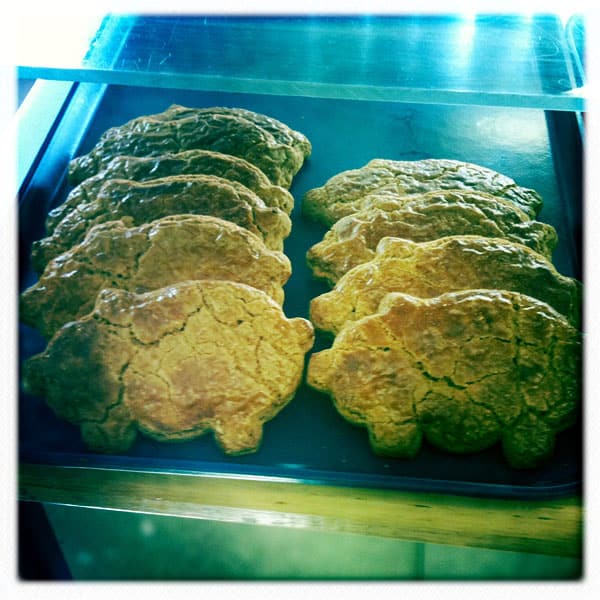 This past weekend, I ventured into a different bakery in Pilsen than usual when I decided to stop for some bolillo rolls to make capirotada for the last week of Lent. To my delight, this bakery that I hadn't visited in several years had a tray of puerquitos – a molasses and cinnamon-flavored cookie cut into the shape of a piggy.
Some of you know I gave up eating processed sugar for Lent, something that has not been easy in a house where we love desserts and pan dulce. I was too weak to resist the temptation, though, and bought one to satisfy the craving. I just needed one little bite and I was immediately reminded of a bakery I visited in Aguascalientes last summer with José's abuelita Ana. It was adjacent to a charming little restaurant downtown called La Saturnina, a place with cotton candy-pink, purple and cobalt blue painted walls, where she loves to eat breakfast (a place she swears makes the best torrejas in Aguascalientes, in part because of the dark, tangy, molasses-like miel de maguey it's served with). The bakery, called Panadería Los Angeles, was certainly like a slice of heaven with the scent of sugar, cinnamon and freshly-baked breads wafting through the warm summer air.
Toward the back of the restaurant you could peek through a cut-out window in the wall covered with wrought-iron bars into the back room of the bakery to see the giant mixer used to make all the breads and sugary treats. We ventured over into the bakery and Abue pointed out all the things she liked, asking if I had ever had them before. For the littlest member of our family (my niece Gabrielle), we bought a few piggies which were happily and quickly consumed at the breakfast table and I was lucky enough that she shared a few bites with me. They were the best piggies I had ever tasted and now every time I see them, I think of that bakery in Aguascalientes.
If you visit:
Panadería Los Angeles
122 Venustiano Carranza, Aguascalientes, Ags., México
+52 449 994 0449
What foods remind you of Aguascalientes?
1