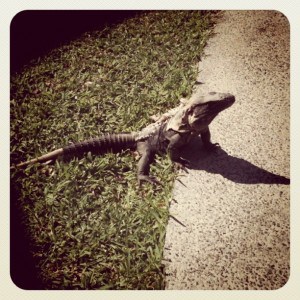 When we were vacationing in Huatulco this past December, we found our hotel had another kind of guest… It's hard to tell from the photo, but this iguana was rather large and lived in a little sinkhole between the grass and the concrete along the path to our room.
Each morning, the hotel staff set fruits and vegetables by the opening to the iguana's little cave. José tried to bribe his sister with $200 USD to stick her fingers into the cave but her answer was "¡ni de chiste!" and rightly so.
Still, we were all fascinated with this iguana – who seemed to be molting quite a bit and the end of his tail was bare, which really gave me the willies when I saw him crawling around – and he was a topic of daily discussion during our visit.
What kind of animals have you seen in Mexico that you don't normally get to see where you live?
0